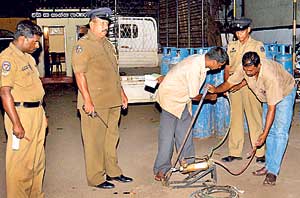 The contraption used to pilfer the gas
A gas dealer in Maligawatte and four of his employees were arrested for filling empty domestic cylinders with gas pilfered from cylinders of industrial gas, the police said.
They said the racket came to light when a cylinder of gas exploded while the suspects were transferring gas from an industrial cylinder to the domestic one with the help of an improvised device.
The explosion caused a fire in the shop and two people who sustained injuries were rushed to hospital. A subsequent police probe revealed the suspects had been pilfering gas regularly.
Inspector Gamini Ihalawela said the suspects had been drawing out about four kilos of gas from a 37.5 kilo cylinder of industrial gas and fill domestic cylinders. They even had a machine to re-seal the cylinder. The suspects are to be produced in courts tomorrow.