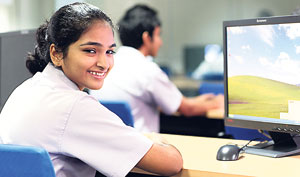 Focusing on academic excellence, coupled with the traditional social values of a multicultural environment, Wycherley International School is renowned for its excellent UK O/L and A/L results and has been producing to performers who have excelled in an assortment of academic spheres in top ranking universities.

The motto of Wycherley International School - Tradition-Education-Excellence - fittingly symbolises the cornerstones on which this prestigious learning institution is founded.

Recently acquired by ANC, Wycherley is a leading private school in Sri Lanka, established in 1986 to meet the demand for education in English for both local and foreign students who decide to sit for British examinations.

Combining academic preparation with strong character building in a nurturing environment where children enjoy their education, Wycherley boasts a rich multi-cultural heritage where children of different ethnic groups and religions blend in effortlessly.

The school was founded by renowned educationist Principal Dr. Frank Jayasinghe and the present Principal, Kingsley Jayasinghe, has been heading the school for the past 16 years. According to the Principal, Wycherley's focus on academic excellence has "brought it to the forefront of outstanding student achievements".

The takeover by ANC has resulted in major improvements to the school, especially in relation to facilities and infrastructure, says Jayasinghe. "I am very happy with the change. There have been several infrastructure improvements and ANC places great emphasis on education. It has improved Wycherley's libraries and computer facilities too," he adds.

A private institution that provides an all-encompassing education in a co-educational environment, Wycherley provides students with varied course options for their high school career. The higher education value offered by ANC ensures that its students seamlessly move from primary and secondary to tertiary levels, while availing themselves of a high quality education in line with global standards and trends.

The school offers classes ranging from Playgroup to the Advanced Level and follows the teaching methods and curricula of the United Kingdom and offers Cambridge examinations at both Ordinary and Advanced Levels. And now Wycherley is the 1st Sri Lankan school to have Cambridge programmes and curricula from Grades 1-12 with the commencement of the Cambridge International Primary Programme. This will give Wycherely students a great advantage with their higher education.
The importance of English as a link language was brought home starkly in the 1950s when a state initiative changed the medium of instruction from English to the vernacular languages, notes Jayasinghe.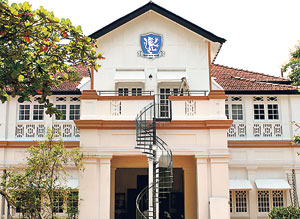 He adds: "The resulting economic ills brought about a renewed awareness of the importance of English, and recreated its demand as a medium of instruction. Wycherley was one of the first international schools set up to meet this need and its focus on academic excellence has brought it to the forefront of outstanding student achievements."

"Today, Wycherley has a proven track record for high standards of academic excellence. Embracing a multicultural discipline, most teachers and all head mistresses are tri-lingual, which is of great assistance to both parents and children. Wycherley uses English as a unifier while local languages are also taught, along with French and German," explains Jayasinghe.

Pointing out that the school has focused on high academic performance since its inception; Jayasinghe maintains that this emphasis has resulted in high levels of performance and achievement in all grades, with many of its students scoring straight As in all subjects. He adds: "We can boast of 100 per cent pass marks for our O/L and A/L students, with many world prize winners annually. On average, 50 per cent of our A/L students obtain results that are in the three A' to an A and two B' range."

A secret behind the school's success lies in the fact that most of its teachers have been with the school since its inception. "They are experienced and qualified in their respective subjects and take every measure to help each and every student achieve his or her full potential," Jayasinghe maintains.
Despite being an international school, Wycherley is firmly rooted in local soil. The Principal says that he is "very particular about discipline in school, the efforts of which are much appreciated by parents. For me, the school's Sri Lankan aspect is very important, which I advocate to both students and parents alike. Therefore, Wycherley is very strict when it comes to behaviour, dress code and so on"

Wycherley has many success stories to its credit, with most of its past pupils presently reading for their degrees in medicine, law, engineering, finance and other spheres in some of the most prestigious universities in the world. Wycherley's students have successfully transferred to top UK universities such as Cambridge, Sheffield, Nottingham and Australian and US universities, maintains Jayasinghe.
Five students from the school's 2007 batch entered Cambridge University and passed out this year, in medicine and business. As for the 2008 batch, out of the 400 international students eligible for the Birmingham University academic excellence scholarships, four received them. Two recipients were from Sri Lanka - and Wycherley.

From the same batch, only four Sri Lankan students gained entrance to the National University of Singapore, which features a minimum entry requirement of five A' at the A/L examination. All the students were from Wycherley. "We are waiting to see if the current batch can top these achievements," says the Principal.

Over the years, dynamic changes and new methods of teaching as well as new examinations that better reflect students' abilities and future requirements have been introduced, which has increased the likelihood of Wycherley's students being accepted to premier international institutions of higher learning.
The Principal firmly believes that content and performance standards are important benchmarks for student advancement. For him - and the school - the ultimate reward is in students who perform at their optimum levels, pursue education with a keenness born of learning and strive to equip themselves to become contributing members of their communities.

He explains: "To realise Wycherley's mission of enabling students to achieve high performance standards, my most important area of focus is on increasing the faculty's expectations and skills and empowering teachers to make reforms that will enhance student performance. Intensifying the focus on learning is vital for enhancing student performance."

Wycherley focuses on academic preparation and strong character building from the first day a child enters its playgroup class. The teachers at Wycherley Junior are trilingual and able to communicate easily with new entrants, which demonstrates the importance the school places on the child's critical formative years.

Summing up, Jayasinghe notes: "Creating a culture that encourages and supports academic achievement whilst managing a classroom is a science that goes beyond instruction in teacher training institutions. It is an art that effective teachers master through hands-on classroom experience, through mastery of content and adopting effective methods of instruction. Wycherley is proud of its teaching cadre, comprising totally of local staffers who are well qualified and experienced."