Project Management - sounds like something new to Sri Lankan Education Industry. The Team Education interviewed Mr Duminda Weeraratne MBA(Sri, J), PMP, Director Training of PMS, a well reputed trainer in this field. According to Mr.Duminda Weerarathne, Project Management (PM) is the fastest growing profession in the world today. PM tools and techniques help us to optimize resource utilization and do things faster, with a greater degree of flexibility. PM skills are mandatory for any profession, discipline or field. It may be, Marketing, HRM, Finance, IT, Manufacturing, Services or Government, most of the things we undertake in these fields are projects. Our career advancement and National development depend on how successfully we complete these projects.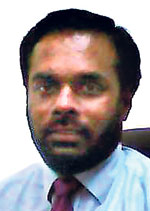 Mr. Duminda Weeraratne MBA
(Sri, J), PMP, Director Training of PMS
Is there a growing demand for project management universally?
Today the business landscape is fast-paced and competitive, and product life cycles are shorter. Product development and launch times are also shortening. The demand for organizations to change very fast is increasing. In the face of these challenges, projects are the engines that power the business transformation and, in turn, enable the organizational flexibility necessary to survive in today's world. Thus, the traditional structures must be replaced by organic project management structures.
What is the maturity level of project management in Sri Lanka?

Most of the organizations in Sri Lanka undertake projects to support their objectives. But they do not recognize them as projects, e.g. launching a new product. These organizations are non-project centric organizations which do not have a separate system to manage projects. The concept is new to many of us. General social awareness is still low. Only IT companies, telecommunication, some Government institutions, construction companies and multinational companies use the methodology as a strategic tool.

Who should acquire project management skills and competencies?
Project management skills are generic skills relevant for any profession, discipline or industry. You can be in the marketing, HRM, IT manufacturing, services, telecommunication, construction, banking, etc. but you get involved in projects everyday. Therefore there is a demand for everyone to acquire project management skills.

What is the career path to become a project manager?
There are two approaches. One is following short term and long term academic programmes like foundation courses, certificate courses and diploma courses. The second approach is to obtain a certification offered by a certification body, for example Certified Associate in Project Management (CAPM) and Project Management Professional (PMP) offered by Project Management USA. However, learning only project management will not strengthen your profile. While specializing in a particular discipline you must also acquire project management skills that will help you to carry out projects in your specialized discipline or profession.

What are the future trends in project management?
Project managers are becoming industry specific
Projects are becoming smaller and complex
With advancement of technology global projects, cross industry projects and projects integrated across the organization are becoming possible
Increase in pressure to achieve results quickly
Work with limited resources

Ability to change the scope of the project rapidly and expand the benefit and impact
What is the role of PMS in this context?

PMS's primary objective is to enhance project management skills of the Sri Lankan workforce. In view of this, we conduct a range of training programmes and US certification preparation programmes. We have trained over 3000 during the last 4 years on project management and related business skills.

More information can be obtained from www.pms.lk or 0772511711