As the nation awaits the presidential poll on Tuesday, pre-poll violence that is gripping what has been dubbed an historic election is on the rise with armed mobs taking centrestage. According to the police elections unit, which has received 859 complaints, nearly 300 suspects have been arrested on charges of committing election violence and violating election laws. It said the police were also hunting for 175 suspects in connection with election-related crimes.
Last week saw a dramatic surge in election violence. So far four people have been killed and the number of cases of intimidation, assaults and mob attacks on election rallies or party offices are also on the rise.
The police elections unit has identified Polonnaruwa, Anuradhapura, Kurunegala, Matara and Hambanthota as the most trouble-prone areas. After a meeting with Elections Commissioner Dayananda Dissanayake in Colombo, the ruling UPFA and the main opposition UNP made a joint appeal on Thursday, urging their supporters to refrain from pre-poll violence.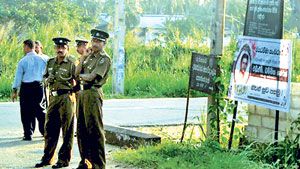 Wariyapola: Banners for a victim of poll violence. Pic by Pushpa Weeraskera
The joint appeal, made by UPFA General Secretary Susil Premajayantha and UNP General Secretary Tissa Attanayake, came after Commissioner Dissanayake threatened to quit if his guidelines were not followed by the political parties contesting the polls.
The latest in the rising number of election violence cases was the attack on the office and home of SLFP (M) Wing General Secretary, Tiran Alles, a businessman and one-time publisher. (See separate story)
The opposition charged government goons had carried out the attack by hurling a hand grenade into the compound of Mr. Alles' Nawala residence during the early hours of Friday. The attack took place a day after SLFP (M) leader Mangala Samaraweera claimed that Mr. Alles was receiving death threats.
Opposition leaders said they believed the attack was linked to the publication of a photograph that showed a top LTTE activist with Namal Rajapaksa, President Mahinda Rajapaksa' son. The President's campaign spokesman and National Freedom Front leader Wimal Weerawansa charged that the attack was staged.
Police said investigations were on and no suspects had been arrested or identified as yet. On early Thursday a UNP office at Kalumada in Divulapitiya was attacked and set on fire by a mob that came in six vehicles.
According to eyewitness statements given to the police, the mob fired several shots in the air while the office, which was part of the residence of UNP supporter K. S. Premadasa, was being attacked. Mr. Premadasa told the police that a few hours before the incident the attackers had come to his house and had threatened to kill him if he supported General Sarath Fonseka.
In his statement to police, he identified a UPFA organizer from Kalumada. The Divulapitiya police said they were probing the incident and no suspects had been arrested.
Also early on Thursday, an election office run by a UPFA supporter in Anuradhapura came under a petrol bomb attack and in the ensuing fire, not only the party office, but his book shop and communication center were also damaged
The UPFA supporter identified as P. Jayasundara told police that he suspected JVP members for the attack. He said he saw a vehicle speeding off after the attack. The Anuradhapura police said they were yet to arrest any suspects.
In another attack early Thursday, a shop of a UNP activist was set on fire in Moneragala. The activist, Manel Jayasekara, told police that the attack took place after she argued with some UPFA supporters who wanted to paste posters of President Rajapaksa on her wall. The Moneragala police said investigations were underway.
In Trincomalee, police are investigating an incident where a hand grenade was found in a bus that was to transport party activists to a Kanthalai rally of President Rajapaksa on Tuesday.
In separate incidents also on Tuesday, three opposition supporters were hospitalized with gunshot injuries in Akkaraipattu and Hambanthota. The Akkaraipattu victim, an SLMC supporter, was shot at inside the house of a friend while the two victims from Hambantota were shot at while they were returning from a General Fonseka rally.
On Monday two persons were killed in separate incidents in Kurunegala and Wariyapola. In Kurunegala the driver of Minister Jayaratne Herath was killed and four people were injured when a hand grenade exploded at a residence which was also the election office of the Minister. The victim, 28-year-old Suranga Indrajith was a driver attached to the Ministry of Health.
At Ambakadawara in Wariyapola, a supporter of General Fonseka was clubbed to death allegedly by a UPFA gang. The attack took place when the victim, 33-year-old businessman Dhammika Herath was pasting posters.
Deputy Inspector General Anura Senanayake told the Sunday Times they had arrested seven suspects in connection with the Wariyapola killing and one suspect over the Kurunagala killing. Rejecting charges that police were drawing a blank in their investigations into election violence, the DIG said that their records showed that they had arrested the suspects in many cases. "We have even produced them before court. Special teams have also been deployed to look into these cases. We are also receiving assistance from the CID," DIG Senanayake said.
Last Saturday (January 16), a gang opened fire at a van that was carrying supporters to a UPFA rally at Madurankuliya in Puttlam, killing a 19-year-old youth and wounding ten others.
After the incident, a tense situation arose in Madurankuliya where UPFA supporters allegedly went on a rampage, setting fire to two buildings of General Fonseka supporters. However, no arrests have been made though the CID Director DIG Nandana Munasinghe has dispatched six teams to arrest the killers.
The rising incidents of election violence also drew the attention of United Nations Secretary General Ban Ki-moon, Urging all parties to stop the violence ahead of the presidential election, he said "The peaceful conduct of the first post-conflict national election is of the highest importance for long term peace and reconciliation in Sri Lanka."
The European Union in a statement also expressed its concerns over the escalating pre-election violence.