Palitha Gurusinghe, the President of the Sri Lanka Ecotourism Foundation, has been appointed to the International Ecotourism Society (TIES) Advisory Board recently.
At a recently held Board Meeting of The International Ecotourism Society (TIES) in Portland, USA, it was decided to appoint Palitha Gurusinghe, President of Sri Lanka Ecotourism Foundation to the Advisory Board of The International Ecotourism Society (TIES), the world's oldest and largest international ecotourism association, based in Washington D.C.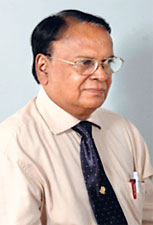 Palitha Gurusinghe
Since 1990, The International Ecotourism Society (TIES) promotes responsible travel to natural areas that conserves the environment and improves the well-being of local community TIES is the global source of knowledge and advocacy uniting communities, conservation, and sustainable travel.
The International Ecotourism Society was established in 1990, the first and largest ecotourism NGO in the world. TIES developed a membership program in over 100 countries, publications, workshops and stakeholder meetings that reached tens of thousands, and an international communications program that reached millions since 2003. In 2010 TIES commemorates its 20th Anniversary.
Sri Lanka Ecotourism Foundation (SLEF) was the pioneer national ecotourism society in Sri Lanka, established in 1998, and the first Sri Lankan Ecotourism Society to join the TIES in 1998. Since then, SLEF was working closely with TIES in promoting ecotourism at global, regional and national levels. Since 1979, Palitha has been actively occupied in Sri Lanka Tourism holding top management positions.
He has been working as a Tourism Consultant for the, Ministry of Tourism, Sri Lanka Tourist Board, Japanese Bank for International Coorporation (JBIC), German Technical Cooperation (GTZ) and several other public and private sector organizations. Palitha is the founder President of Sri Lanka Ecotourism Foundation (SLEF), the pioneer National Ecotourism Society of Sri Lanka that was established 12 (twelve) years ago. At present he is the Director of the Research and Training Institute, managed by Sri Lanka Ecotourism Foundation. He is also an external Member of the Faculty of Tourism Studies, Sabaragamuwa University of Sri Lanka (SUSL) and a Visiting Lecturer in Ecotourism at the Travel and Tourism Institute of Sri Lanka. He was also the General Secretary of the Association of Small and Medium Enterprises in Tourism Sri Lanka (ASMET), the pioneer SME Tourism Association in Sri Lanka.
Palitha is an ardent promoter in Ecotourism in Asia-Pacific Region and was unanimously selected as the Secretary General of the Asia-Pacific Regional Ecotourism Council (APREC) at the recently concluded Asia-pacific Regional Ecotourism Conference (APREC 2009- www.aprec2009.org), Colombo, Sri Lanka, in May, 2009. He is an academic and International Presenter in Ecotourism, who has contributed in various international, regional and national ecotourism conferences regularly. He is the author of many research papers in Ecotourism and Editor of journals, news letters of eco and sustainable tourism.
During last twelve years, he pioneered in promoting Community Based Ecotourism in Sri Lanka and worked hand in hand with other like-minded ecotourism organizations in Asia-Pacific Region in promoting Community Based Tourism Projects and poverty alleviation programmes through tourism. He is a well know teacher and trainer in Ecotourism. In 2008, he was appointed as a Penal Member and the Coordinator for the Advisory Panel on Community Based Tourism, set up by the Ministry of Tourism, Sri Lanka.
He is also one of the key partners of the South-South Professional Exchange Programme sponsored by the Fredskorpset International, Oslo, Norway.
Presently, Palitha is the Managing Director of Sri Lanka Eco Tours, a model travel agency dedicated to promote genuine ecotourism programmes in Sri Lanka. Sri Lanka Eco Tours (SLET), is the only Tour Company in Sri Lanka which supports Community Based Ecotourism Enterprises (CBEs) initiated by Sri Lanka Ecotourism Foundation (SLEF), an umbrella organization of SLET. Palitha is also the Director of Deep South Holidays (DSH), a travel organization established in March, 2008, with a view to promote deep south tourism attractions focusing ecotourism projects and community based tourism based in Hambantota.