Leaning back in a plush leather couch, cocooned in relaxing strains of lounge music and sipping iced coffee, it's hard to believe that only a glass wall separates me from the sweltering chaos of the bustling Galle Road. Being the latest addition to – and housed under the same roof as – the Sponge Pastry Shop, the new lounge area is an oasis for shoppers seeking respite from the heat, friends meeting up, families looking to spend a relaxing few hours outside their homes and even business people conducting casual meetings.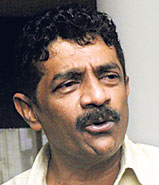 Akantha
The opening of the lounge area, is part of the celebrations for the 25th anniversary of the Sponge Pastry Shop. Managing Director Akantha Pandithasekera reveals that the anniversary fell on October 18 and looking back to the early days and the small scale he had started on and what his business has become today Akantha says, "I feel very good. It's unbelievable. It's only when others question me about how Sponge has evolved that I realize there was a lot to it. The more I talk about it, the more I think about how many obstacles and challenges I've overcome."
Akantha began his career in the hospitality industry as an apprentice chef at the Intercontinental Hotel. His wife, Aloma, too has always been passionate about baking and decorating cakes. Akantha passed on the knowledge he gained as a chef to Aloma and she began a little cake-making business at home. Back then Aloma, with Akantha's help, used to bake cakes for friends.
Once Akantha had risen to the top as a chef at Intercontinental Hotel, a colleague suggested that he start his own business. As Aloma was also keen, they opened up their own little pastry shop in 1985 and called it Sponge.
The shop was located on Deanstone Place in the garage of a friend's aunt, Mrs. Osman, who had kindly offered the space. It was tiny but Akantha recalls that they were able to squeeze in three tables with three chairs each for customers who wanted to eat at the shop.
The staff consisted of Akantha, Aloma, one of their friends and another employee. Their older son cleaned and waited tables. "I made sure we had the best ingredients, the same as when I was working at the Intercontinental," said Akantha.
One promise he made to Mrs. Osman, who is a Muslim, was that he would never sell any food items that were against her religion. This promise he has kept to this day even at the current location of the pastry shop.
Sponge has drawn thousands of loyal customers and even at its current location in Kollupitiya there are customers who come in every day or every week. The staff know their familiar faces and look out for them.
Meanwhile the pastry shop has made a new cake for its 25th anniversary called the anniversary cake. Customers have enjoyed it very much and several orders have been placed, smiles Akantha.