Here is what an 'Anxious mother' of three schoolchildren states:
Are the question papers for the GCE O/L and A/L done in collaboration with the school teachers? Or are they only handled by the university professors? Do the professors know what is being taught in school? Why are the question papers so difficult? Students, when asked, say they were not taught these lessons in school.
These are major concerns for parents who would appreciate if the authorities find solutions. Then life will be easier for our children, otherwise they will end up in the asylum.
A grandfather of four school-going children between the ages 7 to 14 adds:
It is a sad sight to see children trudging to school with a heavy bag of books, as early as 6 a.m., yawning their heads off, since schools start at 7.30.
I went to school in 1950 when they started at 9 a.m. and went on till 3.30 p.m. True enough the population was a fraction of what it is now, but we had a proper education. We respected our teachers who were dedicated to their task. We learnt not only our lessons from them, but also how to behave, respect our elders and become law-abiding citizens. Parents did not interfere with the school authorities and curry favour.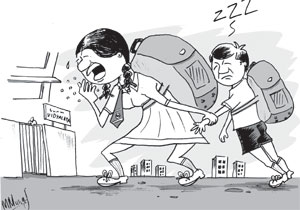 Today the situation is different. Textbooks have been drawn up by our own people which according to the media have mistakes in them and some are badly bound and do not last a few months. But from what I have seen the subject matter is far too much and irrelevant for the children. In arithmetic, for example, what we learnt to do in 3 steps, the new method takes 6 steps which is complicated and time consuming. Children are burdened with home work and have to follow tuition classes since most teachers do not pay much attention to the children's need. It is the learn or depart theory.
Sri Lanka and the world have a vast history, great strides have been made in science and technology. Do we need to burden our children with all these at a tender age? What are they going to do with this knowledge at this age? We should teach them things that will be useful to them for the rest of their life. I must honestly say that more than half of what I learnt in school is "excess baggage".
We must start with the basics – the 3 R's, reading 'riting and 'rithmetic. Teach them the three languages used in Sri Lanka, basic arithmetic, their religion, environmental studies and such subjects as art, handwork and of course computers which is now our life blood. As the children grow older, give them a better knowledge adding history, geography and science without burdening them with too much of it. With almost everything now to be found on the worldwide web, encourage them to study any subject that takes their fancy, from the web. For this, computers will have to be provided in schools throughout the island.
Once the child has matured and reaches the pre-O/L classes and has a basic idea as to what he or she wants to do, introduce the required subjects in those fields. The various disciplines of mathematics and sciences if they want to do engineering, biology and such like if they want to pursue medicine etc. Today there is a vast range of careers to choose from.
Right throughout school life children should have free time to pursue sports and other activities. All of them cannot take part in competitive sports, but should be encouraged to take part at least as a recreation. Facilities should be made available to conduct classes, after school, in music and dancing and such like which will make it easy for parents who need not run around town for such purposes. Let children grow up in freedom without having to face the pressures and stresses of life until they become adults.
Parent Jude Gregory states:
As a parent I share the same sentiments that this education system is more harmful than beneficial. My point of concern is that it has created such a level of competition not only among children, but among parents as well.
Each parent wants to see his/herchild or children get the highest marks at each and every term test. The final satisfaction to the parent comes in the way of 12 A's in the O/L or 03 A's at the A/L. The child who gets low scores for subjects are categorized as poor in studies. This would result in additional tuition or more cramming at home, burning the midnight oil.
This as per my knowledge is critical in the urban areas. Today parents spend more time in tuition classes like the child. The simple reason being unhealthy competition. At the end, most family values are seriously eroded. How many families sit at the table and have dinner together?
All these have a direct impact on children as when they grow up, they have lost most values. The children coming through the system lack discipline and character. This would directly result in many social problems in the coming years.
It is predicted that by 2030, 50% of Sri Lanka's population would be over the age of 60. With this kind of education system and the breakdown of family values, what would happen to this aged population? How many would end up at elders' homes, on the street or mental hospitals? Your guess is as good as mine.
These are the hard facts that 20 million Sri Lankans need to realize sooner than later. What needs to be done needs to be done now and not tomorrow.
Mother A. Condegama states:
My son who sat his OLs last year was among those who failed the examination. I have gone through the government textbooks issued to the OL classes and noted that the syllabi are too vast. They are not vocationally oriented, but limited to book knowledge. The Science syllabus which includes Physics, Chemistry and Biology is too extensive. The Sinhala Language paper is too difficult.
May I suggest that the Education
Department look into the following possibilities --
n Do away with History as a compulsory subject, instead have a variety of subjects which the students could pick according to his/her abilities such as Aesthetic subjects, Sinhala or English Literature.
n Scrap the three optional subjects which are not deemed compulsory, but nonetheless, have to be offered at the exam.
Do you have anything to say?
Calling on children, parents, teachers, principals, educationists and all those interested in the welfare of children to write in with their views on the current system to: 'School Education', The Sunday Times, 8 Hunupitiya Cross Road, Colombo 2 or e-mail to: schooledu@sundaytimes.wnl.lk