Ginger has always been and still is, used as an appetizer the world over. The use of natural ginger in the well-known soft drink EGB or Elephant Ginger Beer prepares the taste buds for the experience of a more flavourful meal.
Elephant House Ginger Beer or EGB, remains to date the only ginger beer using natural ginger extracts in Sri Lanka and today the company Elephant House are proud of another achievement -supporting ginger farmers in Pilimatalawa, Daulagala, Danthurai and Hedeniya. The company had already supported ginger farming communities in the Kandy regions of Hatharaliyadda, Pujapitiya and Aludeniya.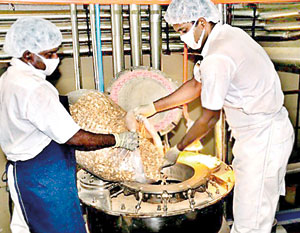 Ginger feeding process
The unique carbonated soft drink was first developed in the country over a century ago, to an original recipe dating from 1896. This collaboration with the growers of organic ginger ensures that EGB retains its distinctive flavour, aroma and taste. The company's support provides the farmers with an equitable income that has enabled them to enhance their lifestyles. Today, these farmers have renovated their homes, purchased lands, paid off debts as well as purchased consumer and electronic goods in addition to agriculture equipment.
S.M.P. Bandara from Bambaradeniya, a ginger cultivator for 22 years grows just over an acre of ginger and, until the advent of Elephant House, had been selling his produce to a middleman for a negligible Rs 60 per kg, experiencing considerable hardship as a result. 'Elephant House has given me the best deal ever, at double the value per kg than I had been getting earlier. My lifestyle has improved greatly as a result of this very generous pricing, and I will always be grateful to the company for its initiative," he said.
G.G. Nishantha Galpaya, also from Bambaradeniya, cultivates a two acre plot of ginger . "All this time I had been selling to intermediary salesmen at Rs 60 per kg. This is the best price I have ever got, and can hope to get, at Rs 600 per kg. The support from Elephant House has given me the incentive to maximize my business and I plan to expand the land capacity in the future," he said.
The company has also invested in several other community projects in these villages, including the provision of computer labs and training in computers, to village schools. The agreement couples a contract with a community development project. Over 250 farmer families have benefited to date, both directly as well as indirectly.
Elephant House signs a forward buying contract with the farmers, in partnership with the Regional Development Bank supported by the Central Bank of Sri Lanka, to provide the farmers with ease of access to financial benefits and also to supply dried ginger to Elephant House at an equitable rate annually. The agreement has several benefits to the farmers as it eliminates price fluctuations, enables them to estimate in advance the cash equivalent of the yield, eliminates the exploitative middleman and ensures maximum utilization of bare land, in addition to enhancing the cultivating knowledge of the farmers.
Expertise in ginger cultivation is provided by divisional agriculture officers of the Agrarian Department. The raw ginger once harvested is dried and sliced to meet Elephant House quality standards and then transported for processing to the company's flavour manufacturing division.