"Then I sat under the lovable bamboo grove, closed my eyes and listened to the soothing lilting melody, which I knew at that moment was meant only for me. I also heard the stream gurgle by joining in the symphony……Those moments spent under the bamboo grove that day have been an unforgettable memory of my fantasy world of childhood," author Sybil wrote in ''The Child in Me' reminiscing about her childhood days in Gintota, her native place down South.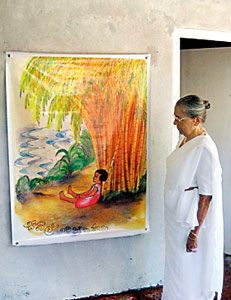 Sybil at the opening of the new building
These memories of her schooldays as a child date back several decades. The bamboo grove in the school compound is in the news again. The school was hit by the tsunami in December 2004.
The buildings were washed away but nothing happened to the bamboo grove. It's still intact. The Buddhist monk on the staff looking after child development, Ven. Hegoda Assaji Thera had an idea. He felt it would be an ideal spot to put up a hut for the children to spend a little time meditating.
Remembering Sybil's liking for the bamboo grove, the monk and the school principal got in touch with her and asked her whether she could help in putting up a shelter for the children to meditate. She readily agreed and suggested putting up a permanent structure so that it can be used for many years.
"That bamboo grove had been so close to my heart. I recollected the days when I was about four or five years, I used to sit there and contemplate. I thought this was an ideal opportunity for me to make my own little contribution in the Sambuddhatva Year," Sybil told me.
On May 13, - the day Vesak 'sil' campaigns were organised in schools throughout the country, Sybil was invited to open the new building. And she did. She gifted an enlarged photograph of the bamboo grove used in 'The Child in Me'' which now adorns the entrance to the building.
The Japanese version
Meanwhile, the Japanese version of ' The Child in Me' has been released and the response has been good. "The book is selling well," the translator, Kyoto Matsuoka has written to Sybil. "We think it's a lovely book in the true sense of the word, both contents and outer form." She is the director of the Tokyo Children's Library and an author herself.
For the Japanese edition, Sybil had to do the drawings in colour. Using the new drawings, Visidunu Publishers has reprinted ' The Child in Me' in colour. It will be released on Monday, May 23 at the Sri Lanka Foundation Institute. Attending the release will be Ms Matsuoko who will give her impressions in translating 'The Child in Me' in a talk titled 'Ingredients of Happy Childhood'.