Sri Lanka has been put on the map of successful snakebite treatment with major research findings that will make anti-venom safer for patients by reducing the risk of severe allergic reactions commonly set off by this treatment.
The findings by a top clinical research team, headed by Prof. Asita de Silva from the Kelaniya Faculty of Medicine, which will have a far-reaching impact not only in this country but across the world have been published in the prestigious online medical journal, Public Library of Science (PLoS).
Administering a small dose of an inexpensive and widely available drug, Adrenaline, can make the use of anti-venom safer in snakebite patients, by reducing the risk of severe allergic reactions that are commonly seen with anti-venom treatment, the research has found.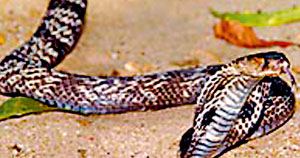 Cobra: One of the seven venemous snakes found in Sri Lanka
Snakebite is a major public health problem particularly in the dry zone of Sri Lanka with most victims being economically-active persons, such as farmers. The numbers amount to several thousand every year, recording a peak during the monsoon seasons, according to the research study.
The most reliable treatment for snakebite is the administration of a dose of anti-venom to the victim to neutralize the effects of venom. However, the Indian manufactured anti-venom available in Sri Lanka and other countries in the region itself becomes a concern as it causes serious allergic reactions including anaphylaxis in a large number of patients, making treatment more tedious to the physician and recovery more painful to the victim, according to the research.
The research team from the Clinical Trials Unit of the Kelaniya Faculty of Medicine and physicians working in five state hospitals conducted the clinical trial over a three-year period involving more than 1,000 snakebite victims to find a safe and effective method to reduce the occurrence of serious reactions caused by anti-venom treatment. The clinical trial was undertaken in collaboration with the University of Oxford and Liverpool School of Tropical Medicine.
The researchers state in their paper published in PLoS Medicine: "Anti-venom remains the most effective treatment for snakebite. Unfortunately, the anti-venom available in this country causes allergic reactions in more than 75% of patients. Although some of these are mild reactions such as rashes, in up to 40% of cases acute anaphylaxis, a potentially life-threatening condition can develop.
Anaphylaxis is treated with adrenaline as a medical emergency. Injections of antihistamines and hydrocortisone can also help. In an effort to prevent anaphylaxis, these drugs are also widely given before administering anti-venom, but there was little evidence before this trial that such pre-treatment is effective or safe."
In this pivotal clinical trial, the researchers tested the three drugs -- adrenaline, promethazine and hydrocortisone. Their results show that only adrenaline injected under the skin at a low dose immediately before anti-venom is given is safe and effective in significantly reducing the risk of acute severe allergic reactions to snake anti-venom.
The best way to prevent reactions to anti-venom is to improve the quality of those available in Sri Lanka. Until this overdue improvement in anti-venom quality comes about, they recommend the use of low dose adrenaline immediately before giving patients the anti-venom, the researchers note, but stress that it is also crucial that physicians monitor patients who have been given anti-venom closely and be ready to provide prompt treatment if acute reactions do occur.
"The successful completion of this clinical trial also demonstrates the competencies and capabilities among Sri Lankan clinical researchers and the value of conducting high quality clinical trials to find answers to health problems in this country," stresses Prof. de Silva.
In a related Perspective article, Jean-Philippe Chippaux from the Institut de Recherche pour le Développement in La Paz, Bolivia and uninvolved in the Sri Lankan research, argues that this study is a "preliminary but essential step in improving accessibility of anti-venoms and the treatment of snake-bite".
A snakebite and anti-venom expert from the University of Newcastle in Australia, Dr. Geoffrey Isbister who was involved in the review process of the research said, "Anti-venom available in Sri Lanka causes high adverse reaction rates. Most snake anti-venoms imported to Sri Lanka are made from horse blood, and the human immune system can react badly to some of the antibodies contained in it. This study has delivered some important results. I think it's almost a definitive answer, but I think you need at least two good studies like this. This is enough to say that you should only be using adrenalin as a premedication, there's no justification to give promethazine or hydrocortisone."
Snakebites cause considerable injury and death worldwide and pose an important yet neglected threat to public health. In a previous study on global burden, researchers also from the Kelaniya Faculty of Medicine estimated that at least 421,000 envenomings and 20,000 deaths from snake-bites occur each year, especially in South and South East Asia and sub-Saharan Africa. In Sri Lanka more than 35,000 patients are admitted to hospitals annually after snake-bites with many of them needing treatment with anti-venom. Of the many species in Sri Lanka, the seven venomous snakes are the Russel's Viper, Cobra, Common Krait, Sri Lankan Krait, Hump-nosed Viper, Saw-scaled Viper and sea snake. Ninety percent of envenoming and deaths are caused by the Russel's Viper, the Cobra and the Common Krait.
(Next week: More details on the findings)