With the outbreak of the Southwest monsoon, the dengue epidemic has further increased within the Colombo Municipality and its suburbs. Of the 2,502 cases reported to date, from the Colombo District this year, the Colombo Municipality reported 1,048 cases, while 1,454 cases were reported from the other areas of Colombo.
"There is an outbreak of dengue within the Dehiwala-Mt Lavinia Municipality area. We have organised a house-to-house anti-dengue campaign to make the householders vigilant. This campaign will finish by tomorrow," said the Mayor of Dehiwala-Mt Lavinia, Sumedha Ranasinghe.
"The Ministry of Health is largely helping out on the dengue eradication programme. We are going house-to-house, identifying dengue breeding places and educating the people. We want everyone to help reduce the amount of dengue cases, so we want all the people to take our campaign seriously and work accordingly" she said.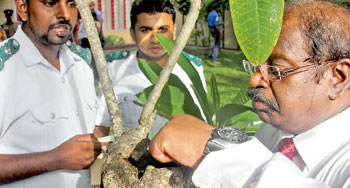 Colombo Municipality's health officials on an inspection tour in the Jawatta area. Pic by M.A. Pushpa Kumara
"The dengue epidemic has mostly affected the Dehiwala-Mt Lavinia area due to its dense population. There are many slum communities and apartments, which facilitate the spread of the disease", Ms Ranasinghe said.
The most number of cases at the Colombo South Teaching Hospital are from the Dehiwala-Mt Lavinia and Moratuwa Municipality, with the highest number of 367 cases received in the month of May, as opposed to 168 cases in May last year. June this year has 97 cases to date.
"Seven dengue related deaths, four children and three adults, have occurred this year in the Colombo South areas. Of the seven deaths, five are from Dehiwala. Last year, most of the fatalities occurred among adults, while this year it's the children," said the Director- Colombo South Teaching Hospital, Dr. Anil Jasinghe.
"The Colombo South Hospital treats more than 20% of the notified dengue cases within the entire Colombo district." He said.
"Seasonal monsoon weather conditions facilitate breeding of dengue mosquitoes. Even last year, the Colombo South Hospital had the highest number of cases in June and July," Dr. Jasinghe revealed.
"There is a dengue steering committee within the hospital, which meets regularly to discuss the medical problems pertaining to the prevailing situation of the epidemic, where decisions are taken and implemented. We also consider standard treatment schedules and monitor those patients. Certain preventive measures are enforced through the steering committee and people made vigilant in keeping their environment clean," he said.
Chief Medical Officer- Colombo Municipal Council, Dr. Pradeep Kariyawasam, said that, to date, 145 cases have been reported for the month of June. For the year the Colombo Municipality has 1147 cases.
The affected areas are Modera, Grandpass, Maligawatte, Maradana, Borella, Wanathamulla, Narahenpita and Kirulapona.
"We have conducted many campaigns, with six district medical officers appointed to look into this matter. Public health officers and midwives are visiting houses to check on their cleanliness. The severely affected areas have BTI bacterium sprayed," he added.