India will be the net loser, if the central government follows with economic sanctions against Sri Lanka, heeding the demand made by the Tamil Nadu state government through its resolution seeking imposition of economic sanctions, Trade Ministry officials said.
Sri Lanka trades directly with India (not with Southern India) and only a few local companies have trade links with Tamil Nadu businessmen, a senior official said. Therefore, he added that, the call for economic sanctions by Tamil Nadu will not exert any impact on Sri Lanka trade. Sri Lanka's net gain in trading is less than that of India, while her net losses are far higher than that of India, he added. However he noted that Tamil Nadu's call for economic sanctions may prompt other countries to look at Sri Lanka in a like manner.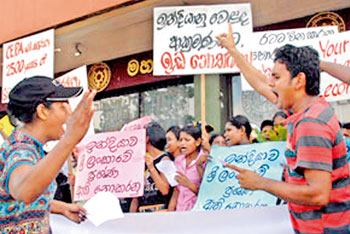 Protests against CEPA las year
The bulk of Indian exports to Sri Lanka includes petroleum products and transport equipment, supplemented by primary and semi-finished iron and steel and technological equipment, and only a small percentage of these items come from Tamil Nadu.
Among the significant Sri Lankan export items to India are coffee, tea, edible oil, non-ferrous metal, spices and electrical machinery.
Tamil Nadu sugar mills have the option of exporting smaller quotas of sugar to Sri Lanka, a local agent of Ponni Sugars, said. "Most of the Tamil Nadu mills export sugar to Sri Lanka, the nearest market and the East Asian countries. "Individual mills can export smaller quantities to Sri Lanka because they can be sent even by boats," he said.
Sri Lanka also exports natural and organic cosmetics to Tamil Nadu. Multichemi Group- Nature's Secret, Managing Director Samantha Kumarasinghe, who is also a member of the CEPA (Comprehensive Economic Partnership Agreement) Forum -- a pressure group formed by seven leading Sri Lankan entrepreneurs against provisions in the proposed CEPA agreement with India, said, India is very unlikely to heed the demand made by the Tamil Nadu state government.
He noted that India will go ahead with the CEPA despite any pressure from Tamil Nadu, as it is more beneficial for them. Tamil Nadu will lose its Tamil film market in Sri Lanka, which is not so lucrative at present, if India imposes sanctions against the island nation, he added. The resumption of ferry services between Sri Lanka and Tamil Nadu, after a gap of 28 years, would also be affected, he said. The service is from Rameswaram (India) and Talaimannar (Sri Lanka) and Tuticorin and Colombo.
Trade Ministry officials said this was in line with steps taken to export goods from Nagapattinam to Sri Lanka, which will be affected as well.
The service would earn revenue for both countries, as middle class and lower income groups from Tamil Nadu would prefer to travel by ferry to Sri Lanka. Similarly, Sri Lankans too use the ferry to go to India, they said.
With a direct Rameswaram-Gaya train link, there is a strong possibility of a heavy flow of tourists to and from both countries. They said that fish exporters, traders and Tamil Nadu-based trade organisations have already requested a resumption of the service. This will be severely affected, if economic sanctions are enforced, they added.
Export Development Board officials said that a large volume of coir is exported to Tamil Nadu.
Indian HC mum
Questions posed to the Indian High Commission spokesman on Thursday about trade between Sri Lanka and Tamil Nadu, the call by Tamil Nadu chief minister J. Jayalalithaa for imposition of economic sanctions and about the status of CEPA, failed to elicit a response.
Local companies all set to say no to CEPA
By Chris Kamalendran
An umbrella organisation encompassing some 86 leading local companies will launch a campaign next week against the revival of the Comprehensive Economic Partnership Agreement (CEPA) with India.
Chairman- Maubima Lanka Foundation, Ariyseela Wickremanayake told the Sunday Times that he will hold talks with the Government Medical Officers Associations (GMOA), Bar Association of Sri Lanka (BASL), Organisation of Professional Associations (OPA) among others to seek their support against the implementation of the CEPA.
"All sectors from production to service sectors will be affected, if CEPA is implemented. We will be the losers if this agreement comes into force," Mr. Wickremanayake said. He said they would launch the campaign in schools and take it to the grassroots, to create awareness among the public, to ensure that the government does not go ahead with the CEPA.
"Our younger generation will lose jobs, professionals such as doctors and lawyers will be affected, fashion designers, hair dressers will be affected, the cinema industry will have adverse reactions and even the education sector will be affected, as more private universities will come with Indian academics coming freely into the country," Mr Wickremanayake said.
He said that, under the agreement, Sri Lankans will be able to invest only in nine areas, while the Indians will be able to invest in some 40 services, which would be a huge disadvantage to us.
"If we open our gates, we will have problems. They will be competitive. For instance, there will be lawyers practising at very cheap rates," he added.
"We have no job opportunities for foreigners from whatever country they come from. If we want a consultant, they can have some for a particular period, he said. He said that, part of the campaign would also be to encourage locals to use local products, instead of relying on foreign products.
Mr. Wickremanayake said that a government-appointed panel to study the CEPA, has misled politicians by saying the scheme would benefit Sri Lanka.
N-E politicians' reactions
Several politicians representing the North and East aired their views on the resolution that was passed last week by the Tamil Nadu State Assembly calling for economic sanctions against Sri Lanka.
Here are some of their views.
TNA MP Suresh Premachandran:
Jayalalithaa very clearly said that the Sri Lankan government has failed to take any action on the political front to resolve the issues of the Tamils or on the issue of accountability. Since independence Tamils are treated as second class citizens. The Sri Lankan government is not listening to any country, the government has repeatedly been making mistakes. That's the reality. If the government puts forward a solution, these things such as the presenting a resolution by Ms. Jayalalitha will not take place.
Ms Jayalalithaa has made a correct move.
EPDP Leader and Minister of Traditional Industries and Small Enterprises Development– Douglas Devananda:
This is our problem. In the past on many occasions, the Tamil Nadu politicians have held protests and passed many resolutions, but nothing materialized. During the election campaign, Jayalalithaa gave an assurance to her supporters that she will look into the interests of the Tamils in Sri Lanka. She is doing this for her own political survival and as part of her agenda. We have to solve our own problems. The time has come for us to find a political solution. Others should not interfere in our country.
Deputy Minister of Resettlement Vinayagamoorthy Muralitharan:
I appreciate Ms. Jayalalithaa's interest about the Tamils, but it seems she has acted on her own without knowing the real situation in the country. This is not a healthy move. Any economic sanctions will bring more problems to Tamils.
She can send a delegation to Sri Lanka and find out the real situation.After 30 years Tamils are living peacefully and many housing development projects have been launched in the North and East.