President of the Constitutional Court of the Republic of Slovenia, Dr. Ernest Petric said smaller nations can use persuasion through diplomacy to make their mark in the international arena by using international law to their advantage.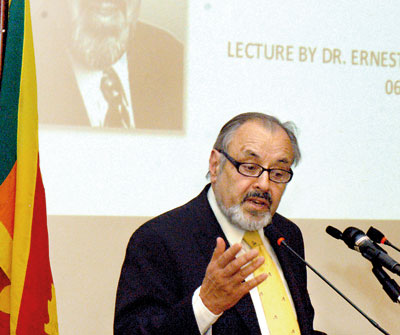 Dr. Petric addressing the gathering at the Lakshman Kadirgamar Institute for International Relations and Strategic Studies on Friday
"Bigger nations have ways of putting pressure on smaller nations, including the use of force, threats of sanctions etc, but smaller countries have to rely on the power of persuasion to attain their objectives," Dr. Petric said in his speech on "International Law as a Means for Foreign Policy", organised by the Lakshman Kadirgamar Institute for International Relations and Strategic Studies.
He said that, with the growing complexities in the world today, there were opportunities as well as dangers that smaller States face. "We all believe that problems should be settled in a peaceful manner. For smaller nations, persuasion is the main means to assert themselves. We can use international laws to resolve problems, as we have no other methods to resort to," Dr. Petric said.
He said that, Slovenia too, which became independent after the break up of Yugoslavia, faced many challenges, but was using diplomacy to settle many of the problems it encountered with its neighbours. "Our diplomats need to speak words of wisdom. It is important to train diplomats in international law," he said.
He said that, "International law will have a more important role in the world in the years to come. It is international law that allows international communication, which is why we need to pay more attention to this aspect," Dr. Petric said.
He admitted that, there were countries that attempted to disregard international law, but said such numbers were on the decline. "Now, more and more countries know it is for their benefit to subscribe to international law, and use it to address issues, whether it's to do with climate change or economic issues ' he added.
Dr. Petric, who previously served as Slovenia's Ambassador to several nations including the USA and India, also welcomed the release of the LLRC report, and said it is a step that will further improve the positive image of Sri Lanka.
He said the Report has proved that Sri Lanka can handle on her own a very sensitive problem of this nature. "I wish the Government good luck in its execution," he added.
The lecture by Dr. Petric was the first in a series of lectures that will take place focusing on the themes of foreign policy, economic and trade policy and national security, which are the core issues which the Kadirgamar Institute focuses on.