It was a memorable event when distinguished scientist, former President of India Dr. A.P.J. Abdul Kalam took the time on a packed schedule in Colombo to address an audience of students, lecturers, deans of faculties and others at the University of Colombo on January 24.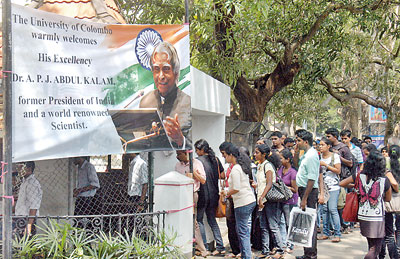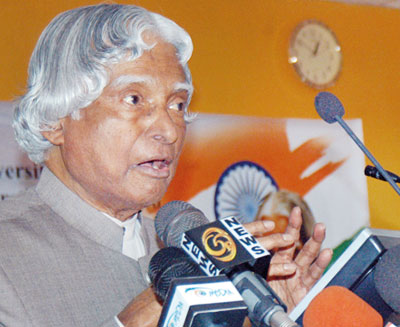 Dr. Kalam took the audience back to his childhood
Speaking on the theme of dynamic education and civilization, Dr. Kalam pointed out that the three factors that ensure a happy and healthy environment were education and values, religion and spirituality and economic growth.
Dr. Kalam who highlighted the importance of borderless and integrated education also went on to say that research and the presence of dedicated teachers are needed to uplift the standard of education. He added that an environment which nurtures healthy competition will ensure high standards in this respect.
However, education alone is insufficient he said. Dr. Kalam pointed out that righteousness and purity were indispensable and had to be practised in addition to receiving an education. Dr. Kalam took the audience back to his childhood in the Rameswaran Island in Tamil Nadu and the lessons he learned both inside and outside the classroom. He reminisced how as a little boy, he watched his father, an Imam, the local Christian priest and the Hindu religious leader working together towards the welfare of the island and its people.
Dr. Kalam shared that this memory which remains etched in his mind taught him invaluable lessons on unity and tolerance that would usually take years of learning to grasp. Following his address, Dr. Kalam engaged in a short interactive session where he answered questions posed by members of the audience before returning to his seat amidst tumultuous applause.