The outbreak of dengue, aggravated by the callous dumping of non-degradable waste such as plastic and aluminium cans or containers has already claimed 43 lives so far this year, officials say. This is three times the number of cases reported during the first quarter of last year.
The number of cases reported so far for this year is 10,042 compared to the 3,893 cases reported in the corresponding period last year. The majority of the cases were reported from Colombo district with 2,478 cases; 17 of which were fatal. Gampaha came second with 1,953 cases and seven deaths. Kalutara recorded 663 cases, Kandy 605 cases and Matara 528 cases.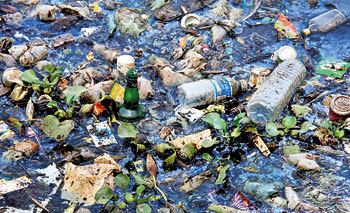 Plastic bottles in stagnant water: ideal breeding ground. Pic by Indika Handuwala
"The increasing number of dengue incidences was largely because of improper dumping of waste. The water that collects in drains and other dumped containers does not evaporate completely thus turning them into breeding grounds for the Aedes aegypti and Aedes albopictus mosquitoes, carriers of the dengue virus," National Dengue Control Unit (NDCU) Director Ranjith Batuwanthudawe said.
Explaining the preventive measures that should be adopted in households he said, "If there are wells they should be kept clean and enclosed properly with a mesh or fish like 'Guppy, Nala Handaya or Thilapi' that feed on mosquito eggs should be bred in them."
The roof gutters of houses should be installed in such a way that they facilitate the flow of water, he said pointing out that these gutters should be cleaned at least once a week.
Even the cesspits of homes should be properly enclosed since according to the latest findings, dengue mosquitoes breed not only in clean water but also in impure water, Dr. Batuwanthudawe said adding that the NDCU would be incorporating these new findings in their anti-dengue campaigns and awareness programmes.
He also emphasized the importance of protecting a dengue patient from further mosquito bites especially during the initial five to seven days as a mosquito can transfer the virus from the patient to another person. "Suppository medicines should not be taken to bring down the fever because these medications can worsen the condition even resulting in the dangerous dengue haemorrhagic fever. Only Paracetamol should be given to control the fever," Dr. Batuwanthudawe said.
He also pointed out the importance of admitting a patient with dengue fever to a good hospital because once the leakage phase of the disease begins, travelling is too strenuous for the patient and rest is essential.
Recycling: Who to call
Dr. Batuwanthudawe said the public can call the following recycling centres that would help in the proper management of non-degradable waste disposal as well as minimize wastage of resources.
The centres include:
Piramal Glass Ceylon PLC- glass collectors- tel: 0777765073
Viridis Lanka (PVT) Ltd- collectors of plastic wastage –tel: 0773128808
Kalahari Company- collectors of polythene, plastic and unusable tyres- tel: 011 4367120.