The six Sri Lankan fishermen rescued from their Somali captors in a Spanish naval operation on Wednesday, are being housed at the European Union Mission in Tanzania pending repatriation to Sri Lanka, External Affairs officials said yesterday.
EU officials are holding discussions with the group, who were grabbed on the high seas some six months ago, to get information regarding their ordeal and the modus operandi of the pirates.
"Officials from the Sri Lankan mission in neighbouring Nairobi have been sent to the EU Mission in Dodoma to facilitate this process as there would be a language problem," they said, adding that arrangements were under way to provide the group with emergency exit travel documents to bring them back to their families at the very earliest.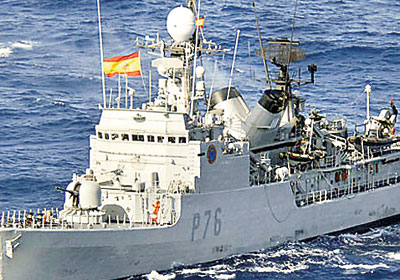 The Spanish ship Infanta Elena
The Spanish Marines on board the battleship 'Infanta Elena' rescued the Sri Lankans at sunset on Wednesday after they engaged the pirates who were sailing in the hijacked fishing vessel some 50 miles off the Tanzanian coast. Seven pirates were also captured.
A statement from the Spanish Defence Ministry later announced that the naval strike on the pirates was part of 'Operation Atalanta' launched by the EU to fight piracy in the western waters of the Indian Ocean.
There are at least another dozen Sri Lankans being held by Somali pirates. They had been grabbed in separate incidents while sailing on merchant ships in the Malaysian Seas, Palitha Athukorale a spokesman for the fishermen said.
Meanwhile the rescued fishermen on Friday for the first time since their hijack made contact with their families. One fisherman hailing from Pitipana told his wife, Kamala Selvaraj of their ordeal at the hands of the pirates.
She told the Sunday Times that her husband and five others had been crowded into a small compartment during their entire captivity "Most of the time they were ordered to kneel down and a single rotti was their only meal for a day. I am happy that my husband and others are in good hands. We are awaiting further information from the relevant authorities," she added.