The global election cycle has begun. France is in limbo. The Dutch have sent their "austerity is king" government packing. The US remains in suspended animation until they find out if they get Barack Obama version 2, or Mitt Romney version 1. Australia's incumbent Labour government continues to suffer from the absence of common sense and Japan is well, Japan. India's Congress Party is breaking a sweat after a long time. Meanwhile in Sri Lanka there are worrying signs of a rebirth in left-wing, centralised economic policies.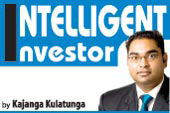 One owes this marked shift in political alignment and difficulties in governance to what has been dubbed the "Great Recession" in western economies. There is a sense that democratic capitalism is now failing to deliver the goods, at least in Europe and the United States. Living standards are falling for the middle and lower classes. Unemployment remains stubbornly high. Perceived "mal-distributions" of wealth are causing protests and riots throughout the West, and this is just the beginning of what will happen as overstretched welfare-state governments start to renege on their promises to an ageing population of unaffordable pension and medical benefits.
Developing countries are held up as the golden geese that will help get the West out of this mess. Unfortunately, they too have their own problems. The biggest gripe stems from mal-distribution and inequality. Associated with inequality is high impact corruption and cronyism. While it is currently unfashionable to pose "big" questions such as the nature of an ideal social system, the need to do so has arguably never been greater. What might an ideal political economy consists of? How does today's form of democratic capitalism compare with such an ideal? Does it deserve its tarnished reputation? At a more fundamental level, what properties do people truly value and seek from their economic and political systems? Is the capitalist norm of economic "efficiency" enough, as an economics textbook might well suggest? Or are there other norms? In particular, is there room for justice and fair sharing of the pie along with economic efficiency? Finally, what about privacy and freedom, especially for a country like ours going through these difficult times? Can these be accommodated as well?
The answer to the last question is an overwhelming "yes". All these norms can be accommodated side by side. True capitalism, properly understood represents one of the great institutional innovations and successes of history. It is the bastardisation of capitalism through cronyism and 'thugocracy' practised by decrepit governments that have caused both a global and local backlash. For those unfamiliar with the phrase, a thugocracy is a state where hand picked elements within a democratic framework is put to action by thugs or vested interests (be it lobby groups or activists parading various causes). Not only does crony capitalism aggravate inequality, it also diminishes justice and fairplay, the bedrock of capitalism as envisaged by Adam Smith in his seminal works, Wealth of Nations of 1776. One has to read his predecessor treatise 'A Theory of Moral Sentiments' to fully grasp the foundations of proper capitalism.
The links between capitalist economics and moral philosophy are deep and abiding.
Proper capitalism has to be defended and promoted if we are to succeed as a mature nation. The alternative is the pits of centralised government distribution which we all endured in the 70's. This is not only economical ruinous, but socially destructive in not allowing people to live their lives according to reasons and values that are important to them. The next stop on that slippery slope is fascism of the scale in the south during the 70's and north since the 70's.
What exactly do we need to protect and foster a capitalist economic system that seeks to maximise public good?
The rule of law: For free markets to function correctly, the rule of law must prevail. Citizens must befit from the sanctity of contracts, "nonbribable" judges, transparency in commercial relations, and the protection of intellectual property rights. Without such protection, capitalism morphs into what we have today; cronyism in which deference to the concept of "free markets" is hot air at best.
Perfect competition - in particular the absence of any bargaining power by any group whatsoever whether cartels, labour unions, or oligopolies. It is the role of government to ensure that the above assumption remains so and passes legislation to keep it so. Unfortunately, all the above are thriving all around us.
Regulation - Governments need to have the freedom and tools to regulate both the business cycle and financial crises via appropriate fiscal and momentary policies.
Distributive justice - Governments need to address any issue of distributive justice that arise within the economic system and cannot be wished away. Once the need for public goods arises (e.g. an army must exist, sewers must be built), a decision must be made by government as to who should be taxed and how much to pay for it. Thus issues of taxation that are fair inexorably arise within capitalist theory.
This concept of the public good provides a yardstick against which any nation can ascertain how far it is from the ideal, and can determine how to improve upon the status quo given the political will to do so. Be sure to note how far this ideal lies from today's presumption that capitalism is all about the unfettered play of free markets. It is not, and never was, even though the healthy functioning of markets is indeed central to its success.
(Kajanga is an Investment Specialist based in Sydney, Australia. You can write to him at kajangak@gmail.com)