Giant pandals depicting the life of Lord Buddha, with hundreds of tiny bulbs lighting up the night sky, are very much a part of the Vesak celebrations.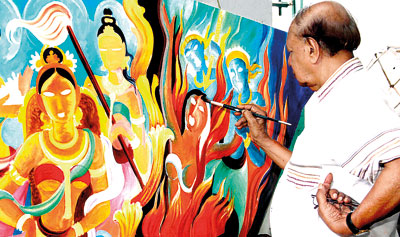 Kalasuri Jayasiri Semage: Aiming to give something unique through this pandal.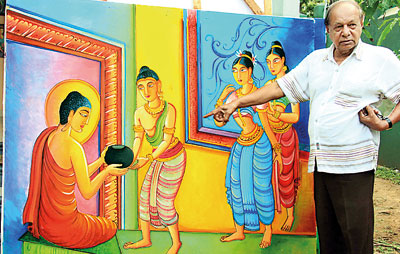 This year, Colombo alone will have 10-15 pandals but as people gaze at their splendour how many would realize the skill, dedication and patience that those "behind the scenes" have devoted. One such artist well-known for his pandals is Kalasuri Jayasiri Semage who has more than 40 to his credit not only in Sri Lanka but also in several other countries.
This Vesak one of Semage's creations will be the pandal at the Gangaramaya temple at Hunupitiya.
Based on the Ajantha and Sigiriya fresco style and standing 42 feet high and 45 feet wide, it will be the main pandal in the Vesak zone around the Gangaramaya. It is to be opened by President Mahinda Rajapaksa.
"The halo alone has over 10,000 bulbs," says Semage, adding that he started work on it before the Sinhala New Year. The pandal depicts the story of Prince Nanda, a cousin of the Buddha, who was enraptured by Janapada Kalyani and how Buddha helped him to break away from this bond and lead a peaceful life.
"As a Buddhist educated in a Buddhist school, my paintings are on Buddhist themes. Through this pandal I want to give people something unique," he said.
It was Semage who constructed a giant pandal in Fukuoka, Japan, in 1995 for the Asia Pacific Exhibition there, while his pandals have also been part of the Expo exhibitions in Spain, Japan, Korea and China and back home at Gam Udawa and Mahapola events. He has also had the honour of painting Buddhist murals at Lumbini in Nepal.
"My pandals are different because of their designs and paintings which are based on traditional Sri Lankan themes," the veteran artist added.