You will see in the current UWE Bristol undergraduate prospectus that we include a number of student views, which give a student's-eye view of life and work at UWE.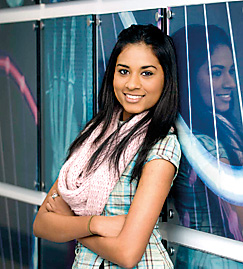 Dinusha Rajapakse
We would be very grateful if you could contribute to this year's prospectus. We are particularly interested in why you chose UWE, if you've had a placement experience or a particular achievement in your course that you want to tell us about or anything else you think is important. Please write as much as you like on this form as this will enable us to pick stories to follow up and include in the prospectus, on the website and in other publicity material. If we use your details, we would like to include a photograph of you so we may be in touch to arrange that with you. Alternatively you could e-mail us a jpeg of yourself when you return this questionnaire.
Thank you very much. Your contribution is greatly appreciated.Why did you choose to go to university?
Education is very important for me and I wanted to take advantage of the great opportunity I had. I believe that having a university education gives me a good foundation for my future and career path that I chose.
Why did you choose to study at Bristol UWE? (If you came to an open day did that influence your decision?)
I did come into the university through clearing, because during my gap year I was visiting the university on an open day with a friend of mine, I was extremely fond of the university. Everyone was very welcoming and I felt very much at home and relaxed within the environment. And I immediately made up my mind that I wanted to come here for my education.What do you like best about your course? (Include course content, workload issues, facilities, equipment)
I was very pleased that I was able to study exactly what I wanted to study and the fact that I am able to work with very good staff members in very well equipped laboratories. The lectures are as interesting and intellectually stimulating as the practical work. And all the modules are very well organised, which makes studying the modules very easy.
In what ways have the staff/course tutors been helpful and supportive?
The tutors and the module staff are very helpful at all times. I have always been able to reach out to any tutor or staff member for any problems I have had regarding my work. They have been very committed to make the modules interesting to study. And the additional help received after lectures or practicals have been very helpful for me.
If you have a part-time job, do you find it easy to fit in with your academic work? (Please indicate where you work and if you found this through the Job shop)
I worked part-time at ABL Kitchens and Builder in Bristol, this was a job I found at the UWE Jobshop. It worked well with my time table and I had plenty of time for an extra bit of studying during the day as well.
What tips could you give to other students for coping on a tight budget?
At times everyone in university goes through a patch where the budget gets tight, but doing some part-time work can be very useful to keep you going. Treating yourself once in a way is good, but at other times, be a student, go for the discounts. If you eat and live healthy, you spend less.
If you have been involved in any clubs or societies please give details of your experience (for instance, achievements, social events etc).
I have been dancing for a very long time, so it was great to join the dance society at the university to continue my passion and to learn new forms of dancing. And this is a great way to meet new friends and be an active part of the university.
What do you enjoy most about living in Bristol? (Try to be quite specific about the things you like to do and the places you go, eg nightlife, entertainment scene etc)It is a great city that is very much for student life and nice scenery. Lots of good places to enjoy the night life, and a great town centre for shopping and having a good time with friends. The cinemas, restaurants and the places to go out for other entertainment activities are very good and in the student budget.
Is there any other advice you could give to students considering studying at UWE?
If you are looking for a very friendly and welcoming environment to study at which also offers a great variety of courses to chose from and have very good facilities UWE is a the place for you. Anyone can make the most of the great opportunities available in the university when it comes to studying as well as sports, clubs and societies and social activities. If you are an international student, UWE has many students from many countries studying here and is the place for a wonderful experience with any support required.