The Inter-University Students' Federation insists the Government withdraw the circular stopping the transfer of new entrants to Advanced Level classes from one national school to another. The circular, issued earlier this month by the Ministry of Education, has been put on hold after parents and students protested.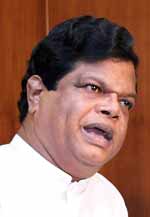 Minister Bandula Gunawardena
The ruling is unfair because it prevents students who excel at the GCE Ordinary Level from transferring to another school where they feel they could do even better, according to Inter-University Students' Federation convener Sanjeewa Bandara.
"Denying students their basic right to receive an education at a school of their choice is a major injustice," Mr. Bandara told the Sunday Times. "The purpose of the circular was to reduce the demand for places at popular schools in Colombo, Kandy and Galle. What the authorities should be doing is standardising all national schools in terms of quality education, infrastructure and facilities. If all national schools were of equal standing, there wouldn't be this heavy demand for popular schools."
Mr. Bandara said the quality of education varied from one national school to another. "The only solution is to change the system of education. Parents and teachers should unite and stand up for student rights. That is the stand of the Inter-University Students' Federation," he said. Ceylon Teachers' Union president Joseph Stalin said the union condemned outright the non-transfer order from the Ministry of Education.
"There is a big difference between a national school and what is known as a reputed national school," Mr. Stalin told the Sunday Times. "There are only some 25 reputed national schools out of a total of 355 national schools in the country. That is why there's this big demand for reputed national schools. The student who excels at the GCE Ordinary Level should be allowed to transfer to a reputed national school of his or her choice."
Joseph Stalin
The circular caused dismay among students and parents when it was released recently. Senuri, a student of Sacred Heart Convent, Galle, applied to two reputed national schools in Galle, Sangamiththa Girls' College and Southlands College. "The principal of Southlands said my application would not be accepted because the subjects I am offering at the A/Level are available at my present school. This is very disappointing."
Parents have expressed strong objections to the ruling. "The authorities are playing with the future of our children," one parent told the Sunday Times. "They can't even hold an A/L exam properly, and they want to discourage children who want only the best."
Every student likes to receive a good education at a reputed school, said one student. "Students from poor backgrounds cannot enter a reputed school at Grade One level. But they knew that if they worked hard and did well at the O/Ls, they had a chance to enter a good school. Now it looks as if that opportunity has been taken away from us," the student said.
Education Minister Bandula Gunawardena said the order would be temporarily suspended because some national schools had already accepted students from other national schools for the current academic year. He said the ruling would come into effect next year.
When the Sunday Times attempted to contact officials at the Education Ministry for their comments, the newspaper was told that the officials were "out at meetings."