Members of the Outdoor Advertising Association (OAA) have hit out at the new regulations regarding outdoor advertising introduced by the Colombo Municipal Council (CMC). The regulations specify the size of the advertisement hoardings that can be put up in the City and the areas where they will be permitted to come up. According to the new rules the CMC will not give permits to put up hoardings at junctions, religious places, close to statues and historical buildings and at the Independence Square.
Meanwhile members of the OAA launched a protest in front of the CMC against the new rules as well as moves to remove hoardings.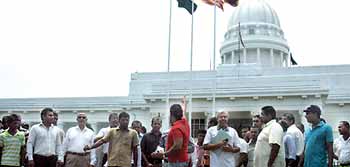 The protest of OAA members. Pic by Nilan Maligaspe
"We are in a state of despair and at this rate we will lose our business as we have paid lots of money to the CMC to display these hoardings that are already up. Now they are removing them," OAA president Ruwan Rathnayake said.
He said since 2005 the problem of hoardings keeps surfacing. "When we filed a case against the CMC, the Supreme Court ordered the CMC to return the hoardings that had been registered and it was only in July 2011 that they were finally handed back to us," he said, adding that the advertisements were registered and approved by the Government before they were put up."
"CMC officials say they are removing the advertisements as part of cleaning up the City and making it more attractive. But before they think about the beauty of the country they have to think how the people will live," he charged.
He said as many as 300,000 people will lose their jobs because they are affiliated with the industry in different ways adding that that the action of the CMC was discriminatory. "We also see that advertisements of some advertising agencies have not been removed. We want to know why this is?"
Meanwhile, Colombo Mayor M.J.M.Muzammil said the new law will help regulate outdoor advertising. "The size of an advertisement will have to comply with specific requirements. We will refund the money the advertising agents have paid if they violate the regulations and their hoardings have to be removed."
The Mayor and OAA members will meet tomorrow to discuss the problem, the Sunday Times learns