An upsurge in the incidents of treasure hunting in the past few months has left both the archaeological authorities and the Police scrambling to put in place new deterrents to curb the trend. These include amendments to the Antiquities Ordinance to hand down harsher punishment to offenders to police setting up regional units to crackdown on those engaged in illicit excavating, trading and having in illicit possession artifacts, officials said.
Between January and May 5 this year, police detected 107 cases and arrested 350 people for committing offences under the Antiquities Ordinance. The existing laws are inadequate to crackdown on illicit digging and trading of ancient artifacts, the Ministry of National Heritage Additional Secretary D.G.Samarasinghe told the Sunday Times.
"The laws were enacted by the British in the early 1940s and have been amended several times. But we need to further strengthen these laws," Mr. Samarasinghe said. A Cabinet paper prepared by the Ministry will be submitted for approval shortly following which the amendments would be drafted and presented to Parliament," he said.
Among the envisaged changes are increasing the existing maximum fine of Rs. 50, 000 to two million, mandatory jail sentence of five years and the confiscation of property of those engaged in treasure hunting and related offences. Meanwhile the Police Department that presently has a team of 15 personnel who work along with Archaeology Department officials to cover all regions in the country, will increase their cadre.
"We have decided to set up seven regional units to work along with the Archaeology officials to crackdown on these illegal activities," Police spokesman Ajith Rohana said.
At present area police seek the assistance of the Special Task Force (STF) to apprehend those engaged in treasure hunting, he said.Meanwhile, in a move to curb the incidents of treasure hunting the National Heritage Ministry has sought assistance from Defence Secretary Gotabaya Rajapaksa to deploy Civil Defence Force (CDF) personnel to protect archaeological sites. "As these personnel are well trained and armed, they will deter anyone from trying to dig-up archeological sites," Mr. Samarasinghe said.
Although authorities have suddenly woken up to the problem of tackling pillaging of archaeological sites across the country, investigations into an incident in Periyavillukulama inVavuniya, where seven men were arrested for unlawfully digging an archaeological site revealed that the practice is being carried out in an organized manner, many using permits obtained for quarry work to excavate in protected areas.
The seven men arrested by the Chettikulam Police on May 12 around 1 a.m. were apprehended excavating at archaelogical sites that had three ancient chaitiyas.
Police spokesman Ajith Rohana said one of the reasons for an increase in the number of treasure hunting incidents in the north, east was the military defeat of the LTTE . "Before the war ended people did not go to these areas but now, with the elimination of threat of landmines and terrorists, they are venturing into these areas as well," he said.
Most of the detections made so far this year have been from the eastern, north-western and north-central provinces, according to statistics of the Police Department. Since 2001 the total amount of fines imposed on suspects arrested treasure hunting, selling artifacts and destroying them was around Rs.40 million.
According to Mr. Samarasinghe there are 16,000 sites that have been gazetted as archeological sites in Sri Lanka while the number of identified sites are around 250,000. Only monuments over 100 years can be declared as archeological sites," he said.
DNA digs deep
The Government is likely to reply to a question in Parliament this week regarding the increasing incidents of pillaging of archaelogical sites, that was raised in parliament earlier this month by DNA MP Anura Kumara Dissanayaka.
When the question was raised on May 8, Leader of the House, Minister Nimal Siripala De Silva said an answer would be given later as the Minister in charge of the subject was out of the country.
Mr. Dissanayaka also said speculation was rife that those engaged in treasure hunting were connected to the Government.
He also referred to the widely circulated story that attempts are being made to trace the sword used by King Dutugemunu due to a myth that a person who possessed this sword would be king for life.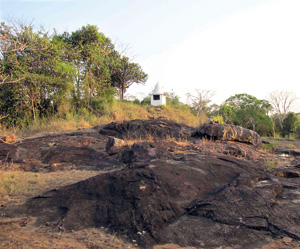 The site where the illegal excavation took place
Excavating under cover of the night and quarry permits
It was around 1 a.m. on May 12 when a police team raided the site of an ancient dagaba, Vehera Benda gama in Vavuniya. They found a group of men using heavy machinery to dig the area. Close by was a basket of flowers and betel leaves, a sign that a religious rite had been conducted before the digging started.
The Police team who had been tipped off about the night-time activities had no doubt that the men were a group of treasure hunters. Among those arrested were several businessmen from Colombo, Galle and Matara and two residents of Vavuniya. A permit had been obtained to engage in quarry work in the area by one of the Vavuniya residents as a cover-up.
Reports from Vavuniya have revealed that this is a common practice. "There are several well organized gangs and they operate in different areas," a source from Vavuniya said. It is suspected that government officials too are involved in these illicit activities as permits are obtained through government officers.
(Additional reporting by Priyantha Hewage in Vavuniya)