---
Wanni falls to LTTE hands
New strategy after mass retreat and acts of rebellion
By The Sunday Times Defence Correspondent
In a wave of attacks that began Monday, LTTE guerrillas have ousted security forces from their encampments and seized control of Oddusuddan, Nedunkerny, Olumadu, Ampakamam, Mankulam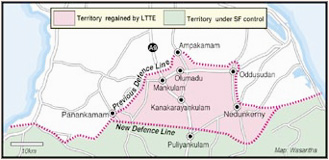 and Kanakarayankulam.
This was after large groups of troops abandoned positions and retreated to Puliyankulam where heavy fighting was raging yesterday between LTTE guerrillas and security forces. This was contrary to agency reports which said the LTTE had captured Puliyankulam. Some of the fleeing soldiers shot at military police. In another instance, an aide of an officer was shot at after the men defied an order by the officer not to leave.
Military top brass who have positioned themselves in Vavuniya were fighting on two fronts yesterday — one to halt the LTTE advance and the other to prevent rebelling soldiers from leaving the areas.
For the first time, the General Officer Commanding Joint Operations Command (JOC), General Rohan de S. Daluwatte, joined Deputy Defence Minister Anuruddha Ratwatte, to fly to Vavuniya yesterday to make an immediate assessment of the disturbing situation. Until yesterday, Gen. Daluwatte had remained sidelined with Minister Ratwatte overseeing military operations and visiting operational areas in the company of the three service commanders and the IGP.
After Army Commander, Lt. Gen. Srilal Weerasooriya, who had taken up temporary residence at the Security Forces Headquarters, in Wanni located in Vavuniya since last Tuesday failed to stabilize the situation, the Ministry of Defence on Friday rushed another Army team and commanders of the Air Force and Navy.
The Army team comprised Major General Lionel Balagalle, Chief of Staff (and former SF Commander, Wanni), Major General Neil Dias, Commander of the Volunteer Force and Brigadier Gamini Hettiarachchi, Commandant of the Kotelawala Defence Academy. The first task of the trio was to strengthen fortifications at Puliyankulam after news arrived that troops at the 56 Division Headquarters in Kanakarayankulam had withdrawn after blasting ammunition dumps and shifting artillery guns and other items.
Air Force Commander, Air Marshal Jayalath Weerakkody, was personally overseeing air operations against LTTE targets. On Friday around 1 a.m. when defences manned by the SLAF came under attack Air Marshal Weerakkody made a dramatic move by arriving at the SLAF defences by a helicopter at 1.00 a.m. on Friday.
Navy Commander, Vice Admiral Cecil Tissera, was busy with his officers to persuade his men who manned some of the defences, to return to new positions.
A high-level security conference planned for Friday night at Temple Trees was called off after President Chandrika Bandaranaike Kumaratunga, who was in Polonnaruwa for a public rally, could not return on time. The Sri Lanka Air Force helicopter carrying her could not take off from Polonnaruwa and she returned by road to Colombo. She was awaiting the return of Minister Ratwatte and Gen. Daluwatte to Colombo to obtain a first hand account of developments.
As the duo flew to Vavuniya, reports reached Colombo that groups of outraged soldiers had attacked shops in Vavuniya town. In one instance they are said to have looted liquor from a boutique. Military Police were having a tough time dealing with the rebellious soldiers. Some of them who retreated from Mankulam had fired at two Military Policemen and defied orders given by a senior officer.
A team of officials working for a UN agency and now trapped in the LTTE dominated Wanni area reported to Colombo yesterday about how the LTTE was in full control of areas earlier held by the security forces. One of them quoted an LTTE leader in the area as telling him that their mission was to ensure the return of security forces to positions they held before the launch of "Operation Jaya Sikurui" in May, 1997. The last position held until then was at Nochchimodai — about six kilometers from Vavuniya. With the fighting now on at Puliyankulam, there was only the town of Omanthai before Vavuniya.
The wave of LTTE strikes began on November 1 when groups mounted an attack at 11.30 pm on the military fortifications at Oddusuddan. Within ten minutes the area was over-run. The guerrillas who breached the defences continued their advance forcing the security forces to withdraw from Nedunkerny. LTTE cadres later made a push towards Othiyamalai and were poised to push towards Weli Oya. Their advance was, however, thwarted. Other groups mounted attacks on Olumadu after blasting a bridge. They later attacked Ampakamam and Mankulam, the strategic town which was the furthest point security forces reached during "Op. Jaya Sikurui".
Casualty figures for the past six days still remain unclear. During the events that followed the attack on Oddusudan, troops had scattered into the nearby jungles.
Later, they trickled into security forces camps in groups. Although the Operational Excess by Access
While bloodied soldiers displaced by heavy fighting in the Wanni were raising money from civilians in towns to pay for a bus ride home, and begging from shops for food, at least one arms dealer was celebrating his company's success drinking the finest whiskies, toasting and dancing the jig at one of Colombo's five star hotel's last night.
The Company - Access International, which has made hundreds of millions of rupees in defence contracts since 1994 went ahead with its gala dance last night.
---
Big shake-up in high command
Major General Wasantha Perera, Security Forces Commander Wanni was yesterday relieved of his command. Taking over his posting was his brother-in-law, Maj. Gen. Neil Dias. Until last night Maj. Gen. Dias was Commandant of the Army's Volunteer Force.
Maj. Gen. Perera has been posted as Commandant of the Army Staff College at Batalanda.
Maj. Gen. Janaka Perera, Deputy Chief of Staff who held this post will now return to his substantive post.
There were also a number of other top level changes effected in the Army postings last night.
Maj. Gen. Sarath Munasinghe currently GOC of the Army's 54 Division has been appointed as the Jaffna Commander. Maj. Gen. Lohan Gunawardena, the present SF Commander has been named as the Commadant of the Volunteer Force.
The other postings effected last night and coming into effect from November 10 are:
Maj. Gen. Neil Dias, Security Forces Commander Wanni. Maj. Gen. Lohan Gunawardena to be attached to Army Headquarters. Brig. T.M. Bohran, to be Commandant of Kotelawala Defence Academy. Brig. Gamini Hettiarachchi (present Commandant of KDA) to be Operation Co-ordinator, Security Forces Headquarters Wanni. Brig. Seevali Wanigasekara to be officiating GOC of the 55 Division. Brig. H.B. Thibatumunnai to be officiating GOC of the 56 Division. Brig. K.B. Egodawela to be officiating GOC of the 54 Division. Col Udena Munasinghe to be officiating Deputy GOC.
---
SAARC summit put off
Caught in a war of words between rivals India and Pakistan, Sri Lanka which chairs the SAARC movement yesterday agreed to a postponement of this month's summit though it earlier said such a move was not necessary.
The 11th Summit which was to be held from Nov. 26 to 28 in Kathmandu has now been postponed after India called for a such a move in view of last month's military coup in Pakistan, the Foreign Ministry said yesterday.
Pakistan's military government is strongly opposing a postponement claiming the Indian move is based on narrow interests.
---
Sellasamy eyes CWC leadership
By Chris Kamalendran
Political back-biting and manoevres are going on at a frantic pace within the Ceylon Workers Congress (CWC) in the immediate aftermath of the death last Saturday of its 87-year-old leader, S. Thondaman.
Plans by deposed former CWC general secretary M. S. Sellasamy to make a comeback have been vehemently blocked by sections of the powerful estate trade union, The Sunday Times learns.
Arumugam Thondaman, the newly appointed leader and grandson of the late CWC leader, is reported to have prevented Mr. Sellasamy and some 500 plantation workers paying their respects to the late CWC leader when his body was at Kotagala earlier in the week.
When Jeya Periyasunderam, a key CWC leader and one-time ambassador to Indonesia had intervened, Arumugam Thondaman had later relented. But he insisted that Mr. Sellasamy's wife be not permitted access because of personal remarks she is reported to have made against the late CWC leader and his family.
Parliamentarian P. P. Devaraj, who along with S. Sathasivam opposed the appointment of Arumugam Thondaman as CWC head, said Mr. Sellasamy had already made contacts with the party and indicated willingness to re-enter the party.
"He (Mr. Sellasamy) is trying to gain the leadership of the party again, but we cannot allow him to take over. It is up to the people to support the leader. Even the late Mr. Thondaman held the post with the support of the people," Mr. Devaraj said.
He said Mr. Sellasamy had the right to enter the party at any time as a normal member.
He said the politburo would have to make a final decision about Mr. Sellasamy holding any positions in the trade union.
"We may have differences among us, but we would have to continue our work, particularly what Mr. Thonadaman had been doing," he said.
Mr. Sellasamy when contacted by 'The Sunday Times' denied reports about his attempt to rejoin the party and claimed he was legally still in the party.
"However there is a public outcry that a veteran leader should head the CWC," he said.
He said the CWC does not have any experience and that he is ready to take over the leadership.
Headquarters of the Ministry of Defence on Thursday declared that these counts showed 107 soldiers were killed, it revised its own figures to say only 89 had died. A similar revision of casualty figures was also made during the LTTE attack on the Killinochchi defences.
Authoritative sources said yesterday President Kumar-atunga will initiate stern action against those responsible for the deterioration of security and failure to ensure immediate stability. The move has caused embarrassment to the Government since almost 90 per cent of the areas captured during operations Jaya Sikurui has been lost within days.