City with a smile
My Adventures in Bangkok II
Txt and pix by M.Mahasenan
Patience, patience, patience. My experiences continue.
It was plain sailing at the Bangkok International Airport. My friend, Secretary of the Reporters' Association of Thailand (RAT in short!), was waiting for me, carrying a huge name board with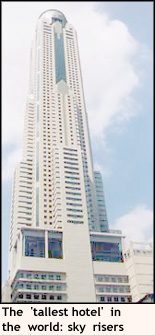 MAHASENAN written boldly on it.
With his assistance, we breezed through Customs. And in no time I found myself in a Toyota Hiace, hurtling along the highway heading towards our hotel along lanes and lanes of flyovers and flyovers. And high-rises. Incidentally we had our farewell dinner on the 79th floor of the "tallest hotel in the world".
Driving in Bangkok is not like driving in Colombo. The traffic was orderly. The Hiace Dolphin never ground down to below 5th gear. It was about a15-minute non-stop hectic run at a constant 100 kmph to the hotel.
At 120 kmph the driver adjusts the A/C controls with one hand on the wheel. Still I survived to write this masterpiece.
Bangkok. It's huge. It's sprawling. It's mind boggling. It's lovely. Going by its standards, it's a laugh to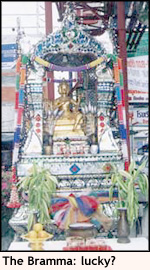 call Colombo a city, I feel. The NIC mark, is everywhere.
Our workshop schedule was hectic. Still, I didn't forget my other mission. Opposite our hotel was this huge building with a huge neon board 'Thai Traditional Bath'. Some of the participants were determined to visit the place. All three days they would say, "It's tonight or never guys." They never made it.
What strikes you in Bangkok are the smiling faces and their untiring hospitality. Smiles, smiles and more smiles. Every time you see them, they smile. And the way they boldly greet you, in 'namaskar' fashion, with palms firmly placed together, is something we have lost or rarely practise. What I missed in Bangkok is culture. "What we have here in Thailand is a mixture of Buddhism and Hinduism," a reporter friend from Thailand said.
True enough, in front of every building you find an image of Bramma. If it was not Bramma, it would be Buddha or Ganesh.
Bramma, the God of creation is everywhere. At times even as a pendant on a chain.
"We believe it is lucky," he said.
So where is the Thai culture?
It's been supplanted by consumerism. Like the flyovers and the wayside eateries it is evident everywhere. It has wiped out the traces of Thai culture, I felt.
I asked him "I don't see anybody in your traditional dress.?"
"Only for special occasions," he quipped. Literally everybody seemed to be Westernized when it came to their dress code. Women in tight skirts and light shirts. Men in trousers and shirt. Uniform.
Perhaps the only vestiges of Thai culture (in Bangkok) can be found in Thai food and the Buddha images. Perhaps in the provinces people still cling to their traditions.
But Bangkok, despites being overrun by supermarkets and department stores, has life. It bubbles with life and friendliness, smiles and greetings. People are friendly, like you and me, they rarely talk about adventures. Like Mr. Vitalstatistix and his clan of Asterix who didn't know where Alesia was. I didn't know too much either. So I couldn't have any adventures. So there!