---
Thuhashini's golf carnival
By Nilika de Silva
After a whirlwind round of tourna- ments, and ten consecutive wins Thuhashini Selvaratnam is packing her bags to fly back to the States.
Having created history, winning seven national titles in a row would leave anyone breathless, but this youngster hasn't let it turn her head.
Eight months ago before she launched on this merry-go-round of titles, she told The Sunday Times that she would go back to the States to gain work experience, do her MBA and qualify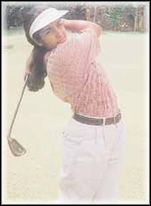 professionally.
Eight months and so many titles. But she's still got her sights set on the same horizons. "I will go back and start working. I am not going to turn pro," Thuhashini said, adding "I am hoping to play in the US Amateur Open and the British Amateur Open." The British Amateur Open is to take place in June-July, and the US Open in August.
Since the last time I met you, things have changed a lot, so many tournaments and so many victories, what do you feel at the end of all that? I asked.
"Actually it was a good break," was Thuhashini's simple response. "There was no goal that I wanted to win all these tournaments, or anything. I just went with an open mind, and I wanted to play my best."
Thuhashini went on to add, "I have actually enjoyed more than I expected to win. I have enjoyed playing in different countries, in different conditions, and with different people. And I think it was a good break after college," she said.
Speaking of golf in Sri Lanka and the reason many people don't play, Thuhashini felt it was because of the expense and the time involved.
"It is considered an expensive game, and it is a very expensive game. It is not easy for any person to play. And that is where, I think, a lot of people start and a lot of people stop. The tournaments here are limited, and then they have to go abroad to play different tournaments. That is where financially it is an expensive sport all round, equipment, even travelling. Everything is expensive."
Explaining how much time and practice is involved, Thuhashini said, "The thing is they all think you can get results very fast in golf. You know overnight, kind of thing. But it's really not that. It takes a while. And that's where many drop off."
"You have to go down to the valley before you can come up," stressed Sri Lanka's golf star and the country's pride.
Details of tournaments Thuhashini participated in from July:
104th Sri Lanka Ladies' Open Amateur Championship 1999 - Winner
Played at the Royal Colombo Golf Club - l9th-23rd July. She has won this tournament on two previous occasions, 1989 & 1991.
16th Malaysian Ladies' Open Amateur Championship l999 - Runner Up. Played at the Kota Peramai Golf Club - 27th-29th July. There were 120 participants from Singapore, Indonesia, Thailand, Sri Lanka, Hong Kong and China. Three medal rounds - 1st round - 72; 2nd round - 77; 3rd round - 66. Created a new course record on the 3rd day at Kota Peramai Golf Course - Gross 66
8th Epson Saujana Ladies' Open Amateur Championship 1999 - Winner
Played on the Palm Course Saujana, Malaysia - 2nd-4th August. There were 70 participants from India, Singapore, Sri Lanka, Philippines Malaysia, Indonesia and Thuhashini won by 9 shots. Three medal rounds - 1st day 71; 2nd day - 74; 3rd day - 69
12th Singapore Ladies' Open Amateur Championship 1999 - Winner
Played at Sentosa Island Country Club - September 7th-8th. There were 190 participants from 6 countries. Two medal rounds - 1st round - 66; 2nd round - 72. Course record on the 1st day with a score of 66
24th Hongkong Ladies' Open Amateur Championship - Winner. Played at the Discovery Bay Golf Course - 6th-8th October 1999. There were 60 participants from five countries. Three medal rounds - 1st day -77; 2nd day - 80
Third day's play was cancelled due to a typhoon. Thuhashini won by 2 shots.
Royal Colombo Golf Club Ladies' Club Championship 1999 - Winner
Played at the R.C.G.C. from the 18th-22nd October. She won this tournament for the 6th time. 25th Sri Lanka Open Amateur Stroke Play Championship l999 - Winner. Played at the Nuwara Eliya Golf Course - November 20th-22nd. Three medal rounds - 1st round - 75; 2nd round - 71; 3rd round - 74. She has won this for the third time.
12th China Ladies' Open Amateur Championship 1999 - Winner. Played at the Zuhai Golf & Country Club - 1st-3rd December. There were 85 participants from all over China, Hong Kong, Singapore and Sri Lanka. Three medal rounds - 1st round - 70; 2nd round - 72; 3rd round - 77. She won by 3 shots. 12th Thailand Ladies' Open Amateur Championship 2000 - Winner.
Played at the Bangkok Golf Club - 12th-14th January. Three medal rounds - 1st round - 69; 2nd round - 72; 3rd round - 71. Thuhashini won by 5 shots. She received the Best Gross on the 1st and 3rd days. 38th Philippine Ladies' Open Amateur Championship 2000 - Winner. Played at the Manila Golf Club - Manila s.s 71. Three medal rounds - 1st round - 69; 2nd round - 74; 3rd round -73. She won by 8 shots. There were 100 participants from Singapore, Hongkong and Sri Lanka.
83rd All India Ladies' Open Amateur Championship 2000 - Winner
Played at the Karnataka Golf Course in Bangalore. Two medal rounds - 74, 81. Won the Biloo Sethi - Aggregate Best Gross Score over two days. Won the Anjni Desai Salver - best gross on any one day. 9th Emirates Ladies' Open Amateur Golf Championship 2000 - Winner. Played at the Emirates Golf Club - Dubai 9th-11th February. There were 125 participants from 6 countries. Two medal rounds - 1st round 68; 2nd round - 70. She was 6 under par on the Tournament. Course record on the Emirates Golf Course with a 68 on the first day. Won by 20 shots.
---
Sri Lanka - So very impressive
In the mid nineteen eighties Australian cricket went through a crisis. They had come to the end of an era when their mighty Chappell brothers, Dennis Lillee, Rod Marsh, Keith Stackpole, Dong Walters, Max Walker, Ashley Mallet, Ross Edwards had all retired in the space of a few years. They were being pounded by many of the international sides. The Aussies never believed in having a coach at the highest level. In fact lan Chappell said in one of his books the only Coach an international side should know of, is the one they sit and travel from venue to venue!
Wiser administrators invited former Captain Bob Simpson - who had two stints as team leader - to assume duties as coach and support the then skipper, Alan Border. The transition began with that. They harnessed together a group of committed, disciplined professionals. They kept it simple - got the basics right, don't revert from the proven theories. That bred, Geoff Marsh, David Boon, Dean Jones, Steve Waugh, Craig Mc Dermott, Graeme Wood, Kepler Wessells, Simon O'Donnell, Mark Taylor and then the present lot of players. The benchmark has been set. Now it is a matter of continuation, always being aware of the future needs.
Dav Whatmore who took over as the Sri Lankan Coach in 1995 approaches his task with somewhat of the same thinking. Although his progress was temporarily disturbed, he is now flourishing at this his second attempt on the job. The new and not so new charges under his wing have responded marvellously well.
The important factor for any team is to perform at their best, consistently, on any given day. To be brilliant on one day and average the next is not what is wanted. Although still there is room for much improvement, Sri Lanka are on course to perform with consistency around the cricketing world.
What has been impressive in the first and second one day internationals against Pakistan is the professional approach to all three departments of the game. Skipper Sanath Jayasuriya has led the way with two solid starts. He should replay those innings over and over again in his mind because that is the type of start Sri Lanka needs from him right now.
Marvan Atapattu is a very technically correct player. He should not deviate at all from that approach, be it a one day game or a Test match. It is only the tempo that requires adjusting and then Marvan will be treating himself to a regular run feast.
Russel Arnold and T.M. Dilshan are continuing to show improvement. A hallmark of their play is the ability to put the scoring shots into gaps in the field. There is no purpose in playing handsome strokes or powerful ones if they don't bring runs. Both Dilshan and Arnold are now cleverly steering the ball clear of the fielders. The experienced Romesh Kaluwitharana and Mahela Jayawardena need more time in the middle. Kaluwitharana as he has proved in the past is always capable of producing a blistering match winning innings. Jayawardena should adopt the Marvan Atapattu approach. Concentrate on using good technique. In the second game Jayawardena was stumped off a wide! An indication of getting desperate because the runs have dried up. The only way out is to stick by the correct technique he knows and then it should be a matter of time.
Sri Lanka's bowling success in Zimbabwe was their accuracy, with some variation. Again when you keep it simple, get the basics right then success comes knocking at the door.
Vaas, Wickremasinghe, Muralitharan, Arnold, Jayasuriya and Chandana were all steady. Even though they had a few bad over spells, they came back fighting, to provide something special that the Pakistani's could not counter. The pitches were on the slowish side but still good for batting. Considering that the overall showing of the bowlers was good.
The fielding was breathtaking. The brilliance of the fielding raised the performance of the bowlers by a few notches. Adding to all this the running between wickets was near perfect. Hardly a blemish in the calling, anticipation, turning and speed between the two ends. Overall, a very impressive performance. Who said the Pakistani's cannot be beaten on their soil?!
---
DSS takes to rugby
My Police Memories
By S. Sivendran
(Retd. Snr. Supdt. of Police)
In 1974 when I was attached to Police Headquarters Douglas Ranmuthugala, Supdt. of Police requested me to introduce rugby at D.S. Senanayake College where his son was studying.
I acceded to this request and commenced coaching rugby at the school which was attended by a small but keen band of students. Practices were held in the small grounds that was within the college premises.
This was the beginning of rugby at this young school whose Principal was Ralph Alles who took this school to great heights in the field of studies and sports and which produced some great cricketers such as Aravinda de Silva and Hashan Tillekeratne.
During this period I was again appointed Secretary of Police Rugby and represented the Police at the Rugby Union Committee replacing S.P., P. Mahendran who was then in charge of Depot. S.P., V.T. Dickman was then in charge of Police sports. The Police rugby coach then was Mohan Sahayam - the dashing fly half who played for Trinity College, CR&FC & Ceylon and who was famous for his "Sahayam Specials".
Every evening he came to the Police grounds to hold ruygby practices at Police Park in the company of his pretty wife Penny whose company we enjoyed. Their daughter Tishara was a toddler. Mohan was working as a Shipping executive for Hayleys where C.V. Gooneratne, the present Minister of Industrial Development too worked and who too captained Royal College at rugby and played for CR&FC as a flanker. He is known as "Puggy" in rugby circles.
Mrs. Maya Senanayake, the wife of the Inspector General of Police Mr. Stanley Senanayake, who was the President of the Police Families' Welfare Association at that time wanted me to start a rugby coaching clinic to all Police children living at Depot and other Police flats in Borella, Maradana and Slave Island. I agreed to this and held rugby training to several Police children on every Saturday mornings which was very popular amongst the Police children who later went to play good rugby for their schools and later for the clubs and the country such as Nizam Jamaldeen, Lalith Leelaratne and Crofton Joseph, to name a few.
On 12.5.75 I was transferred from Police Headquarters to the Colombo Division as Officer-in-charge of Administration at Cinnamon Gardens Police Station. The officer in charge of Cinnamon Gardens Police Station was Inspector Terry Williams, who excelled at rugger for St. Peter's College, Havelocks S.C., Kelani Valley and Police and was the captain of the Police team in 1969 when police won the Affiliated Clubs Championship defeating the strong Royal Air Force team which was an All British side, in the Finals.
I played in this team as the young hooker as this was my second year in the Police. The others in this champion side were some great rugby players such as Leslie "Letcho" Ephraums, Michael Schokman, S.S. Bambaradeniya, Quintus Jayasinghe, Tony Mahath, Franklyn Jacob, Rodney Aluvihare, P. Mahendran, James Senaratne, Sumith Silva, Rahula Silva, Muni Gomes and T. Dharmaratne to name a few.
Terry Williams was a very unassuming Police Officer who had a very cynical way of dealing with his errant subordinates unlike the usual Police officers who were well known for their outbursts. A glaring example was when we had the half yearly inspection parade of Supdt. of Police in charge of Colombo South, A. Navaratnam, a product of Hartley College had represented his school at Cricket and Soccer. Early in the morning, Terry and I prepared the men for parade at the CH&FC grounds where we had our regular weekly parades and was awaiting the arrival of the S.P. at 6.30am. when a recruit sub-inspector just out of Training School marched in around 6.25 a.m. very casually and saluted and reported to the O.I.C. Terry Williams.
Terry who was very annoyed showed no anger and turned towards me and said "Siva during the days when we were sub-inspectors, on days of inspection parades we were the first to be at the parade grounds readying the men for parade and presenting the parade to the O.I.C. so that he could present the parade to the S.P. But today it is the other way about. The whole trouble is the shoe is on the wrong foot". On hearing this the young Sub-inspector said "No Sir, my shoes are on the correct feet" and walked away and fell in on parade. But this never had any effect on Terry and he went on with the parade without any sign of anger. That was Terry Williams.
The Asst. Supdt of Police in charge of Cinnamon Gardens at that time was Lucky Kodituwakku, a young smart officer who joined the Police as a Probationery Asst. Supdt of Police. He had his early education at Matale and later at St. Joseph's College, Colombo and graduated in India. He is today the lnspector General of Police. He was a pleasant officer to work with. Inspector in charge of Crimes was S.Selladorai from Jaffna and Inspector Terry Adolphous was in charge of the Minor Offences Branch.
Police work in Cinnamon Gardens was very different to that of the other Police Stations. It was a very quiet Police Station area where the majority of the diplomatic community lived whom you met when they had their National Day Celebrations at their residence of the Ambassadors. Even the locals living in Colombo 7 conducted themselves in an exemplary manner and invited you when they had their parties which were very grand.
There were several clubs within the Cinnamon Gardens Police such as CR&FC and CH&FC which attracted the best of rugby talent. S.S.C., N.C.C., C.C.C., Nomads and Bloomfield which had the cream of cricketers. There was also the Tropicana Club and Sun O Rama which catered to a different class of clientele with lots of music, singing and dancing and also provided female partners for comfort. The beautiful Vihara Maha Devi Park with its lush trees and greenery too provided shelter to twilight woman and the Police rounded up them regularly in order to preserve the sanctity of the Park.
In 1975 the Army and Air Force justified their being elevated constitutional clubs by entering the Clifford Cup final. This was Army's second Cup final appearance in three years as they shared the Clifford Cup with the Police in 1973. They had a strong set of forwards in skipper Saliya Udugama, M.F. Fernando and Rex Rahim. They had the smooth half combination of Jupana Jayawardena the scrum half and Haren Malwatte as fly half. In the back division they had two speedy runners in N.P. Amaradasa and G.B. Gunadasa with the reliable S.P. de Silva as full back. The Army team was M.F. Fernando, Alphonso Rodrigo, S. Mohamad, Dunstan, Rex Rahim, K.P. Weerasinghe, Saliya Udugama (Captain) Chandra, Jupana Jayawardena, Haren Malwatte, N.P. Amaradasa, Basheer Musafer, S. Jayasinghe, G.B. Gunadasa and S.P.de Silva.
The Air Force team entered the Cup final after a decade with only three players with Cup Final experience in lineout specialist "Lofty" Perera who played for CR&FC in 1971 Cup Finals and Trinitan Tikiri Marambe, former Sri-Lankan captain and the present Chairman of Selectors who played CR&FC in the 1971 and 1974 Cliffford Cup Finals and Mohan Balasuriya who played for Kandy S.C. in the 1969 Cup Finals. It was in 1975 that two outstanding ruggerites Tikiri Marambe from Trinity College and Nalin de Silva of Isipathana College played for Air Force for the first time and they were the main attraction in the team as they with their gutty game of rugby were responsible for the Air Force to enter the Finals. The Air Force rugby pool that year consisted of Tissa Nanayakkara, Mohan Balasuriya, Senaka Bowela, Shanthi Mendis (Captain), Tissa Fernando, "Lofty' Perera, Paiva, Kumar Jayaratne, Russel Baptist, Nalin de Silva, Viper Guneratne, Beno Silva, Ronald Rodrigo, Tikiri Marambe, Adjward, T.A. Omerdeen, D.S. Wickremasinghe, Sriyantha Rajakaruna, Hazari Dole, Leslie Bogodawatte, Chavo de Kauwe and Channa Guneratne.
On a September day in 1975 the Army and Air Force clashed in the Clifford Cup Finals at Longdon Place. This was a thriller with the two teams of steel holding each other to a scoreless first half.
During the early part of the second half prop forward Tissa Nanayakkara put the Air Force ahead with a penalty to lead 3-nil. Then the Army fought back and earned a scrum.
Army hooker Rodrigo struck fast and No 8 K.P. Weerasinghe picked the ball and went on the blind side and passed the ball to scrum half Jupana Jayawardena who was going in good support and when challenged by the Air Force, Jupana sent his fast running winger N.P. Amaradasa to flash through the Air Force defence and score the match winning try, to win the coveted Clifford Cup. Army 4 - Air Force 3.
---
Hero worshipping bad for the image
Bernie Wijesekera reporting from Pakistan.
In the sub-continent there is too much of hero worshipping of the players. Apparently they get carried away as a result, said Haroon Rashid, the former Pakistani Test batsman when interviewed by The Sunday Times in the second warm-up game between Sri Lanka and the PCB XI played at United Bank Limited grounds in Karachi. Haroon Rashid, who scored a debut 100 against Sri Lanka in Karachi in 1982 is presently the Executive-in-charge of the UBI sports complex which caters for the needs of the young sportsmen. It is one of the main lungs in the heart of the Karachi city. Rashid is administrator-cum a knowledgeable coach. He made his Test debut 157, batting at No.6, under Javed Miandad. The Lankan team was led by Bandula Warnapura, which team included D.S. de Silva, Asantha de Mel and Ajit de Silva, Sidat Wettimuny etc. Presently he is also assisting the Nepal team as its coach. Rashid, who acts without fear or favour said that some players get carried away to have their own way - especially in the sub-continent. This is the main cause for most of the ongoing problems that the management is faced with as a result.
In its wake indiscipline raises its ugly head and disunity among the players in the team. Also attributes to setbacks, despite star players in the side. Rashid said cricket is a team sport and everyone has to contribute for its success, but solely not bent on individual brilliance.
The players should not try to dictate to the authorities, or think they are indispensable.
Q. Can you elaborate on this aspect?
Yes, a good example is Australia's dominance in the international scene. The players in no way would tell the authorities or dictate terms. They too have in their ranks outstanding players, but no one is hero-worshipped like in the sub-continent. They have to abide by the code of ethics, or get out. No passive approach by the authorities. This is where a strong management has a big say for its development. Take Mark Taylor. He retired at his peak despite being told to carry on. Ian Healy when he was not making runs though he performed excellently behind the sticks, he called it a day. The players on their own must not hang on too long, but make way for others. I think your present selectors have done the correct thing by infusing young blood for the future.
Q. Any comments about the Pakistani debacle in Australia?
Its really tough for any team to get the better of the Aussies in Australia, put aside Pakistan. The conditions are different - bouncy pitches, mental toughness, application and must adjust in the available time, is the key to success, Rashid added.
Rashid, who was in Sri Lanka, with the Nepal team for the Mini Junior World Cup commended the organizers for its success. It was a good experience for the youngsters for their future betterment. He thought Sri Lanka could have won the title.
Q. Don't you think the Indian team a more competent side? You are right. They have a strong batting line-up. Before long some of them will make the grade to the elite team.
Q: Don't you think the players in the sub-continent are a class by themselves. They could match their skills against the best in the world ? You are absolutely right. But only thing they must not get carried away as I mentioned earlier. Everything is temporary, but class is permanent. During this short tenure do the correct thing and try to play a straight bat without let or hinderance. Then you have something to fall back after retirement.
Even people who have no knowledge of the game in the sub-continent follow the cricketers. This was evident in the great interest shown by the young 'uns of either sex in this match between Sri Lanka and PCB XI played at Pakistan United Bank grounds. Sri Lanka had stars like Sanath Jayasuriya etc. But still they are crazy for the game and follow their player even on the roads. You are right.
Imaran Khan, the colourful legendary all-rounder, led Pakistan to its first World Cup success in the final in 1992 (Australia). This scribe was there to witness this great happening against England. Undoubtedly he was a female heart-throb wherever he played in the 1980s. Today he is a humanitarian and a politician. A popular figure on and off the field. There are others like Imran who are very popular among the fairer sex - Sachin Tendulkar, Ajay Jadeja, Rahul Dravid. At present female fans in their numbers follow Afridi and the hostile fast bowler Shoaib Akthar. Akthar had to pay the price for a late night in Australia on its recent tour.
This had nothing to do with his controversial action.