It's a breeze, climbing trees!
By Carl Muller
He started with knots - bowlines and clove hitches and figures of eight. An old sailor? "Well," he said, "Knots have always belonged to the maritime tradition."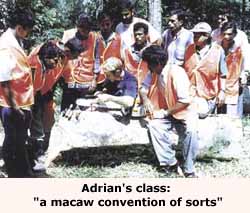 It brought back memories of my old navy days too. A bad knot could be disastrous. "It can be just as disastrous when you're twenty metres up a tree," he said, and grinned, dusting the wood flakes off his shirt.
This lean, whippy man is Adrian Schofield from CSIRO Forestry and Forest Products, Australia, who is in Sri Lanka as a guest of the GTZ- Estate Forest and Water Resources Development Project (EFWARDP), Kandy. He has come to teach us the safe and professional way to climb trees, conduct pruning and thinning operations and felling.
Adrian came here on May 2, and has been very busy indeed, out in the Peradeniya Botanical Gardens at eight each morning with an enthusiastic group of trainees from the Gardens as well as nearby plantations.
When I met the group, Adrian in jeans, the group all in scarlet protective coats, it looked as though, from afar, there was a macaw convention of sorts. They had grouped on the bank of the Mahaweli Ganga where a diseased tree had been felled. Apparently, there was a lot to learn. Apparently, too, climbing a tree is not as easy as falling off a log!
"I know there is a centuries-old tree-climbing tradition here," he said. "What I have to do is show how smooth and easy, a tree-climbing operation is with the correct rope, knots and body posture."
Apparently, our tree climbers work too hard, puff too much, sweat a lot and contort themselves too much. "They put in a lot of effort. Too much effort," Adrian said, and he ought to know. He has a Forestry Degree and Certificates in Horticulture and Arboriculture. With the CSIRO, he has spent ten years climbing and seed collecting and on tree surgery.
The knots are climbing knots and he was not happy with the local coir rope. "It is no good at all. Plenty of weak spots in the twists." He uses half-inch rope which has 16 strands around a central core. "Coir rope is simply not safe, not when you're high above the ground. The trainees have to learn the particular applications of each knot -the running bowline, the Prussic loop and knot, the double fisherman's knot, the figure of eight, the clove hitch." When you need a rope around your ankles and a rope around the tree as well, the idea is that the climber is secured to the tree and is also assured of comfort and flexibility.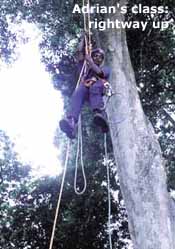 There are many ways to tackle the tall timber, and Adrian deals with them all. Trainees quickly mastered the Prussic technique and, when the need arose, to put rope over a fork, then ascend the rope.
" I aim mainly for ease and smoothness of operation. Ascending a line needs a secured footlock technique, turning one's feet around the rope.
Also, the best body position must always be maintained. There must be no stress on the spinal cord or upper legs and hips."
It was also his turn to learn a thing or two. "I don't believe it! You guys must have leather feet and armour-plated toes! Usually, no forester operates barefoot, but these boys did just that, kicking away their slippers and shoes. They are amazing, They swarmed up the rope gripping it between their toes, their feet quite unharmed by the rope. Me? I tried it their way and lost some skin!"
He does not allow his students to get too high. They were at it for one-and-a-half days and all achieved a high degree of competence. "I've limited them to 20 metres at girths of one metre. Nothing to stop them going up to 70 metres, of course. They are very smart. I couldn't wish for a smarter bunch."
He has also shown them the use of tree spikes to get up a tree fast. The spikes are worn on the boots like riding spurs. "With spikes and the ordinary bowline protection, they can all but run up a tree. Of course, spikes are only used on trees that have to be removed."
He went into many huddles with his group, stressing safety and maintenance, and was demonstrating the use of the chain saw when I caught up with him. The boys had a whale of a time slicing the felled tree into neat discs, and the flakes spun furiously in the air. Of course, there was a system - marking, gauging thicknesses, etc., and as one student cheerfully recalled; "Pukka things, these chain saws. JVP also used them to cut trees and block the roads."
Everyone grinned and Adrian asked why. "That's another story," I said.
Adrian will round off his course with pruning, thinning and branch-lowering techniques.
He would like to go on to the more advanced small and large tree removal, including winching, but, as he says, he is here to "pave the way'' and give learners the essential basics. "In forestry, one needs to climb a tree. That's what I am telling these boys to do, and showing them how."
The EFWARDP Team Leader said that the short course filled a real need. There is a big difference between the way of the expert and the non-expert.
When time today is always money, what Adrian is teaching is of real value to foresters, forest plantations and tree surgeons too. As he said, this was very important for men working on trees close to power lines and buildings. It is a prerequisite for the new cable logging techniques in Hapugastenne, etc.
Here, climbing is very necessary to lay the necessary guy lines, etc. Municipal Councils, too, can benefit from this training, especially when it comes to the removal of shade trees or removing dangerous branches. Forest plantations will need this expertise as well at harvesting time.
It is hoped, both by Adrian and the EFWARDP, that the Botanical Gardens will now be able to provide training for many - and it's all a question of a good rope and a better knot! Sounds so ordinary but it gets Adrian into the tall timber with the ease of the man on the flying trapeze!