---
Full force for first fight in Sharjah
Marlon Fernandopulle reporting from Sharjah
A confident Sri Lanka team will be looking to repeat their last performance in Sharjah when they take on Pakistan in the opening day/night game of the Triangular Championship in the desert venue today.

Sanath Jayasuriya's team knocked the daylights off India and Zimbabwe in November last year to win five games in a row and take the Championship. This year they face Pakistan and New Zealand in the triangular and the Captain is optimistic that his team has a good chance of continuing their winning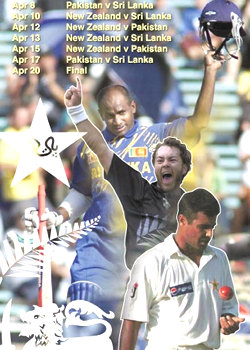 streak in Sharjah.
"We had a 100 per cent success record the last time we played here. Since then we lost 4-1 to South Africa but beat New Zealand 4-1 and England 3-0. The last two series lifted the team morale and the confidence of the players.We have a good chance of continuing that here," said a confident Jayasuriya soon after a practice session at the Sharjah Stadium.
When asked about the opposition Jayasuriya said,"Pakistan is a highly talented team. They may be without a few seniors but you can never underestimate the team. Their youngsters are an unknown quantity but are usually very good and highly talented".
Sri Lanka will be at full strength for today's game with the return of their skipper who missed the last game against England. Jayasuriya has recovered fully and has no problems with the injured knee.
He will open the batting with Romesh Kaluwitharana who also made a strong comeback to his customary opening position with a aggressive century against England. Samaraweera, Ganegama, Dishan and Fernando are likely to sit out at today's game.
One factor that has been of concern to the Lankan camp has been the heavy dew on the ground after the lights are on. This will no doubt prompt the side winning the toss to field first.
However the seamers also could be a handful during the second session as a lot of swing is also expected. As the two Lankan seamers Chaminda Vass and Nuwan Zoysa are also bowling well, Jayasuriya will give some extra thought if he wins the toss today.
Asif Iqbal quits, sponsor withdraws
The Chief Co-ordinator of the Cricketers Benefit Fund Series(CBFS) Asif Iqbal has quit his post while the title sponsors of the Triangular Tournament Coca-Cola have pulled out. After serving for 20 years, Asif Iqbal announced his resignation and was quoted in the Gulf News saying he was not willing to deal with people who have nothing to do with cricket. "The internal politics of Indian cricket has penetrated the government which has become a tool of certain people. I am shocked at how Sharjah could be equated to Singapore or Toronto and labelled an off shore non regular venue when it has staged the largest amount of one dayers in the world". Meanwhile title sponsors Coca-Cola pulled out in the eleventh hour following the withdrawl of the Indian Cricket team.ARY Gold, a Dubai based company have now stepped in as the sponsors. Ground staff in Sharjah were seen removing advertising boards of Coca-Cola and replacing with new advertising boards yesterday. (MF)
---
Pull on the legside
If you were surprised or shocked to read about the alleged sacking of skipper Sanath Jayasuriya from Sri Lanka's one-day squad, we hasten to reassure you it was only a pull on the legside to mark April Fool's Day last Sunday. We believe that Sanath Jayasuriya and Russel Arnold, being the great sportsmen they are would have taken it in the right spirit of the game though we gave them prior information of the legpull.

---
Irena Brar takes national title
By Tita Nathanielsz
The 2001 title event teed off in a blaze of glorious sunshine and, to add an extra dose of glamour, the foreign ladies impressed immensely with their captivating styles and excellent exhibition of stroke play.

Ladies Final

Irena Brar and Parnite Garewal were outstanding throughout the tournament and in the finals they were exceptional. Through the first 18 holes Garewal appeared to be the better of the two when she finished one up. She was long off the tee and quite positive on the greens. Irena was calm and collected showing experience and maturity. The beginning of the second 18 holes were much in favour of Garewal and at the half way stage Brar was 2 down with Garewal loaded with broad smiles sensing success. Brar was in trouble but she came off bravely with stunning fairway shots and firm accurate putting. Garewal was losing her grip and quite surprisingly the game moved into all square at the completion of the 30th. It was anybody's game now with both ladies playing great golf. Came the 33rd hole and they were still all square. The next three holes saw Brar at her best with great shots and flawless putting. Garewal wilted and slipped into small errors while Brar moved away to take a 2 & 1 lead and collect the handsome trophy and the National Title of Ladies Champion of Sri Lanka 2001. Both popular stars received richly deserved rousing applause as they made their way to the Clubhouse.

There were a few other events to crowd the programme at the Victoria Golf at Digana, chief of which was the International team event for the Maharajah of Parlakamedi Trophy. Sri Lanka was outstanding beating India and Pakistan comfortably with 218 strokes against India 231, Pakistan 233, Bangladesh 245 and Hong Kong 266.

---
St. George District, CC play 4 games
By Bernie Wijesekera
A tour party from St. George District Cricket Club, one of the oldest clubs in Sydney, Australia (where the late cricketing legend Sir Don Bradman played with distinction) will arrive on Sunday, April 8, for a two-week cricket cum tourism tour.

According to Harry Solomons, tour host, who is the brains behind the tour it will give the tour party an opportunity not only to play cricket and enjoy Sri Lanka's tourist attractions, but also to build and further friendly relationships via sport. "It's unfortunate that the best team is unable to make it along with a couple of State players due to other commitments. But the tour party is looking forward to a good time and making new friends," he added. St. George won the minor premier tournament. Jon Jobson, chief executive of St. George .D.C.C., will be the tour manager.

They will play four one day games - two in Colombo, one at Galle (Solomons' home town) and the other against Kandy C.C.

The tour opener is against CCC at Maitland Crescent on April 10. There will be a get-together in the evening.

The start of the year has been fine for Sri Lanka's tourist promotion campaign and Minister for Tourism and Sport Lakshman Kiriella, via cricket. The recent England cricket tour proved a roaring success. In Colombo the tour party will stay at Hotel Lanka Oberoi, in Galle at the Unawatuna Beach Resort and in Kandy at the Le Kandyan Hotel.

The tour end dinner by St. George DCC tour management will be held on April 19, at the Beach Hut at the Mt. Lavinia Hotel.

Mrs. Cathy Clugman, acting High Commissioner for Australia will be the chief guest. The Cricket Board officials and past cricket luminiaries will be invited.

The tour itinerary will be as follows: April 10 - match against CCC, 11 - travel to Galle, 11 match against Galle CC at the Esplanade, sightseeing on April 12 and 13. April 14 - travel to Kandy and an excursion to N'Eliya, April 16 match against Kandy CC at Asgiriya. April 18 The final matchwith Bloomfield at Reid Avenue. Sign off on April 21, back home to Sydney through the national carrier Sri Lankan Airlines.

Solomons, who is the managing director of Kingsgrove Sports Centre has been doing much towards promoting and helping needy schools and clubs with men and material. On this tour, he will make more efforts for its furtherance.

He will also meet the Cricket Board interim committee for a discussion.

---
Nalanda win cliff-hanger
By Bruce Maurice.
Nalanda clinched victory with a ball to spare to emerge champion in the S. Thomas' Invitation Schools 6-a-side cricket tournament played at Mount Lavinia yesterday.

Nalanda beat the hosts S. Thomas' by one wicket in the final.

In the semi finals, Nalanda beat St. Benedict's by 4 wickets and S. Thomas' beat Wesley by 3 wickets.

The schools that participated in this tournament were: Royal, St. Peter's, St. Joseph's, St. Benedict's, Nalanda, Wesley, Dharmaraja (Kandy), Mahinda (Galle) and the host school.

In the final S. Thomas' were dismiised for 56 and Nalanda replied with 58 for the loss of four wickets.

The Man of the Series award was won by S. Gangodawila of Nalanda College.

First Round: St. Benedict's beat Prince of Wales by 3 wickets. Wesley College beat. St. Peter's Collge by 31 runs;

Wesley- 89 for 1. (Nuwan Samith 37 n.o., F. Maharoof 21, R. Fernando 1 for 6).

S.P.C - 58 for 1. D. Faux 21 n.o., M. Imtiaz 1 for 5).

S. Thomas' College beat Mahinda College by 34 runs.

STC - 105 for 2. (Jeevan Mendis 51, J. Vidushi 1 for 9).

Mahinda - 71 for 4. (L. malinga 20, A. Bandaranayaka 2 for 9).

St. Benedict's beat Royal by 3 wickets.

Royal - 74 for 4. (T. Saldin 17, M. Totuwilage 32, A. Sudesh 2 for 16).

Nalanda College beat St. Joseph's College by 22 runs.

Nalanda - 62 for 2. (G. Chandrakumara 14, M. Porage 10, D. Senanayaka 1 for 8, N. Perera 1for 7)..

SJC - 40.

Semi Finals: S. Thomas' College beat Wesley College by 3 wickets.

Wesley - 48 for 4. (N. Samith 14 n.o., M. Imtiaz10, J. Mendis 1 for 7, A. Bandaranayaka 1 for 110.

STC - 56 for 2. D. Gunasekera 16 n.o., Z. Kanaka 15 n.o., M. Imtiaz 1 for 6, F. Maharoof 1 for 8).

Nalanda beat St. Benedict's by 4 wickets.

SBC - 51 for 3. (M. Ajmeer 15, L. Hettiarachchi 28 n.o., M. Porage 1 for 6, S. Gangodawila 1 for 10).

Nalanda - 55 for 1. (M. Porage 21 n.o., M. Dunusinghe 17 n.o.).

Final: Nalanda beat S. Thomas' by one wicket.

STC - 56 all out. (J. Mendis 13, D. Gunawardena 14, M. Perera 2 for 9, M. Suruppulige 2 for 12).

Nalanda - 58 for 4. (S. Gangodawila 32, M. Dunusinghe 13, A. Bandaranayaka 2 for 2, P. Peiris 1 for 12).

---
Divsion One Plate games marred by bad weather
By M.Shamil Amit
Two half centuries one by Muditha Maduwantha (93) for Kurunegala YCC and the other by Sumedha Weerasiri (64) for Navy was the highlight of the second day's play in the Division One Plate Championship match played at the Bloomfield grounds yesterday. The match had to be stopped early due to bad weather.

Kurunegala YCC - 264 (Muditha Maduwantha 93, Suresh Chandra 43, S.Priyankara 41; Mahesh Perera 3 for 44, Sarath Ranaweera 2 for 80, Gihan Fernando 2 for 29)

Navy SC-180 for 5 wickets at close(Sumedha Weerasiri 64; Ajith Ekanayake 2 for 31)

First innings lead for Moors

In another Plate Championship encounter between Moors SC and Galle CC at Braybrook Place, Galle batting first were bowled for 111 and Moors in reply were 113 for 3 wickets at close.

Galle CC -111 (D.Sudarshana 50, P.Wanasinghe 15, C.Perera 16, D.Wickramasinghe 15 not out; P.G.N.Ranjith 3 for 33, Rangana Herath 5 for 18)

Moors SC-113 for 3 wickets at close (M.S.Sampan 26, Bhatiya Perera 28, Dhammika Rajapaksha 13 not out, Chandika Haturusinghe 29 not out) - MSA

---
Rover pinpoints
Repeated
The coach of the Athletic Coaches Association who himself is a coach has again been appointed as the Chairman of Selectors in athletics.

The list of names has been sent to the Minister of Sports for ratification and Rover learns the ratification has not come as yet from the Minister.
For the first time
Rover learns that with an intention of drawing crowds for athletic meets, the big mouth has suggested that top singers should perform during the break of each event. How crazy can one be?
The cat is out
The cat was let off the bag, when the Minister of Sports stated that certain clubs have voting rights, without playing the game and what's more, they have been heavily funded for the assurance of votes which in a way is bribing! Rover wishes to inform that this is absolutely true and is taking place in a few leading sports bodies as well.
Seen running away
A leading official of the NOC was seen tapping his heels and heard asking a journalist where, he is, the one who is supposed to contest the post of President of a Sports Body. Right at that moment the contestant alighted from his car, and this official vanished from the scene and was later found sitting in the back row. The journalist however, was ordered out.
Senior offical assaults Jnr.
A big-made senior official of the Interim Committee for Motor Sports dashed the head of a senior official on the table at the reconvened AGM in the presence of Sports Ministry officals. The scene was watched by members of this club in Colombo 7.

The reason behind this assault is that his name was not proposed by an upcountry Club. A complaint has been made with the Cinnamon Gardens police.

Could this be true?

Why did the Motor Racing meet held at Katukurunda see delays in conducting the last three races. Was it not because a competitor had been knocked down by a stranger in the paddocks for motor cycles with no official being concerned about stopping this stranger from practising?

Was there an ambulance? The van that transported the injured competitor raced on to the track while a car race was in progress and it was a wonder that nothing dreadful occured.
Election of Asst. Sec. & Treasurer
Rover is informed by a seinor member of the General Council of the SLBF that the election of the Asst. Secretary & Asst. Treasurer at the AGM held on 31st March 2001 was in violation of the Sports Law and the SLBF Constitution. Rule 19 states that nominations must be called and ratified by the EXCO before circulating the nominations. But here no nominations were received as per the circular from the Secretary. Who authorized the election for the above posts by proposing and seconding the names at the AGM? Where is the 14 days and 07 days notice requirement? Can Sri Lanka Basketball Federation General Council over-rule the Sports Law? Is this AGM valid? Over to you Minister of Sports?
Sundry Creditors or Sundry Debtors
According to the audited accounts of the SLBF ended for year 2000 and passed unamimously at the AGM last month it has been shown that Manager and the Referee who were left behind on the tour to Japan by the Coach as Sundry Debtors. How did they become Debtors when they have claimed back their contribution given for the tour from the SLBF ? They have been paid half the amount and the balance has been promised by a Vice-President. How did they become Debtors when it should have been Creditors according to the Minutes and the Accounts books ? How did the accounts suddenly change? Four others named as Debtors, also claim that monies are due to them from the SLBF and that they don't owe any money to the SLBF. How were the accounts passed at the AGM? Is this AGM valid? Over to you Minister of Sports?
Who is this Sundry Creditor for?
Who authorized the Treasurer to obtain such a big amount as a loan?

When was this loan obtained? How is this amount going to be repaid? Is it from the development fund from Ministry of Sports? Is there a person actually by this name or is it a fictitious name to cover-up others who have swindled the monies from the Sri Lanka Basketaball Federation? Over to you Minister of Sports?
Three Foreign Tours by SLBF?
Believe it or not the Sri Lanka Basketball Federation had made tours to Malaysia, Qatar and India in 2000 and have shown a big shortfall in the tour accounts. Who is responsible to collect these balance monies and pay SLBF?
Secretarial Expenses?
According to the audited accounts the Accrued Expenses for Secretarial work and General Secretarial Expenses are totalling to Rs. 75,000.00 Did the EXCO approve this large amount is what is asked by the Basketball lovers? Over to the New President?
Is this SLBF AGM Valid?
Rover is inundated with letters and inquiries to know how the Ministry of Sports can turn a blind eye on this SLBF AGM when it has been proved beyond doubt about the violation of the Sports Law and its own Constitution? Specially tabling an incorrect audited statement of accounts to cover up the misappropriation of the monies by the former officials and electing office-bearers from the nomination list accepted after the closure of the nominations. Over to you Minister of Sports?
---
'Daring Dan' to the fore
By Tania Fernando
While all the spectators sit biting their nails and wandering as to what's going to happen, the man behind the wheel, with his seat belt fastened, engine revving, and foot on the accelerator is watching with his eyes glued waiting to be flagged down.

A motor race one of the most exciting sports can leave one's adrenalin pumping and pulse racing, while the driver is watching waiting not only for the flag to be waved, but trying to keep ahead of the others in the race and to ensure that he stays ahead and try not to let others whiz past.

Dan Dissanayake a relative new comer to the race track felt no different, when he made it with the fastest timing at the Katukurunda Races held last Sunday. The timing of 1.01 per lap is the all-time record for a saloon car. The car, which won him this race, was the Mitsubishi Lancer Evolution, which he calls Mobil 1 special. This was incidentally Dan's first time at the Katukurunda track.

"Beating a record was not on my mind. Although I had the fastest polling position of 1.02 per lap I knew that it does not mean that I will win the race". Adding that his fuel pump blew up on the day of the race and he was disheartened, but he had managed to get another pump and fix it. "Because of this I did not have much time to practice either", he said.

Dan who was keen on motor racing got into it in 1999, after he participated at the Mihintale races. "I really enjoyed it and decided to spend more time at it". His second attempt at racing was at the Bandarawela Hill Climb and subsequently at Ratnapura and Koggala.

Prior to that he had participated at the Auto Cross in Singapore in 1980, which was just for vocational purposes, he said.

Called 'Dynamic Dan' by his sponsors Mobil, but to me 'Determined Dan' would seem more appropriate.

"In September 2000 my car was burnt, but I built it back from scratch and used it at the Colombo Super cross. On the day of the trial my fuel hose came off during the timing practice and therefore could not be timed," Dan said. Although he was placed 10th on the grid, he managed to end up being at number five.

Tarmac racing is his favourite and he said that even though he did crash once when he overshot a corner, it has not put him off racing. The lull in racing after the Fox Hill had given him a chance to visit Japan and Malaysia where he had gained more exposure and got more professional. "I also practiced with the Japanese team", he said.

When asked how he feels to be behind the wheel he said that his whole body is switching gear and its like a tiger waiting for its prey. "Luck has to be on your side too and the split second thinking can leave you tense and with a lot of pressure". "All those other cars whizzing past me gives me a pump".

For the Katukurunda races he had got his engineer specially flown in from England.

He said he turned to Phil Mars when he wanted someone to concentrate solely on his car. "He went back a happy man after I won the race", said Dan.

Dan who had his education at D. S. Senanayake, said that he had been actively involved in cricket at school level and club level, however had given it up due to family commitments. He decided to take to racing in a more professional manner due to the fact that it's individually performed and is solely based on merit.

Although Michael Schumacher is his idol, he says he owes it all to Dilantha Maragamuwa the only international racing driver in Sri Lanka, who gave him all the backing and put in a lot of effort to help him to get where he is, "he is my master who guided me". Dan says he has had further support from his two kids and his mother who with their unwavering support have stood by him.

He says that motor racing has given him new meaning to life and that anyone can do it if you have the determination.

'Determination' seems to be the key word with this man who gets a pump with tyres screeching and other cars whizzing past to a nail biting finish.

All those motor sports enthusiasts will be able to see Dan Dissanayake in action at the Radella Hill Climb and he says he has a surprise machine for this particular race.