---
Hope after acid ordeal
Doctors reconstruct housemaid's food canal after nightmare in Riyadh
By Laila Nasry
For 42-year-old I.M. Somalatha Jayanthi, Saudi Arabia promised to be that fabled 'greener pasture'. Having slogged as a servant in Colombo households to earn a living, the prospect of going abroad held heightened appeal. She dreamed of a new country, new job...a new lease to her existence as a single mother of two, who had suffered much travelling along life's rocky road.

It was with this hope and anticipation that she left Sri Lanka on August 8, last year, never expecting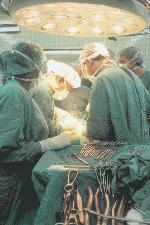 that a cruel twist of fate would see her back home in two months, instead of two years.
We met her last Tuesday at the Sri Jayewardenepura Hospital where she was just about to undergo a major operation to reconstruct her oesophagus. The operation was needed because her employers had forced her to swallow acid and the inhuman act had destroyed her insides.
"Kela vath gilinna behe," says Jayanthi whose oesophagus and stomach have been severely burned and shrunken, making the intake of food and drink impossible. A tube drips saline into a vein in her hand. She is fed liquids through a little bottle fitted directly to her small intestines. Spitting out her saliva, from time to time into a makeshift cup clutched tightly in her right hand, she tells us her story.
Her husband left her 15 years ago after they had two children. "He said he didn't want to be married to an orphan." With a son and daughter aged four and one to bring up, the future seemed daunting to Jayanthi. "Because I have no family to take care of them, I put them to a lama nivasaya in Gampaha,
and went to work in Colombo." Once a month she visited her children.
Her income insufficient to meet her obligations, Jayanthi began contemplating seeking foreign employment. She found a job through an agency in Maradana. "I was to be a housemaid to a Police officer and his wife and their six children in Riyadh. However from day one, the nona (lady of the house) there never liked me. She was always angry with me and however hard I worked, she was never satisfied. She beat me all the time," she said.
Her workload never ended before three in the morning. "I did everything from cooking and cleaning to washing bathrooms." Meal times were non-existent. I was not allowed to eat anything unless it was given to me by the nona," which was not often. She was forced to eat on the sly whenever the rare opportunity presented itself. Life, she says, was a living hell. Many times, the thought of running away crossed her mind but going to a Police station was out of the question. "I would have been found and I dread to think what they would have done to me," she said.
The tension came to a head one day, after she had a big fight with her employee. "Nona hit me till I was blue and I sat huddled in a corner unable to do anything. Later, she gave me a glass of milk and I took it not suspecting a thing. When I started drinking it, I felt this horrible burning sensation in my throat. I quickly spat out what was in my mouth," she recalled. But she cannot remember what happened next, since she had lost consciousness.
Three days later, Jayanthi woke up in a hospital in great pain. There were tubes inserted into her stomach. "I told them I wanted to go back to Sri Lanka and almost before the words were out of my mouth I was back home," she says. Her two months salary had been used to buy her an air ticket.
Arriving alone at the airport she took a taxi to a relative's house in Gampaha and the very next day entered the Gampaha hospital. Warded for two weeks, she was told that they could do nothing about her throat. On January 6, she entered the Ragama hospital where she was treated by Dr. Rohan Jaya–singhe and Dr. D.W.Weera–sooriya. She was later transferred to the Sri Jayewar–denepura Hospital.
Fortunately, Jayanthi's is not a hopeless case. In the operating theatre of the Sri Jayewardenepura Hospital, she was to be given a second chance at life.
Inside, a team of doctors headed by Surgeon Dr. Gamini Goonetilleke was preparing for surgery. "Her oesophagus is like a corroded pipe," Dr. Goonetilleke explained. "The passage is obstructed, so we have to create a new one." He drew various diagrams explaining what they intended to do. A section of her large intestine was to be removed and used as a substitute food canal. It would run from her pharynx to her small intestines bypassing the stomach which was also damaged. The section of the large bowel to be used as the substitute food canal- the length of which was to be decided during the operation once the areas were exposed, was to be strengthened by a tube which would be inserted. A smaller tube too would be put into the first to facilitate the feeding of liquids to the patient.
The operation began at 11.40 a.m. Scheduled to last four hours, it went on for nearly five and a half hours due to a few complications. But, thanks to the skill of her doctors, Jayanthi emerged safely.
I remember her parting words. "I want to live. Live a peaceful life, doing a small job that will earn me just enough money to eat and drink well."