---
The Goss
'A-Team' star as 'Mr. Mom'
Fans who want to see TV star Dirk Benedict can find him at his kids' soccer games in the tiny town of Big Fork, Montana

That's because Dirk, who played intergalactic heartthrob Lt. Starbuck on "Battle star Galatica" and Templeton " Face" Peck on "The A-Team," has given up acting for now and is spending his days being a full-time dad to his two boys. The 56-year-old actor became " Mr. Mom" to George, 13, and Roland, 11, when his marriage to actress Toni Hudson dissolved in 1995 and she moved back to Los Angeles. Dirk and his sons continued to live in Montana, in a small log cabin built in 1926.

"I had to let my acting career go and change my whole lifestyle in order to give my children the child-hood they deserved," Dirk said. The actor and his boys live far from the glitter of Tinsel Town. Dirk chops wood and cooks on a wood stove for his family and their lives are filled with clear mountain air and plenty of sports. The doting dad teaches the boys old-fashioned values and gives them plenty of love. Even though his celebrity came as a result of TV, Dirk - who believes violence on television robs children of their childhood - didn't even own a television set for years. His sons grew up unaware their dad was famous.

His book "Confessions of a Kamilkaze Cowboy" (Avery Publishing Group) which describes his successful battle against prostate cancer, was a hit with readers. And he wrote and directed a feature film called "Cahoots," David Keith, and Wendie Malick, which is now being shown at film festivals around the world. Although Dirk plans to keep writing and directing, his top priority remains the same - his sons.

---
ER hits 100 Emmy nominations
Long-running medical drama ER isn't the show to beat at the Emmys anymore, now that The West Wing and The Sopranos are hogging the limelight, but on Thursday, the seven-year veteran passed into Emmy history. NBC's stalwart medical melodrama picked up seven nominations and is now the most-nominated drama in Emmy history with 100 nominations. The show, which debuted in 1994 and has stayed on top of the TV charts ever since, has now passed up Hill Street Blues' record of 98 nominations.

Executive producer John Wells said he's amazed that his show has come so far. "We were just hoping we'd make it to Christmas that first year," he said. "It's a wonderful honour for everyone involved with the show." With ER currently locked in until its 10th season, there's a good chance that there'll be more Emmy nominations to come. And Wells said he's open to extending ER even longer. "It may be too early to talk to NBC, but as long as we can make a good TV show, we'll consider it," he said.

Next season will see the return of original series member Sherry Stringfield (a three-time Emmy nominee for the show) and the exit of another first-year veteran, Anthony Edwards, who has racked up four Emmy nominations so far.

Among the changing guard of series regulars, only Julianna Margulies has won an acting Emmy, although George Clooney, Gloria Reuben, Laura Innes, Eriq La Salle, and Noah Wyle have all been nominated in the past.

---
Jerry's gone Hall wrinkly
She gives into cellulite

The 44-year-old blonde who outlasted generations of catwalk queens has finally succumbed to cellulite. Not even the cut of a forgiving black swimsuit can hide the onset of the dimpled and wobbly bits that everyone else gets… often long before Mick Jagger's glamorous ex.

Last year Jerry vowed audiences in London when she stripped to play Mrs Robinson in the stage version of The Graduate. But the theatre lights were kinder than the harsh sun of St Tropez in the South of France where she splashed in the waves with daughter Georgia, nine, and son Gabriel, three.

Another sunbather stated: "I was a little surprised to see the cellulite but in a way it's comforting that she has our frailties".

---
The six million dollar Friends
The six stars of Friends have banded together to win a record $1 million each for Every new episode of the smash-hit show. The world-beating deal means they will each scoop almost £18 million for working on the ninth and final series. And they will earn that fabulous sum in just nine months - giving them a three-month break before shooting the 24 episodes.

They star Jennifer Aniston, 32, as Rachel, Lisa Kudrow, 37 as Phoebe, Matt Perry, 31, as Chandler, Matt LeBlanc, 33, as Joey, Courtney Cox, 36, as Monica and David Schwimmer, 34, as Ross. They earn in minutes what their British equivalents earn in a year.

Salaries on Hollyoaks are just £60,000 and Brookside actors bank only £ 130,000. Even Britain's highest paid telly actors John Thaw and Sarah Lancashire - who earn around £1.5 million a year - net 12 times less than French stars. The American show is sold all over the world, including Channel 4 and Sky 1 in Britain. And the Friends deal was signed days before the cast took their three-month break. Ten years ago they earned less than £40,000 each an episode.

Filming begins this August and is scheduled to continue until next May. An insider revealed it will definitely be the last series. The stars had wanted to move on this year and only made their giant demand because they expected it to be turned down. The Warner Brothers source said: "They don't exactly get on that well any more. And their agents held us to ransom."

---
Shopping, capitalism and improvisation
By Ruhanie Perera
In contrast to all the not so normal, more to the point rather out of the ordinary plays that hit the stage, this month, theatre goers will be treated to 'three strangely normal plays' presented by Stages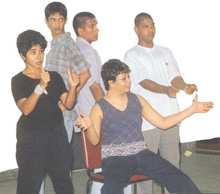 Theatre Company.

Directed by Ruwanthi de Chickera, 'Checkpoint - three strangely normal plays', is a compilation of three short plays that have been chosen because of their uncanny ability to make a person stop and think. Sometimes evoking a laugh, sometimes not.

'The 24 hour store', an original script written by Tara Kumarasinghe is the first of the plays, one that questions the concept of consumerism. Tara, who was just 18 when she wrote the play puts across some very deep thoughts into one of the most ordinary of situations - a shopping experience.

"It's not an expression of myself, neither is it one that comes with a specific message. I'm not even trying to make people think," insists Tara who just "sat down one day and wrote the play". And what she wrote was merely a "shift in perspective".

The second of the three plays is a translation of award winning Sinhala playwright Dhananjaya Karunaratne's script 'Last bus eke kathawa'. Says Dhananjaya, "My plays speak of society, what affects the society we live in and how it has an impact on our lives."

'Last bus eke kathawa', unfolds the story of the pathetic plight of a man caught up in a capitalist system, which is told by the man himself on the last bus out of Colombo.

It is a one-man-show carried off with aplomb by Gihan de Chickera who brings out with dexterity the humour, satire and poignance of the story he tells.

The final play for the evening will be a theatrical experiment, a first for both actor and audience. The play will be performed in the tradition of Forum Theatre where the audience plays an active role in the resolution of the plot. The idea is that a play is performed up to the point of crisis, at which stage the audience, by instructing the actors what to do next, decides how the play moves from that point onward. Adding to the novelty of this experiment is the fact that the circumstances depicted in these impromptu plays are based on true stories.

The cast for the plays include Tracy Holsinger, Nimmie Harasgama, Gihan de Chickera, Shanaka Amarasinghe, Surein D.S. Wijeratne, Ravin Fernando, Ryan Holsinger, Nadia Daewood, Sharmini Marcilamani, Amal de Chickera and Dylan Perera, among others.

In the mood for a 'strangely normal' play? Then drop in at the British Council Auditorium on any day from July 27 to August 1 at 7.30 p.m. Tickets for the play are priced at Rs. 150/= and are available at the British Council.
---
Techno Page
by Harendra Alwis
Write in to the
Techno Page
Mirror Magazine
C/o The Sunday Times
No. 8, Hunupitiya Cross Road,
Colombo 2
ISP: is so easy
Whether it is the World Wide Web or just email, we have come to depend on it a 'great deal'. What is the greatest deal available when it comes to Internet services? There are many Internet Service Providers (ISPs) in Sri Lanka who offer good value for money and the best deal for you may vary according to your needs (i.e. required bandwidth, number of email accounts, etc.) and your budget.

First of all you need computer hardware in order to connect to the Internet. They are commonly modems but there are different types of modems. The modem is a decisive factor as the speed of the connection and the type of information you can access depends on it. For example, the speed your modem transmits information is the upper limit of the speed at which you can access 'the net'. You may also have to find out if your modem supports the transmission of sound (voice), fax, etc.

One way to 'get connected' is through dial up networking and the others are through local area networks and leased lines. When using a dial up network, you have to connect your modem to your telephone line and dial a number given to you by your ISP where you will be able to connect to their server after a user identification and authentication. This is the cheapest and the most common way of access to the Internet in this country, but it is definitely not the fastest. You can choose a connection speed from 28.8 Kbps to 8MBps and above, according to your need and budget.

The common unit, which is used to measure bandwidth, is 'kbps' which says how many thousand (1000 and not 1024) 'bits' of information could be exchanged in one second. This does not necessarily mean that you can exchange information at this rate. For example, a regular 56.6kbps modem can receive information at up to 56.6kbps, but it can transmit information only up to 33.3kbps-36.6kbps.

The speed of data transfer depends on many more factors and having a 56.6kbps modem and being connected to the internet at 56.6kbps may not necessarily mean that you could use all your bandwidth to its full capacity at any given moment.

Among the many ISPs' there are telecom service providers as well. They give some special advantages through their telecom services, for example Sri Lanka TelecomÆ (SLT) lets you dial up one number from anywhere in the country at local call rates. Suntel allows you to call up their server or any ISP with a SuntelÆ dial up number (there are quite a few of them) for just nine rupees per hour during their off-peak time but of course you have to have a Suntel telephone connection for that.

Some ISPs' allows their customers to check their mail on-line (over the Internet) from anywhere in the world. Some of them let you change your account passwords and check account status (i.e. the Internet bill) on-line.

Account security is a key issue that you need to look into before you choose your ISP. This is because there are people out there who are trying to hack into your Internet accounts, to read your mail and use your account to gain access to the Internet. This means that you could end up paying a hacker's Internet bill at the end of the month. Hacking Internet passwords is very common in our country and the security level of some ISPs' (including a leading telecom service provider) is debatable.

With the number of Internet users and the number of ISPs' multiplying at the present rate, Internet services are bound to improve and the prices will come down. At the end of the day, you are in the best position to decide which is best for yourself, but make sure you read the fine print before you make any commitments.

---
Smart tags
Public pressure has caused Microsoft to reverse its planned implementation of "smart tags". The tags were to be introduced within Internet Explorer 6,which will be released with Microsoft's next generation Operating System, Windows XP.

Smart tags would allow Internet Explorer to modify any Web page on the Internet, as viewed by the user. These modifications would turn certain words on the Web page into links that will lead to the Websites of Microsoft and its advertisers.

The enormous amounts of money that Microsoft could generate for itself, through the work of others, is mind-boggling. The mere thought that Microsoft has considered the idea sends chills down my spine. There's some extremely interesting commentary about Microsoft's Smart Tags on http://www.alistapart.com/stories/smarttags/

- Priyanga T. Kumarasiri