---
Wild paradise
Marlon Saldin discovers that the birds have flown from Kumana
Friends thought I was mad when they heard I was Kumana-bound. But that only made me more determined to travel into this 'no man's land', once so renowned as a bird sanctuary.

My plan was to hike or bike it to Kumana. So into my rucksack went all the standard paraphernalia; tent, cooker, sleeping mat, clothing, food, torches and lots of water bottles. Into the van went my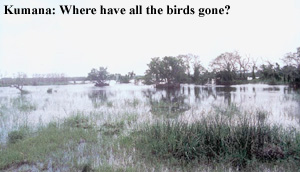 mobike, the fully laden rucksack and camera.
The long, monotonous trip to Lahugala held no surprises. Traffic, the occasional bad patch of road and the refreshing serenity of the Uda Walawe reservoir drive. But at Lahugala, the adventure began.
As it happens, I own a very small camera, in comparison to almost everyone else's bazooka-like lenses! Its lens is only 70 mm, and so I have to get very close to my subject, in this case the wild elephants of the Lahugala National Park! A little track beside the road caught my eye and there were three elephants grazing near the lake. After a couple of photographs, I was admiring the lush scenery when an angry trumpeting call made me look around. I had momentarily forgotten about the elephants but the elephants had apparently not forgotten me! And now one was closing in very rapidly!
About 70 feet away from me, it charged. "Stay cool and do not panic" is the advice given by many-a-jungle person. But it's easier said than done. Luckily a bark made the charging bull turn to this new adversary. A returning STF patrol together with their hound had let me off the hook! The decent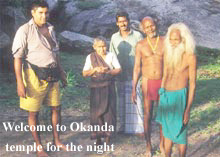 photograph claims the fact that I managed to keep my camera steady throughout the ordeal.
Pottuvil was the next town of interest. "It gives you the atmosphere of a cowboy movie where you'd expect to see a couple of cowboys shooting it out," was how a friend had aptly described it. A pothole-ridden gravel road is the main street of the town. The left leads to Batticaloa and the right to Panama, (pronounced Paanama) where I was heading. This drive is through Arugam Bay, said to be a surfers' paradise! As this was off-season I managed to rent a decent room for the night, though far from cheap.
Panama is the last point of habitation if you travel down the East Coast. The end of the road so to speak, as the STF post will tell you. Panama has a large population of Sinhalese, with a Muslim and Tamil minority unlike Pottuvil where the majority is Muslim. My name and identity number with a tentative date of return was all that was needed for the STF to open the barrier and permit me, to this vast area of forest and everything within.
This part of the journey I had decided to complete on bike as I had by now extended my horizons from Kumana to Kumbukkan Oya. After safely parking my van in a secluded part of the village, I entered the road to the forest with my rucksack on my shoulder and camera around my neck. It was around noon and my plan was to get to Okanda temple for the night. It did not seem to be that far until I saw the road (if one may call it so) I had to travel. It looked as if all of Sri Lanka's rivers, streams and canals had decided to divert ahead of me! I had to push, pull and virtually carry the bike across these waterways. Whoever wrote the song "Many rivers to cross" may have taken this route a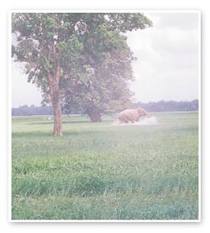 long, long time ago! The only blessing was that the water level was no more than upto my knees!
By mid-evening, with the sun beginning its descent, I still had almost a third of the distance to cover, when I came across another problem. Beside a picturesque lake with lilies and tall grass stood a huge elephant. I would have to ride around 20 feet from him! I decided to ride very slow until the forest cover was reached. Nearing safety, I looked back and there the jumbo was in its original position with perhaps just a slight tilt of the head. Here, I stopped and took a photograph, heaving a sigh of relief. Thanks to some fast riding that resulted in many cuts and bruises, I reached my destination before sunset, managing a well bath and a brief tour of the Okanda temple and rock before dusk.
The Hindu priests of the temple were friendly and easygoing. I shared their roti and sambol while they shared my biscuits and soup, washed down with sweet, hot coffee around a game of cards. Four priests, long- haired and bearded, bare- bodied except for a loin cloth around the waist, playing cards around a lamp in an open area of the temple situated in the middle of nowhere....it seemed unreal. But my adventure for the day was yet to be completed, as a huge commotion erupted in the storeroom where I was to bed down. The wife of the priest had almost trod on a snake. I casually asked its type and colour. The answer got me re-packing fast in search of another location to lay my weary self, this time the hall of the shrine room in the temple. A hundred unknown perils are better than one confirmed Krait!
After an early bath, I joined the priests and company for breakfast before I bid goodbye to this dedicated set of people so far away from everything.
The country ahead consisted of thick forest, lakes, swamps and lagoons. Along this trail was a kind of thorn bush called Kukul Katu with which I made a painful acquaintance. This bush seemed to have more thorns than leaves, in fact, very sharp, painful long white thorns.
Occasionally, when I broke cover of the forest into the lakes and lagoons, I could see herds of deer, sambhur, wild boar, wild buffalo and elephant. Along sandy trails were plenty of bear prints as well as large leopard marks.
This is what I had come to see, a wild paradise in its true sense. The occasional darting of deer across the path I was travelling, the calls of jungle fowl, rock squirrel, peacock and hornbills made the forest come alive. The lakes were well represented with both local and migrant varieties of birds.
If I could mention anything against these parts it was the heat. The sun was an absolute scorcher Coming out into the open was living hell! My water bottles were emptying fast! The lake waters were near undrinkable, bitter and rather salty, the little waterways too small, too muddy, and too dirty. So when I came across this river with a bridge intact too, I simply jumped in, clothed, shoed and hatted. The water was murky but very drinkable and as it was only three to four feet provided a memorable swim. Fully energized and refilled with water I was riding more confidently now, my damp clothing helping to compensate for the heat. It was around this point when I took a bend that I saw them, or we saw each other.
They were a group of around ten young men, slim and tough, very curious to find out what a red- faced Mahattaya was doing in these parts. They said they were fishermen going to Kumbukkan Oya to fulfil a vow, made to a shrine on the banks of the river. In all honesty I'm not quite sure if I was glad to have found company in this wild land, and give up my solitary lifestyle.
They were an able and capable group as I found out in minutes. They had decided to make camp on the dunes besides the beach for fear of elephants. Soon they had got a fire going and were brewing tea. Lying on a hammock ( a fishing net) with a cup of tea, was bliss!
Here I was to stay for the night as I was told Kumana was only two miles away! And tomorrow with my new found friends I was to walk through the jungles to Kumana, Kumbukkan Oya and back, a total of around ten miles. Dreaming of the many flocks of birds I would be observing the next morning, I went to sleep beneath a cloudless sky and a million stars. But the nights are never peaceful in these parts, as hours later I was awakened by shouts, hoots and general mayhem. An elephant had come visiting.
The morning inspection disclosed the footprints of the elephant almost touching distance from where I lay. Perhaps my snoring had kept the beast at bay! After a breakfast of hot, steaming rice and curried fish caught that very dawn, we left for our common goal, Kumbukkan Oya!
The hike was a totally different experience to the bike ride. You could stop, touch, smell, and observe at your own pace. The boys knew their way around and in no time I was at the Kumana Villu!
Here, however, the disappointment was total. Kumana was bare! Not a solitary bird was in sight. The map calls it a bird sanctuary and my friends and relatives relate tales of birds in their thousands, where they said you had to shout to be heard above the bird calls, but not now, not any more. The birds have disappeared,been destroyed, or been chased away! It's sad but true-Kumana is no more a bird sanctuary.
Something drastic seems to have happened. Inquiries from most people I was to meet boiled down to three answers. "Don't know", "People used to destroy the birds for flesh" and "People took the eggs". (Subsequent inquiry from the Wildlife Department confirmed the latter two answers!)
Crestfallen, I left the Kumana Villu only to spot a herd of wild boar digging for roots further down the path. The forest here was more dense and humid. Fallen trees, overgrown branches, thorn bushes, and muddy patches made us sweat our way through. Mid-afternoon we reached our destination, Kumbukkan Oya. Beside the river in which a good two feet of water flowed, was the shrine. Pilgrims and travellers apparently stop here, cook food from the utensils stored beside the shrine, wash them, and store them as they were and move on. Incredible as it may sound these were the same utensils that one of the boys said he had used some seven years ago. Proof that no drug addict had yet passed through.
The boys got busy, preparing their meal to fulfil their pledge and I got busy to have an almighty swim! The river around here is quite wide and for the moment I had it all to myself. Shaded by a Kumbuk tree, I lay in the water for what must have been a good half-hour or so when the boys joined me. We then moved on to what looked like the magic cauldron in the Asterix books, filled with rice being cooked with dates and raisins, the quantity enough for well over twenty-five people. For some reason this was not palatable to me and I settled for cream cracker biscuits and river water!
After a mug of tea we started back home. This time, however, I suggested a few detours starting with the village of Kumana. The school is the only building still standing, as everything else is rubble. Apart from the school the only statement that life had once thrived here was the coconut trees towering above the ever rising jungle. The villagers who managed to survive the ordeal were moved over to Dehiattakandiya, where they were given a new lease of life.
If Kumana has lost its bird population it has, however, made up for that loss in its wealth of animal life. During my short forays into its jungles, elephants made sure that our walk back would be double the distance. At all strategic points, in the middle of a dry lake, in the centre of the footpaths they loitered, watching as we had to detour through thorn shrubs and mud holes.
I left the next day saying many a sad goodbye to my newfound friends. Prior to leaving they had served me a volcano-looking quantity of steaming rice, fish curry and sambol. It was a fine example of hospitality! For all their good deeds never did they accept a cent, though I tried to compensate with my supplies of instant noodles, soup, biscuits, chocolate etc. Then only did I became painfully aware how we relied so much on our Western and 'instant' world, all of which could not compare to that fresh healthy plate of rice and curry!