Where hope fights to live
Feizal Samath reports from Jaffna
Children laugh, chat and cycle in duos to school. A young delivery-boy rings his cycle bell at a nearby home - shouts "Amma" and hands over bread to a woman.
Somewhere in the distance, the tinkling notes of a piano gently break through the silence of the morning.
Jaffna appears calm and settled. But that's on the surface only.
Armed soldiers and police patrol the streets checking the identities of children and older residents
after threats by university students to disrupt schools.
Tuesday, July 10 is an unusual day in Jaffna. The Army is on the streets, everywhere. There is tension and uncertainty. The previous day, authorities had shut down the university after student protests over the arrest of a student for alleged involvement with the rebels.
"I knew this would happen," said a worried Nadesapillai Vithyatharan, Associate Editor of the respected Udayan newspaper. "The moment I was told the university was being shut due to student agitation, I expressed concern that this would trigger problems in schools."
Students of most schools didn't attend classes on Wednesday and the rest of the week in a show of solidarity or simply because they were scared. Apart from this disruption, life in Jaffna, battered by the war, has signs of normalcy ever since government forces took control in early 1996.
Government offices are operating, shops are open and the private sector is slowly taking root. But signs of the war are evident everywhere. Buildings destroyed by bombing are mere shells. Dozens of military checkpoints staffed by heavily armed soldiers dot the city. Residents are compelled to obtain special permits to travel to different parts of the city in a procedure that is both onerous and cumbersome. Few complain, fearing harassment by the authorities. Suffering and misery is part of the culture. The armed forces are not the only ones with guns. There are armed cadres of militant groups, opposed to the LTTE, who drive across the city or man sandbagged bunkers outside their offices, often harassing civilians. The EPDP rules the roost and is feared. The agony will worsen when politicians converge on the city to canvass for or against next month's referendum.
Residents however agree that the situation is much better than under rebel control. Telephones work, though with some constraints and there are email and Internet facilities. Banks are in operation with even a Western Union branch for foreign cash transactions in the town.
"Jaffna is like an open prison," laments Kandiah Kularatnam, President of the Jaffna Chamber of Commerce. He is particularly annoyed because his daughter who lives in Britain had arrived three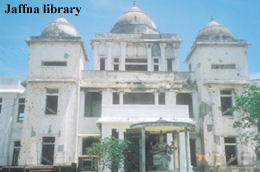 weeks ago in Colombo to visit her parents in Jaffna. She returned to London unable to get a seat on the daily civilian flight to Jaffna.
Despite failed efforts in the past to end the conflict through a political solution, peace still lingers in the air. At the playground of the Jaffna Hindu College, the city's biggest school, a group of Jaffna's elite gathers every evening under a huge tree to discuss anything from politics to the cost of living.
"We are still hopeful of peace," says a retired Director of Education. "The Norwegian effort gave us a lot of hope because it was an initiative from the west. Now that has also got stalled," noted a retired army captain.
Residents once wanting peace with dignity and rights for the Tamils, now beg for an end to the war, in a desperate effort to get on with their lives. They are disgusted with Tamil politicians and militant groups who have failed them.
Civil affairs are run by civilians but the army moves into any government office at the slightest hint of disruption by rebel infiltrators. Food is not in short supply but costly while hospitals are short of specialist doctors and medicines.
Jaffna, unlike the rest of the country, is backward in many ways. Old kerosene cookers and firewood are used for cooking, battered buildings are neither renovated nor rebuilt, some doctors and professionals cycle to work while antiquated British-made Austin and Morris cars ply on the roads. The entire population is like a group of gypsies - ready to move out to safer ground when a major battle erupts in the vicinity.
"We are used to this life," said one resident. "We move out when trouble flares up and return when the situation is calm."
At a village in Urumpurai south, a few kilometres from Jaffna, Velayan Kinga reflects on her future. "There is nothing for us to do here," says the 23-year- old displaced from her village of Tellipallai.
There are 47 displaced families in this village since 1990 - desperate to get back home. "We left behind homes and land where we could cultivate and grow crops and our children went to school. Here we are at the mercy of others - no work, no jobs," said Kinga, who also functions as the secretary of the displaced community. Some of the men have obtained small jobs like toddy- tapping but most are aimless and kicking their heels in small wattle-and-daub huts they now call home. The children don't attend school as parents are unable to buy clothes and books. The government provides dry rations worth Rs.1,250 per month per family, which are insufficient - families often have just one meal a day. Rs. 25,000 had been promised to build homes but only Rs.10,000 was given by the authorities while promises, only promises, are made by various visiting NGOs including UNHCR to improve their lives.
Separation and attempted suicides are on the rise in the peninsula. "Separation of couples and liaisons between married people are common but a hidden phenomena as it is strictly against our culture," says Professor Arumugam Shanmugadas, Dean of the Faculty of Graduate Studies at Jaffna University and a respected social worker. "This happens often due to families being displaced."
Prof. Shanmugadas and his wife help run a school for orphaned or abandoned children. " The 200 children are like my sons and daughters," he says.
" Some years back an Israeli agriculture professor tested the soil and concluded that there was a 30-year wet cycle and a 30-year dry cycle. Likewise, there is a belief in society that nobody endures pain, sadness or suffering for more than 30 years. That's human nature and maybe our suffering would end after a 30-year cycle," says Prof. Shanmugadas's wife wistfully.