Dark thoughts
By Laila Nasry
The flickering candle flame creates large jumping shadows on the wall. A few stars glimmer in the night sky. Other than the sounds of the crickets going full throttle in the background, all is quiet. Swatting the stray mosquito, I listen to my father relate old stories from the past.

No, this is not a scene from the fifties, it is very much in the present. The dreaded power cuts are back and our world has been forced into darkness albeit for brief spells.

The power cuts are generally greeted by a groan or even a curse. It's more annoying still when your neighbour's generator starts up once you've been forced into darkness and are left listening to the faint drifts of the continuing dialogue in 'Judging Amy'.

The missed sitcoms on TV are not all. The disrupted study periods, 'fanless' nights with mosquitoes making merry... yes, there's no end to the inconvenience. Why even a knock at the door sends a shiver down your spine as security worries intensify.

Ishara travels by public transport and the power cuts begin around the time she reaches home. "It's pitch dark when I alight from the bus and begin my one kilometre walk home," she says.

Though there are houses along the way and, at times, people on the road, Ishara says she cannot help but feel a bit scared. "It's a dark and lonely stretch, so I walk fast." At times she asks her mother to come to the bus stop to accompany her home.

As for students used to the last minute cram, the power cuts have put them in a fix. "My A/Ls are just around the corner and now my evening study is totally messed up. When the lights come back on, there's so much to do but I'm sleepy by then," says a frustrated student.

Even the most mundane tasks become a chore by candlelight. "My mother and I have to rush back home after work to get the dinner ready," says Rukshani. "Now we have given up trying to race against the power cuts and we just sit and play Scrabble."

Then do people opt for the easy way and pick up 'take-aways'? The owner of Kushmi, a popular fast food outlet in Kohuwela thinks not. The power cuts catch them during their peak business period which is after office hours.

"Most of our customers are the working crowd and we have maximum sales between 4.30 p.m. and 10 p.m. But now with the power cuts we are facing big losses," says Nilani Tittawela.

Though Kushmi stays open during the power cuts she says most people are reluctant to stop their cars and queue up in the dark. Their generators cannot work the cash machines, and freezers as well as light up the shop.

"During that time we don't even have sales of Rs. 500. Besides parcelling food, it's difficult to write bills in the dark and there's a possibility of making a mistake," she says, adding that the biggest loss comes from food spoilage. "Our cuttlefish rolls and some other fish items have to be thrown out because they spoil fast."

But candle makers and vendors of other lighting devices are enjoying the 'dark' period. "The other day I was stopped in Fort by a smartly dressed young man selling battery operated lamps with a bulb instead of a wick for Rs. 300" says Shalini. "I got one and it has been very useful."

"The demand for candles has gone up by 75 percent and there have been times when we couldn't meet it, stocks having been sold out, " says the Manager of the Sathosa supermarket's Rajagiriya branch.

A sales girl at Sathosa, Ratmalana, concurs. "Right now, all our candles are sold out. Formerly our candle sales were restricted to the Vesak period but now almost all who come to do their daily shopping buy a packet of candles."

Darkness apart, the heat can also be trying. Flat dwellers particularly, suffer. "We have no garden to sit out in and opening the windows means inviting the mosquitoes in," says Mrs. Amarasuriya. "It can get a bit stifling. But we have to cope."

So as the country is busy saving two million units per day are its people left angry and miserable, with wasted time and unfinished work?

Not entirely. In today's technologically advanced society where human contact is scarcely valued, the power cuts have come as a mixed blessing.

"I don't mind the power cuts so long as they're not during the peak hours," says Dilhara. "Of course, it speaks volumes for how much our country has 'developed'. Having talked about thermal power for over seven years we are still dependent on hydro power to generate electricity."

But she finds peace and solitude in the enforced darkness. "It allows private time for reflection," she says. "Often working people and even students go home and continue their work or switch from the computer screen to the television screen."

She feels the power cuts are a kind of energy booster. "It eases the strain from the eyes and the mind."

Others, too, find different blessings. "It enhances quality family time. It has been some time since we have sat around as a family, to do nothing but chat," says Sarana.

Mrs. Nanayakkara too delights in the peace and quiet sans T.V. and radio. "Now I actually hear myself at home," she muses. "Moreover, the dinners are more romantic by candlelight!"

We may be in the dark, but there is also light at the end of the tunnel.

---
Silver hands eco sale
By Shezna Shums
Silver Hands, a group of eight determined women whose goal is to help children and women, will hold an 'Eco Sale' on July 28 at the Girl Guides' Association Hall, opposite the Public Library, Colombo.

Funds raised will go to the children's ward of the Cancer Hospital, Maharagama. The sale also aims to provide a window of opportunity for the skills of women and children from border villages who, in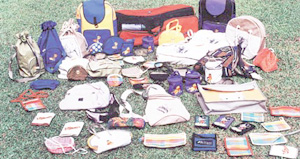 their humble cottage industries, turn out handicrafts, food and toys.
Many of these women have lost their husbands in the war. Handmade items such as handloom materials, coconut shell ornaments, cane baskets and even children's toys and high quality camping gear (made by two sisters) from local materials, will also be on sale. Visitors can also pick up village food stuffs, organic vegetables, lotus rice, kithul pittu, kithul pani, bees' honey etc, as well as fertilizer, compost and garden tools all made from local eco-friendly materials.
Silver Hands is also planning a unique competition of Sri Lankan dolls. Those interested can obtain entry forms from Mrs. Samarajeeva. For further details, please contact tel: 634527.

---
Holding a mirror with 'a real change'
By Esther Suhasini
A writer's job is to hold a mirror to the audience and the audience's job is to learn from the images reflected, someone once said. It is this role that playwright Indu Dharmasena has taken on, mirroring the follies and foibles in contemporary Lankan society.

"What a Change!" her latest offering which goes on the boards at the Lionel Wendt from July 27 to 29 is a sequel to her play 'A Real Change' - a political satire that was staged a few years back.

'A Real Change' focused on the newly appointed Minister of Men's Affairs, Mr. Gajaweera, who abolishes the Ministry to gain favour with his daughter in the Women's Liberation Front and his new lady love. His wife Kusuma, from whom he had been separated for over 17 years, along with his son-in-law Mohan and uncle Sirisena persuade him to go after another ministry for their personal gain. Sounds familiar, doesn't it?

With the characters representing politicians, past and present and the situations they often find themselves in, a comedy of errors soon unfolds. Given the current political tangle, Indu believes that if you can laugh at the situation, it becomes less tedious. "When people can laugh at themselves they can learn something," she says. On stage, apart from Indu herself will be Manuka Wijesinghe, Krys Sosa, Ruhanie Perera, Marissa Jansz, Michael Holsinger, Dayan Dias Abeyegunawardena and Thulitha Piyasena. Tickets are available at the Lionel Wendt.