Clown Prince in Valentine circus
It happened on Valentine's Day adding a romantic twist to the otherwise cut-throat national politics that is becoming murkier by the day. Anura Bandaranaike, the son of two Prime Ministers and brother of a one-time President, walked into "Temple Trees" last Wednesday morning.
With tears flowing from his chubby cheeks, he clasped the hand of President Mahinda Rajapaksa, and quavered as he apologized. He said he was sorry he had made many public utterances against the Rajapaksa family and his Government. He wanted to be forgiven for he was "misled."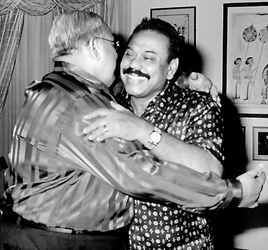 It takes two to Tango — Birthday boy Anura
welcomes the President
Bandaranaike arrived at "Temple Trees" in the company of Urban Development Minister Dinesh Gunawardena, a classmate at Royal College, and Western Province Governor Alavi Mowlana. They had been tasked by President Rajapaksa to talk to the three sacked ministers to ascertain whether they would mend their ways and return to the fold of the Government.
On hand to greet Bandaranaike, as he arrived at "Temple Trees" was Basil Rajapaksa, senior advisor to the President. Even his bitterest critics concede that Basil is easily the number one strategist in the Rajapaksa administration and the President's sheet anchor. In his inimitable friendly demeanor, he shook Bandaranaike's hands and remarked, "So, I am greeting another American passport holder."
That was Basil's response to charges Bandaranaike levelled when he raised an issue of privilege in Parliament last week over threatening telephone calls. What he told Parliament was; "I am saying some section of the Government is responsible for this action. Not the President but others who are using his powers. They have American passports and will fly out the day they are out of power…."
Basil Rajapaksa is a US green-card holder, which means he has permanent resident status, the precursor to citizenship whilst his brother, Defence Secretary Gotabhaya Rajapaksa, a retired Lieutenant Colonel in the Army, possesses an American passport. He now has dual Sri Lankan citizenship. Bandaranaike was visibly embarrassed by Basil's remark. "Yes, yes I have traveled 56 times to the United States though I am not a citizen. That is much more than you have done," Bandaranaike told Basil, his long-standing pal, referring to his frequent-flyer vacations in the City of Angels - Los Angeles.
At the meeting with President Rajapaksa, Bandaranaike took great pains to explain how he was "misled" and promised not to make the same mistake again. Rajapaksa, who accepted the apology, offered to restore his portfolio, Minister of National Heritage, and added another subject that will give Bandaranaike the licence to travel the world. That was in the form of a special emissary or advisor to the President on international affairs. Bandaranaike was thrilled. He asked Rajapaksa whether he could take his oaths the very next day, (February 15) since it was an auspicious day for him. It was his 58th birthday. However, the President declared it would not be possible and the swearing-in would be held only on Monday. Bandaranaike invited Rajapaksa for his birthday party and the President readily agreed to attend.
Like the last straw that broke the camel's back, it was Bandaranaike's privilege issue in Parliament followed by a strongly-worded letter to Fisheries Minister Felix Perera (who replied him in the House) that were the immediate causes for the sacking of the three Ministers - Mangala Samaraweera, Anura Bandaranaike and Sripathi Sooriyarachchi. As revealed on these pages last week, President Rajapaksa was infuriated when he learnt of the contents of the letter. Here are two hitherto unpublished paragraphs from Bandaranaike's letter to Felix Perera that gives one an idea: "My father was killed in 1959 in his own house by members of his own party. It is still a frightening experience that I recall. There were several conspiracies and attempts to kill my mother as well. My sister escaped death narrowly when she was the President at the hands of the LTTE and lost an eye in the process. And your good friend Vijaya Kumaratunga was shot dead in cold blood in broad daylight. In view of these incidents, it is natural to harbour a certain degree of fear when one receives repeated threatening phone calls.
"It is not surprising that you receive threatening telephone calls. If all these people subject to harassment by you, as well as the cows killed by you, (Note: Mr. Perera is engaged in the supply of meat) start giving threatening calls, you will be unable to sleep for even a second. I am not surprised that you were provoked to make such a statement given the fact that you are eager to cling on to the privilege you enjoy as a Cabinet Minister. Instead of uttering such nonsense in Parliament, I request you to work to bring down the price of flesh that has reached sky high…."
Days before the sacking, it was Bandaranaike, The Sunday Times learnt, who had telephoned Mangala Samaraweera to seek his "moral support." He wanted Samaraweera to be by his side on two different occasions - the Government Parliamentary Group meeting and thereafter when he raised a privilege issue in Parliament. He was reluctant to attend the Group meeting alone. In fact, Bandaranaike persuaded Samaraweera to drive to Visumpaya (the former Acland State Guest House) to pick up Bandaranaike so the two could travel together, sit together and return together. He said that would display their solidarity and togetherness.
This was done. Later, after their sacking, when a news conference was originally planned for Monday (February 12) and later Tuesday (February 13), it was Bandaranaike who urged Samaraweera to postpone it. He had said the dates were not suitable for him. Were such postponements sought to buy time whilst Bandaranaike's secretly negotiated his return to the Cabinet? Why did he change his mind and betray his two colleagues? If Bandaranaike was quick to berate Rajapaksa and his Government publicly, he offered no official explanation of his moves to get back to the President's fold.
First indications of his moves emerged on Tuesday. That evening officials had turned up at Visumpaya to take delivery of the Government-owned bullet proof vehicles used by Bandaranaike. With his expulsion, his security detail had been whittled down from over 100 to just two police constables. He faced the prospect of being evicted from Visumpaya, the former state guest house which is equipped with all modern amenities. In fact, long before he was sacked, he had been told to vacate the premises. Valiant efforts were being made through third-parties to hang-on. Government officials said Bandaranaike had his own house at Rosmead Place, why should he selfishly hog a state bungalow as well. Unable to bear anymore, the 'sanctions' that followed one after another, he telephoned Defence Secretary Gotabhaya Rajapaksa that evening. He complained that his last remaining official possessions, the bullet proof vehicles, were being taken away.
Bandaranaike was to tell Gotabhaya Rajapaksa that he has had close and cordial relations with President Rajapaksa since his youth. Gotabhaya Rajapaksa was to reply that the withdrawal of security and vehicles was the result of instructions he had received "from the top." He was not to be faulted, he said. The Defence Secretary took the opportunity to ask Bandaranaike why he had, during his speech in Parliament, referred to abductions reportedly taking place every eight hours. Bandaranaike had replied that was not his own statement but one made by Mangala Samaraweera. However, Samaraweera in his letter to President Rajapaksa two weeks earlier declared it was taking place every five hours and not eight hours.
Bandaranaike replied they were not his views and he had merely repeated what Samaraweera had said.
Having sold his fellow travellers Mangala Samaraweera and Sripathi Sooriyarachchi down the river, and mended fences with the President, he was in a jubilant mood at Visumpaya after his meeting with President Rajapaksa that Wednesday. If he had told switch-board operators not to connect phone calls to him, he was now originating them. He telephoned friends to give his own version of the meeting at Temple Trees. He claimed that it was President Rajapaksa who had telephoned him and expressed his regrets over what happened. He was thus getting back his cabinet portfolio, he said. He proudly announced that Rajapaksa was also coming for his birthday party.
But that day, his one-time cabinet colleague and close friend on whom he had depended for 'moral support', Mangala Samaraweera received a shock letter.
It was from Anura Bandaranaike. In that, Bandaranaike told Samaraweera that he was returning to the Cabinet "in the interests of the Sri Lanka Freedom Party". That seemed a political pole vault of high proportions even by Bandaranaike's own standards. He had only told a newspaper three days earlier he was happy to no longer be a part of the 'carnival of clowns,' that is the Government and its Cabinet. He said he was relieved that he was no longer responsible for "broken promises, the continuing ethnic conflict, the cost of living, the unemployment, the corruption, the abductions, the murders and all these horrendous things…" Bandaranaike, was now re-joining the 'carnival of clowns', and to use his own words, wrote to Samaraweera saying, "the SLFP needs you."
He urged Samaraweera to return to the party. It became clear that Bandaranaike had delayed the news conference by the trio to buy time to work a deal behind the backs of his two colleagues. He was now bidding adieu to them with no explanation why they were let down. If the argument, as claimed, was the larger interests of the SLFP, in the first place Bandaranaike should have avoided all that vituperative banter and remained there, said a shocked party stalwart. He added that soon after the recent Cabinet re-shuffle it was Bandaranaike who had wanted to resign to show displeasure over the portfolio he received. Thereafter, he said in Parliament that he would shift his Ministry to a hotel in Sigiriya and watch the topless damsels. In his letter, Bandaranaike also invited Samaraweera to attend his 58 birthday bash at Visumpaya.
Samaraweera was embarrassed, to say the least. He avoided questions from callers and visitors. One close aide told him "Sir, why did Anura stab you in the back?" He smiled and replied, "I don't want to talk about it." He would not be attending the birthday bash, he told another confidant. By then former President Chandrika Bandaranaike Kumaratunga had learnt about Samaraweera's plight, particularly the refusal by security personnel around his house to allow visitors including a doctor to attend on his mother.
Samaraweera aides accused a powerful senior official of orchestrating a "vicious campaign" blocking visitors including parliamentarians to his official residence ostensibly on security grounds. He had been responsible for preventing leading City hotels from accepting bookings for the news conference. They said he had also obtained lists of Samaraweera's visitors. Kumaratunga urged Samaraweera to take his mother and move to her private residence at Rosmead Place, which adjoins "Tintagel," the family home. Samaraweera, a long time close friend of Kumaratunga, thanked her, but said he would manage.
Last week's references on this page to remarks by ousted Minister Sripathi Sooriyarachchi drew some response in sections of the media. A television channel - Sirasa - even took the uncharacteristic step of attempting to ridicule The Sunday Times giving a different interpretation to his remarks.
Sooriyarachchi set the record right at Thursday's news conference that neither The Sunday Times nor the Island should be blamed for their reportage.
There was also reference in these pages to the imminent arrest of a Samaraweera confidant. Top level Police investigations into his past actions were continuing though Samaraweera aides dismissed the moves as a "pure witch-hunt for revenge" and warned it could boomerang. In the latest move, The Sunday Times learns, travel restrictions have been placed on the person concerned to prevent him from leaving the country, while investigations are pending.
The 58th birthday for Bandaranaike followed Valentine's Day. On Thursday night, he threw a lavish party at Visumpaya. Early to arrive was President Mahinda Rajapaksa. Bandaranaike had already hired a private cameraman to take photographs of him hugging the President as he arrived around 6.30 that evening. He was later heard telling an aide to make sure the photograph was rushed to the dailies.
Rajapaksa left after spending over an hour with the birthday boy. Sister Chandrika Bandaranaike Kumaratunga arrived around 9 pm. She returned to Colombo a day earlier from New Delhi. She had been invited to the Indian capital by former Indian Prime Minister Inder Kumar Gujral to deliver a lecture to an organisation where he is involved. She was in a jovial mood and spent time chatting with other guests.
Among those on hand were Anura's classmates Opposition and UNP leader Ranil Wickremesinghe, Ananda Athukorale, Sepala Amarasuriya and Onais Hafeel. Though not on the guest list, parliamentarian Ravi Karunanayake was also there with Bandaranaike's financier, businessman Harry Jayawardena and old chum the playwright Jith Peiris. Cabinet Ministers of the SLFP were conspicuous by their absence. So was sister Sunethra.
A joke doing the rounds about the party was how Karunanayake arrived. According to one source, a third party is said to have extended an invitation purporting to be from the Bandaranaike household to one time arch rival Karunanayake. Such pranks are all too common with Bandaranaike being well known for such practical jokes himself. Hence, a friend had chosen to play one on him. On one occasion, he pulled off a joke that led to an Asian ambassador ending up at a party to which he was not invited.


As the night grew, so did the revelry at the party. Most of the guests were in high spirits. So much so, they had forgotten to cut the birthday cake organized by the former President. Due honours were done close to the witching hour when the rectangular chocolate cake was cut by Bandaranaike to the strains of "Happy Birthday". He first fed a piece to sister Chandrika and the second piece to classmate Ranil Wickremesinghe. At the dinner table, a guest asked Kumaratunga whether she planned to return to politics. She said she was not, and was now busy with the upcoming wedding of her daughter. She of course, had some choice things to say about the way the President was handling affairs of state.
Later came the dancing to the music of the Channa troupe that had been assembled. Dancing the baila together were Kumaratunga and brother Bandaranaike prompting an inebriated guest to remark that it looked like an elephant dance. It evoked laughter among a few who were close.
Wickremesinghe had just come from a stormy session of the UNP's Working Committee that day. They had appointed S.B. Dissanayake the party's National Organiser, but not without an uproar.
Dissanayake had said that President Rajapaksa was certain to be ousted from office by next year because of the economy and the war with the terrorists. He then pledged to work for the victory of Wickremesinghe. Speaker after speaker thereafter tore into Dissanayake, accusing him of orchestrating the divisions in the party and siding with the so-called Reformists who de-camped and joined the Rajapaksa Presidency last month.
First Lakshman Seneviratne, then Jayalath Jayawardene, Johnston Fernando, Renuka Herath, Vajira Abeywardene, all pitched into the one-time SLFP General Secretary, and asked him to apologise for what he had done.
In Dissanayake's defence came several Provincial Council leaders in the Working Committee led by Upali Samaraweera, Opposition Leader, Uva Province. Some others like Annamalai Kadiresan and Ravi Samaraweera also supported Dissanayake.
Given an opportunity to respond, Dissanayake said that he agreed with some of the comments and disagreed with some, whereupon one-time Christian Affairs Minister John Amaratunga demanded S.B. Dissanayake to say that he would adhere to the UNP Constitution and pledge his support to the Leader. Dissanayake said that was what he had said all along.
Then, Amaratunge demanded; " ehema madi. Wachana walin kiyanne " - That's not sufficient. Say it in words.
Dissanayake went off-the-handle, understandably. "John mahattayo, mawa paaganna enna epa" - Mr. John, don't come to trample me.
Pandemonium broke out, and order had to be restored after a while. Dissanayake was duly appointed National Organiser, but with a rider - Sarath Ranawake, MP from Kalutara was appointed Additional National Organiser, just to keep a tab on S.B.
The 18 UNP MPs who crossed-over to the Government had sent a common letter questioning their removal from the Working Committee, while Navin Dissanayake sent an additional letter slamming the Party Leader saying the UNP will never win under him.
The Leader is now travelling fast and furious around the country drumming up support for the UNP, as he prepares for yet another quick trip to neighbouring India; this time for a wedding.
President Rajapaksa is also packing his bags to visit China later this month. His now customarily jumbo-size entourage, like the one he took to the Maldives, where some people had no proper accommodation, will include many of the recent crossovers like Karu Jayasuriya, G.L. Peiris and Milinda Moragoda, as well as the kissed-and-made-up Anura Bandaranaike.