Malaysia's Tourism Minister woos Sri Lankans
Malaysia's Tourism Minister arrived in Colombo last week and after a series of meetings with high officials, had a simple message for the media – "Please visit our beautiful country in this special year."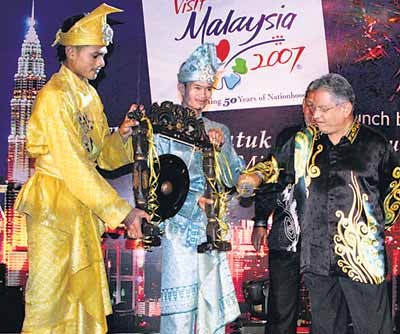 The Malaysian Tourism Minister at the food festival
Apart from attracting Sri Lankan ministers and officials to Malaysia, Datuk Seri Tengku Adnan Tengku Mansor did a powerful hard-sell of Malaysia and the massive campaign launched this year aimed at attracting 20.1 million tourists in 2007, up from 17.5 million last year.
But he was cautious: "Numbers are nice but receipts are more important. We need to receive more foreign exchange (from this sector) than ever before," he told reporters on Monday, a lesson that Sri Lankan tourism authorities should follow in adding quality into mass tourism.
Mansor was leading a high powered sales mission on a 3-day mission to woo more Sri Lankans to Malaysia.
This year Malaysia aims to attract 27,000 Sri Lankan tourists, up from 20,200 in 2006, 17,000 in 2005 and 16,746 in 2004.
The minister told reporters, after meetings with Prime Minister Ratnasiri Wickramanayake and Tourism Minister Milinda Moragoda, that both countries were considering taking joint positions at global tourism summits on handling adverse travel advisories and negative media reports.
Malaysia, like Sri Lanka, also has unhappy experiences of travel advisories when there is violence and conflict in some parts. He said Malaysia is a great place for education and currently there are 50,000 foreign students.
Sri Lanka and Malaysia have many things in common with for example the former having 60,000 Malays in its 20-million population. Mansor described in details the celebrations this year to mark the 50 years of 'nationhood' and said the campaign to attract foreigners to Malaysia as "their second home" was very successful.
More than 10,000 people have subscribed to this campaign and made Malaysia their second home.
He said this programme is unlike similar ones in the rest of the region. "You need to deposit a certain amount but that is all your's; we don't touch a single cent unlike in other country programmes where investments must be made."A Malaysian food and cultural festival was also held in Colombo as part of the promotion campaign.