Ravi appointed to SEC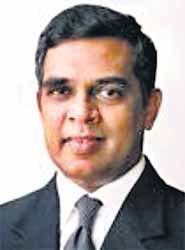 Ravi Abeysuriya
President Mahinda Rajapaksa, in his capacity as the Minister of Finance and Planning, this week appointed Ravi Abeysuriya, a top financial analyst, as a Commission Member of the Securities and Exchange Commission of Sri Lanka.
Abeysuriya one of the very first CFA (Chartered Financial Analyst) Charter holders of Sri Lanka, pioneered the establishment of Sri Lanka's first credit rating agency, Fitch Ratings Lanka Limited and now is Managing Director of Amba Research, a specialized provider of investment research and analysis support services, with expertise in equity research.
Prior to joining Fitch Ratings in 1999, Abeysuriya as Head of Corporate Finance at JP Morgan/Jardine Fleming was responsible in carrying out international equity placements and corporate restructuring assignments.