CIMA Janashakthi Pinnacle Awards - driving business success
CIMA Sri Lanka Division and Janashakthi Insurance Co. Ltd will hold the fourth annual CIMA - Janashakthi Pinnacle Awards ceremony on Tuesday March 6 at the Trans Asia Hotel.
The CIMA Janashakthi Pinnacle Awards is one of the top events in Sri Lanka's business calendar and is the only competition and awards platform that recognises excellent leadership at different levels across corporate Sri Lanka, according to President of CIMA Sri Lanka Division, Shanthikumar Sadanandan.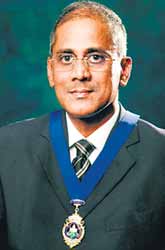 President of CIMA Sri Lanka Division, Shanthikumar Sadanandan
Designed to fill a vacuum recognised by CIMA and celebrating professionalism, business excellence, leadership, management and teamwork, the Pinnacle Awards were created to inspire and motivate young executives in Sri Lanka to develop and grow as rounded, multi dimensional business leaders.
Reflecting on the awards Sadanandan said, "From its inception four years ago, the CIMA Janashakthi Pinnacle awards has grown to be one of the top award programmes in Sri Lanka which generates significant interest from among the business community". The application evaluation process considers many different facets of an individual, and is not limited to his or her career and academic achievements. Each applicant is evaluated based on career and academic achievements as well as success in their chosen spheres of extracurricular activities. Social skills and overall personality are also considered. The objective is to create and foster business leaders for the future and to highlight success stories in order to create role models for future leaders.
He said the CIMA Janashakthi Pinnacle Awards is now considered one of the three main events in the CIMA annual calendar and shares pride of place with CIMA Business Leaders' Summit and the CIMA Technical Symposium and Community Leaders Award. The Young CIMA Star of the Year, CIMA Business Manager of the Year, Chief Financial Officer of the Year Award and Business Leader of the Year Award - the most prestigious award among all categories – are the awards that are presented to the best performers in the business community.
Sadanandan said the winners would be given an opportunity to visit some of the world's leading business schools giving them an opportunity to further their knowledge. This, he added, was an incentive that most leaders appreciated and was an experience that would contribute to their future development.