Chechen parents shed tears of frustration
VEDENO, Russia, (Reuters) - At first the woman standing in the muddy, snow-caked hospital yard of a Chechen mountain town seemed calm.
She held out the passport of her son, kidnapped after he went for a walk one evening three years ago. Then her hand started to shake, her voice broke with emotion, and tears started streaming down her cheeks.
"I don't know what happened to him. Nobody has told me anything," she cried, the pain and frustration in her voice piercing through the cold air.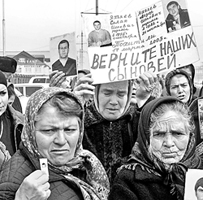 Women hold up photographs of missing relatives during a protest outside the building where a Moscow-sponsored human rights forum is held, in Grozny on Thursday. Reuters
Her anguish is shared by thousands of families in the troubled Russian region where many people disappeared without trace in the two military campaigns Russian forces fought against Chechen separatists since the mid-1990s.
International human rights groups have long expressed concern about the disappearances and called on the authorities to do more to investigate and prevent them.
On Wednesday Thomas Hammarberg, the European commissioner for human rights, drove into Vedeno, a ramshackle town in the Caucasus mountains, on the second day of a fact-finding mission to the southern Russian province.
Outside a local school, he addressed a crowd of schoolchildren and their parents holding photos of missing sons and daughters. He demanded more be done to discover what happened to the missing.
"As long as their fate has not been decided there will be a wound open in society," he told the crowd as parents of the missing listened and cheered their support.
Russia sent soldiers to the impoverished Muslim region to crush Chechnya's independence drive in 1994 but pulled out two years later after a series of bloody defeats.
The army returned in 1999 and President Vladimir Putin has pledged repeatedly to wipe out "terrorist" groups who seek to break from Russia.
A report compiled by Russia's Memorial rights group and French-based FIDH last year said hostage-taking by the security forces was widespread, torture was systematic in secret prisons and illegal detention centres, and arbitrary charges were regularly brought against innocent civilians.
Putin says that despite some abuses, law and order has been restored in the republic.
PAIN
During their meeting, Vedeno's town leader Rezvan Taptalashev told Hammarberg of a brighter future for the town under the region's newly appointed president, Ramzan Kadyrov -- a Kremlin-backed former rebel. Taptalashev said his town even had potential as a ski resort.
But on the streets, the pain had been stubbornly etched onto people's faces. A group of pensioners stamped their feet in the cold to keep warm. Overhead, Russian military helicopters scanned the surrounding woods and dropped flares.
"Of course life is better now there is no full war," said one resident. Vedeno, around 50 km (30 miles) south-east of the Chechen capital Grozny, had long been the key centre of rebel spirit and strength. But today a poster on the wall of a local school told of the greatness of Russia.
Another poster told children to be careful of landmines when playing in the woods. Voices dissenting against the rosy picture of Chechnya's future painted by the Kremlin and Kadyrov are few. None of the people Reuters spoke to would give their name.
"There are no jobs, no real compensation. They talk of hope," said one Vedeno resident, pointing at a building where the town's leader sat talking to Hammarberg. "But when will that hope arrive?"