Kandy Library blaze reveals tales of woe
KMC yet to claim insurance No complaints, say police
The Kandy library auditorium, which was burnt on February 2 has raised many questions from its ashes as it had not been properly insured.
"We were in the process of estimating the value of the whole premises to insure it, after making some changes in the library. So, we have a problem in claiming the insurance", Chief Librarian Sujatha Nilpotanga said. She added that the Municipal Council is handling the insurance claim.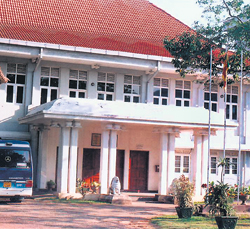 The D.S. Senanayake Library in Kandy
The fire that had occurred around 8.15 had lasted for about half an hour as the Fire Brigade had not arrived on time.
"There is a Fire Brigade unit near the library and another a few miles away. But both crew were unable to reach the library on time to extinguish the fire before the whole auditorium burnt down", she added.
"The fire damaged around 2,000 old books which were to be discarded", she said. "We were planning to buy the new editions of those books and they are not that expensive either. So no harm done," she added.
Ms. Nilpotanga said the rough estimate of the value of the books in the Kandy Library was around Rs.seven million.
Kandy Police OIC W. Dehigama said no complaints had been made saying that the books had been burnt and that they had been informed of only around 800 books getting soaked in the attempts to extinguish the fire.
"We still haven't got the total estimated loss to the library", he added. The CID is conducting inquiries on the delay of the Fire Brigade and the reasons behind the fire.
Kandy Mayor L.B. Aluvihare refused to make any statement as inquiries were pending. Kandy Fire Brigade Chief A.M. Dissanayake too was unavailable for comment.
Meanwhile inspections are underway to ascertain which books could be salvaged. The Municipality is waiting for all reports, before committing themselves as to what action they would take.
When the Kandy Municipal Council met at a special meeting requisitioned by the opposition group, it was believed by all that there would be censure on those who were responsible for the initial mishap of the fire. But, it reportedly turned out to be another 'damp' squib.
Attorney-at-Law M.P. Jaysinghe addressing the meeting said that the fire was no laughing matter and had to be taken seriously.
He said valuable books had been lost and these could not e replaced.