Commercial Credit provides free insurance cover
Commercial Credit Ltd has granted a free PAB (Personal Accident Benefit) insurance cover through Hayleys AIG insurance company to all deposit holders who have deposits or have deposited over Rs 250,000 after January 1, 2007 as a value added service to its customers.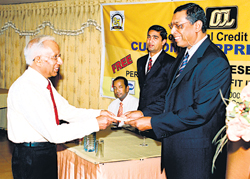 Handing over a certificate
In a show of appreciation to their customers and to mark the event the company organized a certificate presentation on February 16 to issue PAB insurance cover certificates to 15 valued customers who were invited to the History Restaurant, Kandy.
The presentation of the insurance certificates was made by the Board of Directors of Commercial Credit Ltd. Director/CEO, Premakumar Fernando, Working Director, Gayan Fernando, Director, Anuruddha Warnakula, Hayleys AIG representative, Prasad Fernando an in the presence of the senior management staff of the company.
CEO Premakumar Fernando said, " As we depend and believe in personalized service, this free PAB insurance cover is one of our unique value added services to you and to our other valued customers and there are many more to come in the near future." He went on to say, "the company has awarded many value added services to our customers over time and this year when we will celebrate the 25th anniversary of the company, our main theme for the Silver Jubilee shall be the 3Qm - Think Quality, Act Quality and Get Quality."
Guest speaker from Hayley AIG Insurance Company, Prasad Fernando explained the benefits of the PAB Insurance cover. Commercial Credit Ltd has achieved a milestone by getting the ISO 9001:2000 certification for Quality Management System Compliance and of the 24 finance companies registered with the Central Bank of Sri Lanka, is the second finance company to obtain this certificate.
While the Central Bank of Sri Lanka has stipulated that the minimum core capital requirement of all finance companies should be Rs 100 million, Commercial Credit Limited has achieved over Rs 100 million as its core capital today. The asset base of the company stands at Rs 840 million according to the un-audited accounts.
The deposit base growth for the last nine months shows an increase of 17.5% compared to the previous year. A profit of over Rs 25 million has been made according to its un-audited accounts as at 31 December 2006 as against a profit of Rs 15 million achieved during 2005.