A promising batsman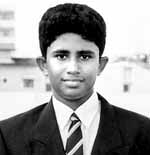 Ranga Suraweera
St. Peter's College batsman Ranga Suraweera, an Under-13 cricketer has made vast strides in the current season.
He has aggregated 452 runs from just nine innings with a century against Dharmapala and two half tons against Royal and Maris Stella, two teams which the Peterites beat.
A remarkable feature in his batting has been the big hits by way of 18 sixes and 52 boundaries.
He is coached by L. H. Sunil and most of his sixes cleared the ground. At 12 years he is viewed as a player with immense potential for the future.