Arjuna's Formula For World Cup
* Took the Australian actions in the right sense
* Gelled the cricketers into one fighting unit
In the three previous episodes we discussed about Sri Lankan cricket's entry into the big time game and the initial growing pains that they had to undergo. However, in this episode we will discuss how Sri Lanka cricket gradually gelled itself into a unit of world beaters narrated by none other than 'captain cool' Arjuna Ranatunga himself.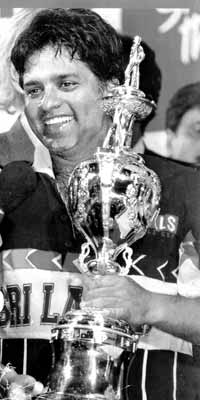 Ranatunga took up the cause from where we left off last week with the 1987 skipper Duleep Mendis. He started, "I think it all began in 1987. Once we returned from the World Cup in 1987, Ranjan took over the mantle of leadership and I became the vice captain. It was at this juncture that we started drafting in youngsters in the calibre of Gurusinghe, Mahanama and Tillekeratne. It was a team full of youngsters. "I feel even in 1987 there were a few matches that we played well. I especially remember the game against the West Indies. We did very well, but lacked the finesse. Then in the match against England, Roy Dias was not playing in that game, but, was called in when I got injured. Then in this game Roy made a grand knock of 80. But, that was the last ODI inning he played for the country. However at that time the scourge was that even if we got a hundred in a game you would not know when you would get another game and so many things could happen in the meantime. Naturally frustration sets in. "However when Ranjan took over, the transformation started setting in. I think that he is the best captain that we've had. He was intelligent and knew what he was doing and he also had the ability of getting the necessary tasks accomplished by the others. I was understudying him from a year and half and during that short period I learned a lot.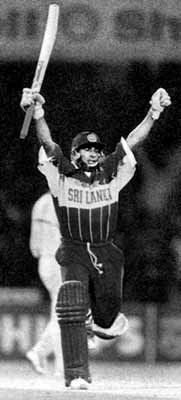 Aravinda who guided Sri Lanka at the final, celebrating his century.
"After Ranjan I took over for a short period, but, was taken off that duty just before the World Cup. This happened when I got hit on my shoulder in Pakistan and was injured. The team management wanted to keep me there but I came back and cured myself with the help of ayurvedic treatment and I just made it to the World Cup.
"Aravinda then led the side to the tournament that took place in Australia. There we beat Zimbabwe and South Africa. I distinctly remember the game against Zimbabwe. It was a fast small ground and we had a set of inexperienced bowlers and Zimbabwe ran up a total in excess of 300 runs with two good innings coming off the bats of Waller and Flower.
Good Start
"We too were given a good start by Athula Samarasekera and Roshan Mahanama. But, suddenly we lost Gurusinghe and Aravinda de Silva still with a long way to go. Then I thought to myself losing to Zimbabwe would be like a slap on our faces. So I rallied the following youngsters round me and told them that we are not going to lose this one. It was an easy task because I was their captain three months prior to that. As a result I could control the following batsmen well enough. At the same time I knew if I was there till the end we are definitely going to make it. Then Sanath, Tillekeratne, and Kalpage – I mean all came up with quick 20s and 30s and we were there on time.
"At the same time I was also very hurt at that time the way the selectors had treated me. I was removed from the captaincy not for any other reason, but a biased report given by the manager who was with us during our tour of New Zealand. During that tour we did quite well, but we did not get any support from the team management. That is the time they started dividing the team. It happened even earlier. When the administrators wanted to get involved, they begin to divide the team.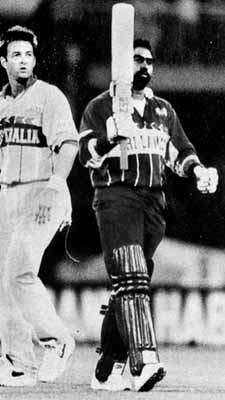 Gurusinghe's contribution at the World Cup certainly cannot be forgotten.
"Coming back to the World Cup, when I was picked I made it my intention to support the captain whoever it is and always to give my hundred per cent. Had I intentionally got out in that game against Zimbabwe that day, we certainly would have lost the match and it was so even in the match that we won against South Africa. I remained unbeaten at one end in both those games. I supported Aravinda whole heartedly. I also must say, that Aravinda reciprocally supported me whatever the circumstances were right through. However, people who wanted to get into the board always saw to it that there was friction in the team. Even in 1983 and 1987 we had very good teams, but, we always had issues within. I remember after we had won the second match one of the selectors came up to speak to me and I did not care to speak to him because I knew that he was one the people who were after me prior to that. Anyway we targeted to get into the semi-finals but we had a lean run in the middle of the tournament and we missed it.
Sordid Issues
"There were issues even here. How they do it is they approach one cricketer and say, if the team is not doing well we will make you the next captain. When I write my book very soon I will come out with this in detail.
"Then after the World Cup they wanted to re-instate me as captain and I said that I was not interested. However when they really insisted I said that if you would let me do it my way I will take or else I was not interested.
"Then I took over the task of building the side. First I got the seniors around. Then I showed them what was happening. I told them that these are the issues that we will have to go through so either we stick together or else we could fall apart. Then it was very easy for me when people like Gurusinghe and Mahanama realized what was going around them. At this point we started building ourselves up and gelled ourselves into one unit".
Arjuna Ranatunga then explained how the real transformation set in. He said:
"There was a time when the stand-by opener waits for the regular to fail. But by this time it had changed. If some one failed every body felt it. If the opener failed the stand-by would go along with the regular to the nets and throw the ball at him. It was 'Oh! Our brother has failed'. We started enjoying each other's success. Earlier it was if you score a hundred it was for you. If you get five wickets it was for you. But, by this time it had all changed".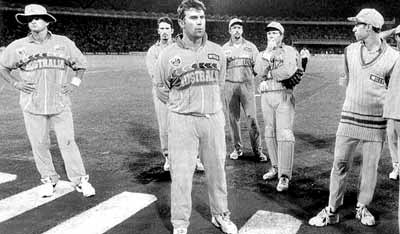 The astonished Australians after the defeat.
Then Ranatunga came up with this interesting anecdote. He said: "There was this umpire who we wanted to get rid of. He used to be very biased against us, and be very lenient on the visiting cricketers. Then we talked to the authorities and requested them to take action and they refused. Then we replied that we were not going to play. The authorities in reply said if you are not going to play we will select some others. But, no one in the side showed any intentions of going along with the authorities and they had to give in".
"The transformation started when the players realized the difference between right and wrong".
The former national captain unfolded how it happened. He began, "Yes, we were winning the odd ODI here and there but, we were never consistent. But, when we won our first match outside our shores in New Zealand it hit us like a thunderbolt. Suddenly it came to us …..we can win matches overseas. Who took the wickets in this game? Vaas and Muralitharan. At that time they were just kids. Then the top contribution came from the bat of Chamara Dunusinghe besides the runs I made. Every one contributed in someway or the other and it was great. Then from that point onwards we started enjoying winning matches overseas. I also must not forget our manager at that time – Neil Perera. He was also one of the best we've had. He was like a father. He wanted us to look after the cricket part of it while he looked after the administration part and the whole wheel turned very smoothly. Then from New Zealand we came to Sharjah and won a tournament there and we felt that we were on the roll".
Australian setbacks
Arjuna's next topics were the incidents that occurred in Australia in 1995. "The 'Hair' issue with Muralitharan and the ball tampering issue were disturbing. At the same time I realized as to why this was happening. There were issues of this nature in the past. It started happening then because they thought that we were becoming a threat to them. Generally what happens is that if something is not bothering you, you just let it be. However, if that becomes a threat to you, you start taking appropriate action against it. That time I told my boys --'Hey! They have recognized us! They are treating us as a threat to them. That is why they are doing this to us'. Then we also suddenly recognized our own talent and then did not want to give in to any one at any juncture. Even during the Murali issue we all stood as one unit and if it was some other than Murali we would have done the same thing".
Then we sailed into the main topic – the 1996 World Cup. Arjuna appreciated the services rendered by the late Gamini Dissanayake and the role he played in the mind set of our cricketers. Arjuna quoted Gamini Dissanayake as saying: "Arjuna you must get ready for the World Cup. Plan and by the time you get close to the World Cup you should have your squad ready"—then Arjuna explained "Here is a man who had not played any cricket. I think he had more cricket sense than the people who were running it".
Then Arjuna explained how they set up an unofficial pool of about twenty cricketers getting ready for the World Cup. "Apart from Marvan Atapattu who came into the squad at the last minute after a very successful domestic season. Another reason for Marvan to come in was that we needed someone to stand by in case Gurusinghe was injured. Gurusingha was our anchor man and Marvan also had that ability of being an anchor man that's how he made it into the World Cup. We had top quality batting in the middle with Sanath and Kalu at the top. Then we had Upul Chandana who used to bring in the most unexpected run out at the right time.
"The in the World Cup real, Australia and the West Indies had pulled out before the tournament began. But, I was not bothered. There were so many people who were trying to get those matches played, but, I was not bothered. I knew that we had to win only one more game to get into the quarter-finals. We had to play India, Zimbabwe and Kenya. We thought if you can't beat either Zimbabwe or Kenya we should not be here playing the World Cup. However when we beat India in India then something told me 'don't take this lightly, we were within the chance of reaching greater heights'.
When you analyse the World Cup contribution, for me Aravinda was the man of the tournament. Then Sanath and Kalu changed the entire approach to the game at the top. Then Roshan and Hashan in the middle to back along with Gurusinghe as the anchor man we had a complete side. We always wanted Aravinda void of any pressure and play his own game. So I took up that role and took up all the pressure. Even in the semi-finals I got Roshan to bat at number five ahead of me. First over Sanath and Kalu got out, Soon Gurusinghe followed them. However Roshan went in and anchored along with Aravinda. Like that we had players who could walk in at any stage and make their contribution.
"Even the four bowlers – Vaas, Pramodya, Murali and Dharmasena. They were not the greatest of bowlers at that time. They were just coming up. But, they always stuck to our game plan bowled accordingly without any fancy stuff.
"I also must mention the contribution made by physiotherapist Alex Kontouri. Actually he was responsible in transforming our side from just a good one to a brilliant outfit through his fitness regime. When Whatmore came to Sri Lanka we had all the ingredients of becoming a good side, but the improvement of the fitness in us was the missing magic. He did a great service to us. At the same time it also must be mentioned about the contribution made by manager Duleep Mendis towards our cause.
Along with that we also had a fine selection committee in Duleep Mendis, Roy Dias, Sidath Wettimuny and Ranjan Madugalle whom I consider as the cream of Sri Lanka's cricket. They were also very supportive and supported us well. More than this almost all the seniors were at the nets in the evenings helping us to sort out any problems that we had. In short it was like a huge team who were working towards one common goal.
"Then when we made it to the finals I told the others, we have achieved what we wanted. We wanted to go into the semi-finals and now we have gone passed it. From here every member of the team has to give his one hundred per cent at the final. I said that we were not under pressure. Becoming second to Australia who was already on the top slot was no issue to us, but, if they had to end up getting beaten by us it would be an issue to them.
"Then on the morning of the final when I came down I was a little tensed up. When I saw the Australians at breakfast I knew that they had started this day-night match at eight O'clock in the morning, but, when I walked into the lobby and saw about ten of the guys haggling with the prices with a carpet seller I knew that they had not taken the pressure on to themselves, in spite of it being the day of the World Cup final. Then I was very relieved.
Then I always wanted my mother to be at the final. When I rang her she said that she could not make it because she was not feeling well. Then I told her she may witness another match where Sri Lanka is in the final ten years later, but, she will not see a match with her son captaining Sri Lanka and winning world cup. Then at the final when I saw her among the crowd I knew that we were going to make it. However, I only realized that we had won the World Cup final only after we had landed back in Colombo. We really had made it"