Theatre Festival
Popular and award winning stage plays of Parakrama Niriella and late Dayananda Gunawardena will go on board from March 9 to 11 at the Lionel Wendt, Colombo.
The festival of dramas will include Dayananda Gunawardena's 'Kaamare Pore', 'Nari Bena' and 'Gajaman Puwatha' and Parakrama Niriella's award winning 'Charandas'.
Three dramas of the late Dayananda Gunawardena, 'Kaamare Pore', 'Nari Bena', and 'Gajaman Puwatha' will go on boards at the Lionel Wendt Theatre on March 9 and 10 at 3.30 p.m. and 6.30 p.m.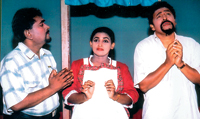 A scene from 'Kamare Pore'
The stage comedy "Kaamare Pore" vividly illustrates a plot by a scheming boarding mistress who cunningly engages two boarders in a fierce quarrel over the ownership of the room occupied by them.
Produced as a single stage drama in Sinhala this is an adaptation of the Play 'Box and Cox' by the English playwright J.M. Morto.
Perera and Kurera are two male boarders lodging in the boarding house run by Mrs. Silva, the boarding mistress. Perera went to work during the day and Kurera went to work during the night. Mrs. Silva, being a clever, crafty and intelligent woman, came up with an excellent, creative idea - she arranged the room for the two men. As time passed, the two men realized Mrs. Silva's trick resulting in endless disputes between them and Mrs. Silva. However in the end, they discovered that they all belong to one family.
"Kaamare Pore" was first staged in 1960s without any songs. However, for the new production, Dayananda Gunawardena included very meaningful and amusing lyrics with the music compositions of Bandula Wijeweera.
Produced in lyrical Sinhalese folk style, the ever popular "Nari Bena" with its varied content of drums and bamboo kolam, staged throughout the last four decades has been and continues to be acclaimed by the viewers around the country. "Nari Bena" is based on two folk tales.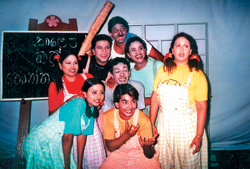 The 500th show of popular 'Thoththa Babala' will be staged at the Elphinstone on March 11at 3.30am and 6.30pm. It will also be staged at the same venue on March 9 and 10
Wijaya Nandasiri, Rodney Warnakula, Bandula Wijeweera, Sarath Kulanga, Rathnasheela Perera, Jayanath Bandara, Niluka Lokubalasuriya, Saman Gunawardena, Sunil Thilakaratna star while music is by Rohana Beddage and Ranjith Balasooriya. Costumes by Irangani Gunawardena and dancing by Rohana Beddage.
Music compositions of "Kaamare Pore" are by Bandula Wijeweera while music direction is by Ranjith Balasuriya. Chorus is led by Kanthi Jayawickrema and is supported by Sanjeewa Ratnayake, Anusha Peiris, Indika Jayasinghe and Sujani Nisanka.
Gajaman Puwatha, the highly acclaimed production of the late Dayananda Gunawardena is presented by Nalu Keerthi Sabha theatre group and will be staged on March 10 at 3.30 p.m. and 7.00 p.m.
It was first staged at the Lionel Wendt Theatre on October 14, 1975 and was revived last year to create enthusiasm once again in self-styled drama among the youth of this country. Gajaman Puwatha was the first theatre production in Sri Lanka to adopt the docudrama style.
The role of Gajaman Nona is played by Rathmalie Gunasekera while Nissanka Diddeniya acts as Elapatha Mudali. Support cast includes Rohana Beddage, Neil Alles, Jayalath Manoratna, Chandrasoma Binduhewa, Rodney Warnakula, Chandra Kaluaarachchi, Ratnasheela Perera, Nelum Kalubowila, Ferni Roshini, Sujani Nissanka, Dulanjani Weerakkody, Shalika Wanigaratne, Mithilani Munasinghe, Kumara Liyanage, Indika Jayasinghe, Nahn Lusena, Stephan Thirimanna, Hemantha Liyanapathirana and Ishara Pramuditha. The music and dance compositions are by Rohana Beddage. Music is directed by Ranjith Balasuriya while stage management and designs are by Ashoka Jayasinghe. Costumes are by Irangani Gunawardena and make-up is by Gomes Hewa while lighting is by Upali Rupasiri.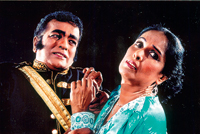 A scene from 'Gajaman Puwatha'
Parakrama Niriella's latest dramatic direction "Charandas", which won the best drama at the State Drama Festival of 2006, will be staged on March 11, 2007 at the Lionel Wendt Theatre, at 3.30 and 7.30 p.m.
"Charandas" is an adaptation of the original play "Charandas Chor" by Indian playwright Habib Thanvir which won nine awards in both categories of Sinhala and Tamil at the State Drama Festival including the best Production, Best Direction, Best Actor and Best Supporting Actor. Music by H.A. Perera and the choreographer and assistant director is Ravindra Mapitigama.
This play is a production of Jana Karaliya and it is being performed by specially trained group of talented performing artistes representing both ethnic groups. Sinhala and Tamil consist of Jayantha Muthuthanthri, Manjula Ranasinghe, Suneth Shanthapriya. Sumudu Mallawarachchi, Palitha Abeylal, Chaminda Prasad, Muyandi Kalidas, Sokkalingam, Chrishanthan, Ajanthan Shanthikumar, Vemi Theresa, Arosha Tharanganie, Sineth Devinda, Thayagaraja Sivanesan, Sam Paul, Praneethe Jeewantha, Dinesh Sri Livera, Rasaiya Lohanandan, Malithi Kumari, Selvaraj Leela Balakrishnan Radhika and Sodivel Sridevi.
The festival is organized by Judge Srimal.