The Euro Star
The Euro Star Hotel on the Katunayake Airport Road, Peellawatta, Minuwangoda is the place for those of you who want to spend time in a quiet and relaxed atmosphere.
The 15 room hotel since its inception two years ago has grown in popularity and today has become the place for many weddings, conferences as well as get together. It is also ideal for a family outing with swimming pool facilities as well.
The Hotels serves both eastern and western food as well as Italian food and has a restaurant and bar that is open 24 hours of the day.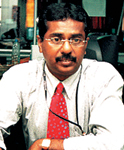 Jayantha Rajapakse
Among the special events at the Euro Star are the presence of a DJ every Saturday along with buffet and barbeque from 7.00p.m. to 11.00 p.m, according to Manager Operations of the Hotel Jayantha Rajapakse who has has over 20 years experience in the hotel field. He has also obtained a diploma from Trust House Forte (THF) in London, UK on food and beverages through the Pegasus Reef Hotel where he was employed at the time..
In Sri Lanka, Jayantha worked in several leading hotels including the Heritance (former Triton) ,Ahungalla, Mount Lavinia Hotel and served as the Manager of Diyadahala Hotel, Kurunegala. Jayantha has also had overseas experience at the Dubai Airport Hotel where he served as assistant Food and Beverage Manager for three years.
'I want to develop this hotel and add more attractions to it in the coming months, "Jayantha said. In particular he wants to make it a popular transit hotel because of its close proximity to the Katunayake International Airport which is just three kilometres away.
The hotel can be contacted on web and the address is eurostar@sltnet.lk.