Who is Ananda Krishnan?
In 2003 when senior officials of the Board of Investment went shopping for investment from Malaysia, they were told that two of the country's most successful entrepreneurs had Sri Lankan roots and were keen to invest in Sri Lanka.
According to a report then by Bernama News Agency, the grandfathers of Tan Sri T. Ananda Krishnan and Tan Sri G. Gnanalingam had been brought to Malaysia from Jaffna by British colonial rulers to work in Malaysia's Public Works Department, a common practice then as Jaffna produced some of the most educated people in the whole country.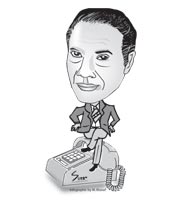 "Tan Sri Gnanalingam himself told one of our ministers that he wants to put something back into this country because his grandfather was Sri Lankan," Deputy Director-General of Sri Lanka's Board of Investment (BOI) Santhusht Jayasuriya had told a a group of visiting Malaysian journalists then, according to the Bernama 2003 story. Gnanalingam, executive chairman of Malaysia's Westport, held talks with Prime Minister Ranil Wickremesinghe during a visit to Malaysia in 2003 and the former followed up with a visit to Colombo. In the same year a Memorandum of Understanding was formalized in March this year between 'Westport' and the Sri Lanka Ports Authority (SLPA).
Westport is keen to invest in Sri Lanka but no formal process has begun. However Ananda Krishnan has sparked a huge controversy in Sri Lanka this month after one of his subsidiaries staked a claim in Sri Lanka Telecom. Bernama said that Astro CEO Ralph Marshall's grandfather also hails from Jaffna. Astro is part of the Maxis group which Krishnan hopes will eventually run SLT though the purchase is to be made through Global Telecommunications Holdings NV.
According to Wikepedia, the free Internet encyclopaedia, Tatparanandam Ananda Krishnan was born in 1938 in Brickfields, Kuala Lumpur to a Tamil immigrant family from Sri Lanka
Nicknamed TAK, Krishnan is a Malaysian businessman and philanthropist and he is estimated to worth about US$7.4 billion, making him the second wealthiest man in Southeast Asia (and world's 99th).
Krishnan hates public exposure and is known to maintain a very low profile for a person of his stature. However, his hugely successful business activities always thrust him into the limelight and his name represents a huge business empire.
Currently, he has business interests in entertainment (Astro), space (3 Satellites), oil, power, shipping, telecommunications (Maxis - Malaysia, Aircell - India), property and gaming (Pan Pools Malaysia). His companies operate in most parts of South East Asia. A quarter of his wealth comes from the gambling business (lottery, horse-racing wagering). He is also said to be behind the world's largest indoor Water Park in Tropical Islands, Germany with former Genting Group executive Colin Au. He is also pondering an online lottery venture in Russia, Wikepedia said.
Said to have an extraordinary entrepreneurial flair and being far-sighted, it was Krishnan who sold former Malaysian Prime Minister Tun Dr. Mahathir Mohamad the idea of the 88-storey Petronas Twin Towers, the world's second tallest building, which stake he has now sold off. "Ananda Krishnan has been called everything from a recluse to a humble, silent worker. Not much is known about him and his tightly guarded private life because he maintains such a low profile," Wikepedia said. He is known to be apolitical but also a close friend of both Dr. Mahathir and Mahathir's former arch-foe Tengku Razaleigh Hamzah. He brokered the peace deal and healed the political rift between them a few years ago.
Despite his wealth he still maintains and stays in his family's Minangkabau styled mansion in Kuala Lumpur. He was one of the first tycoons to own a Dassault Falcon private jet.