A man on fire
With a new opera by Khemadasa out this weekend, Madhubhashini Ratnayake shares her experiences of working with the maestro
They call him Master. And the name seems tailor-made for him. Everything about Khemadasa is drawn in grand master strokes. Grand gestures. Grand ideas. Grand music. Fire would also be a word that seems suitable to describe this man. It seems so right then that Fire is the name of his latest opera being staged at the Lionel Wendt at 7 p.m. today, in the 70th year of his life.
There is fire in his unquenchable passion for seeking the most intense in pure music: and it is making him stage one more opera even when the doctors have prescribed rest and relaxation for his heart, not fully recovered yet from surgery. There is fire in the unconventional sounds he has yoked together in his music, a fusion of the East and the West: this synthesis probably being much harder then than now given the time that he did it early in his career. There is fire in his life – his blatant outspokenness with regard to everything from art to politics having long made him the most unbankable artist with regard to his use for narrow political gain. Strains of Beethoven colour his music and his life: one would expect him to tear up a script as Beethoven did his immortal Eroica which he had dedicated to Napoleon, once he heard that Napoleon had declared himself Emperor.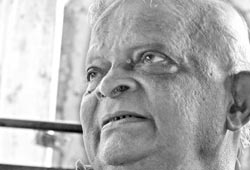 One is not surprised when Khemadasa gets a whole orchestra to get up and leave stage and the hall when a technician is foolhardy enough to suggest that he hurry up with the tuning of the instruments; he might nod with sleep at official banquets held in his honour but he will be wide awake throughout the night of a recording; he will dine with kings but will not forget to carry food himself for the musicians in any place they meet for fear that they may be hungry. Khemadasa lives for his passion for music and everything else is secondary in his life. I know this because I've been in that orchestra that was told by him to pack up and leave; I've listened to him laughing at himself for falling asleep – he laughs at himself and at everyone else often - during speeches or wearing mismatching shoes to banquets held in his honour; I've eaten the food he had carried; I've been in the car packed with other musicians which he drove precariously on the road over pavements and on the wrong side of roundabouts to get to a concert on time; I've played the violin with the audience sitting at my feet when the hall didn't have enough seating capacity to contain all the people but they battered upon the gate and came anyway and sat on the floor to see the newest play he had composed music to. So my idealizing of this musician is not the product of imagination. It is a result of experience.
People who trained under him, like Indrachapa Bulathsinhala are now singing professionally in operas in Austria, or making a name for themselves in Sri Lanka like Indika Upamali or Samantha Perera. The voice training and the training in musicianship that they received under him have given them enough power to proceed further in the careers they have chosen. And he still trains people from far away places of Sri Lanka in his school – and just after one year of training, they sing with more confidence and ease than many professionals who now more often than not succumb to the unfortunate habit of lip synching upon the stage to previously recorded music. Live performances would have been under threat of dying out if a few musicians like Khemadasa, had not believed music, unless on CD or cassette, or used as background music to dance, has to be performed on stage. I remember the sense of surreal horror felt when I realized at one recent concert staged by people connected to an aesthetic university, that they were lip synching to a CD. One might expect that at a pop music concert, but not at a classical music one. If our universities do not realize that performance of music is not just looking pretty on stage, then there is real trouble ahead for the fine arts scene in Sri Lanka.
At rehearsals of Agni I heard voices of young girls and boys who moved effortlessly on stage and could sing faultlessly and with no loss of breath as they sang. "The point is that the movements they make are part of the voice production. How they move is integral to how the voice is produced so that there is no effort for the movement involved. Normally the body produces the voice, but in singing, the voice controls the body," explained Khemadasa. It also makes sense then that the choreographer for the opera is also the composer – the body in its movements and in its voice production is one unified whole.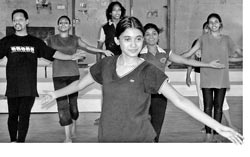 The libretto for Agni is written by well known poet Eric Illiyapparachchi. Based on the legend of Prometheus, the plot deals with how fire was got by man, and has as the main characters a hunter, a human who initiates the search for fire and the sister of Prometheus who brings it to the world. A live orchestra with musicians of the calibre of Lakshman Joseph de Saram on violin, will back the singers. The main characters are played by well-known personalities in the world of art, actor Kamal Addararachchi who is making a debut as a vocalist on stage and Indika Upamali whose training with the Master has made her one of the foremost singers of the day. Apart from Krishan who acts as Prometheus, whose esperience in the choir at Trinity has given him a base in vocal training, the others are from the Khemadasa school of music, and what has been achieved with raw talent from our villagers is indeed breathtaking.
Khemadasa's service to Sri Lanka is manifold, but chief among them, I feel, is what he does to train the younger generation of this country in his art. The sincerity of his commitment is apparent in what he produces, and this weekend's show would be a testament to that. Year by year students pass through his hands and to the question as to what happens to them afterwards, Khemadasa has no answer – except express his sorrow at the state of this country which makes it near impossible for people to survive in the field of serious art – for the chances of production are so slim.
He himself struggles so hard to get a show together – often doing everything that should have been left to manual labourers, himself. Given his service to the country, given his greatness as an artist, given his importance to the image of Sri Lanka as a whole, one wishes that there was a better way that the country has of saying thank you.
Lately, Khemadasa had been feted often – awards and felicitations have come his way. But perhaps the best recognition - gift in fact - that an artist of this calibre should get is a steady, continuous method of getting his work out to the people. Only those in the art field would know what a lot of effort it takes to get sponsorship of a concert that does not cater to the popular market, out to the public.
One actually has to beg the private companies for sponsorship – there is no other less violent word for it. An artist like Khemadasa, like some others, does not deserve to be made to beg. If the private sector does not want to get involved, perhaps the government could step in to give him a grant even once a year, so that he can put on a performance with no other thought than music in his mind. As a country, we owe him that.
And for those who love him, perhaps our contribution would be to go and see his work. Not in any way because of a sense of compassion, but because it is still very good art and because it gives us the sense that not in everything is there a drop in standards. There are people who are swimming against the tide. Agni is sponsored by the Student Association of the University of Kelaniya and we cannot be anything but grateful that at least students have come forward to do something that people in greater positions of power than they, had not done.
Sri Lanka is blessed with world class artists who are yet producing despite everything – and this is a time when we are in sore need of feeling blessed. Dr. Lester James Pieris in his eighties, released his latest film this year and Dr. Premasiri Khemadasa's newest work is coming out this weekend. What joy there is in being able to end on such a note of hope.