Bank of Ceylon is opened
Sir Ernest de Silva, first Chairman of the Bank of Ceylon
A significant event in banking occurred on August 1, 1939. That was the day the Bank of Ceylon was opened at No. 41, Bristol Street, Colombo Fort by the Governor, Sir Andrew Caldecott.
The establishment of the Bank of Ceylon was based on the recommendation of the Ceylon Banking Commission appointed in 1934. The Commission recommended the setting up of the first state aided indigenous bank.
Sir Ernest de Silva, a highly respected individual at the time was appointed first Chairman of the Bank.
The bank began to grow despite severe competition from exchange banks and informal money-lenders. It opened its first branch in 1941 at Kandy and subsequently in outstation towns, such as Galle, Jaffna and Trincomalee.
By the time Sri Lanka gained Independence, foreign banks dominated the industry. There were nine foreign banks holding over 60% of banking sector assets. The Bank of Ceylon opened its first overseas branch in 1949 in London.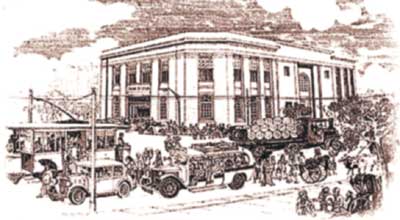 Artist's impression of the Bank of Ceylon in the early days
The Bank was nationalized in 1961 to facilitate the national development efforts. The People's Bank was opened the same year and the two banks today function as State-owned banks.
In keeping with the prevailing State policies at the time, the Bank had to fulfill the aspirations of the nation. Under the Agricultural Productivity Law which was enacted in 1972, Agrarian Service Centre branches were set up island-wide. As a result, the branch network expanded tremendously covering most of the rural areas of the Island.
Extending its services to neighbouring countries, the Bank of Ceylon opened a branch in Male, Maldives in 1981 and two more in 1995 in Karachi and Madras (Chennai).
Presently the Bank has 301 branches, 44 extension offices and eight pawning centres. On-line banking facilities are provided to 270 branches.