Lindsay Lohan: From childhood star to troubled adult
LOS ANGELES, (AP)- Hard to believe now, after all the arrests, car crashes and late-night club hopping, that just 10 years ago Lindsay Lohan was Hollywood's freshest-faced bundle of joy. The actress, who was arrested Tuesday for investigation of drunken driving and cocaine possession, was a freckle-faced, cute-as-a-button 11-year-old when she made her auspicious film debut in 1997 in the venerable Disney comedy ''The Parent Trap.''
Now 21, Lohan looked anything but fresh-faced in the mug shot released by the Santa Monica Police Department following her arrest. But 2007 has been a troubled year for the actress whose latest film, ''I Know Who Killed Me,'' reaches theaters Friday.
Lohan has been in and out of rehab twice since the beginning of the year, managing to wreck a Mercedes-Benz between visits to the Wonderland Center in January and the Promises Malibu Alcohol and Drug Rehab Treatment Facility in June. The car crash, over Memorial Day weekend, also resulted in a drunk-driving charge.
It was not always like this for Lohan, who once got much more attention for her films than her visits to nightclubs and police stations.
''Little Lindsay Lohan, who plays the dual role made famous by Hayley Mills in Walt Disney Pictures' remake of 'The Parent Trap,' is an amazingly gifted child actress, a natural camera performer with lots of smartness and sparkle,'' Chicago Tribune film critic Michael Wilmington wrote of Lohan's debut.
Though few knew it at the time, Lohan was already a veteran, having appeared in more than 60 TV commercials and the soap opera ''Another World'' before ''The Parent Trap,'' according to the biography on her MySpace page. She followed ''The Parent Trap'' with a few TV films and then another theatrical hit with 2003's ''Freaky Friday.'' But it was as Cady Heron, the-good-kid-turned-mean-kid-turned-good again in 2004's ''Mean Girls,'' that Lohan broke through to wider audiences.
It was also about this time that the tabloid headlines began crowding out the movie reviews. It started innocently enough, with a 2004. red-carpet dustup with fellow teen star Hillary Duff over boy toy Aaron Carter. The world also began to notice how the once-scrawny child star had developed into a voluptuous woman partial to revealing outfits and wardrobe malfunctions, the photos of which quickly found their way onto the Internet.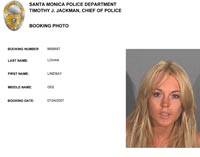 Lindsay Lohan is pictured in this police booking photograph released July 24, 2007
Lohan smashed up her first Mercedes in May 2005, telling police she was fleeing a paparazzi photographer when she made a U-turn and collided with him. She wrecked another in October of that year trying to flee as many as 30 photographers who witnesses said surrounded her as she left a boutique.
She also began making periodic visits to hospitals in 2005, being treated at least once that year for exhaustion. She was hospitalized at least twice in 2006, the first time in London for a cut on her leg and the second time in the Miami area for an asthma attack. Not everyone believed all of her physical problems were health related _ Lohan, who didn't turn 21 until this month, has long been a fixture on the Hollywood nightclub scene.
''We are well aware that your ongoing all-night heavy partying is the real reason for your so-called 'exhaustion,''' James G. Robinson, head of Morgan Creek Productions, said in a letter last year chastising the actress for showing up late, if at all, to the set of the film ''Georgia Rule.''