Archbishop launches silent peace initiative
After months of speculation, the highest ranking Lankan in the Vatican, Archbishop Rt. Rev. Dr. Malcolm Ranjith returned to Sri Lanka and launched a silent peace initiative this week with a visit to Wanni, where he appealed to the Tiger leadership to return to the negotiating table once again to find a formula for a permanent peace with southern parties.
Prior to going to the Wanni, Archbishop Malcom Ranjith met President Rajapaksa and a number of Cabinet Ministers. He also had a discussion with the JVP, where party General Secretary Tilvin Silva and MP Vijitha Herath expressed their views. Opposition Leader Ranil Wickremesinghe also met Archbishop Malcom Ranjith on Friday on his return from the Wanni.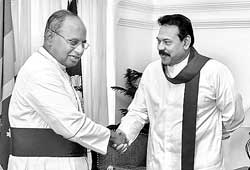 Archbishop Malcom Ranjith meeting President Mahinda Rajapaksa
For months there have been rumours that Archbishop Malcom Ranjith, who is the Secretary of the Congregation for Divine Worship at the Holy See, will move for a compromise formula in the form of the Indian model to ensure there are no victors and losers in solving the ethnic problem here.
When The Sunday Times contacted soft spoken Archbishop Patabendige Don Albert Malcolm Ranjith he was, however almost self-effacing stating that he took the initiative as a Sri Lankan citizen and a man of religion and that nobody could expect miracles overnight, especially to a conflict that has dragged on for decades.
He said he made the appeal directly to LTTE Political Head S.P. Thamilselvan, when he met him at the Kilinochchi Church on Thursday after visits to displaced camps in Madhu. Archbishop Malcom Ranjith was accompanied by Mannar Bishop Rt. Rev. Dr. Rayappu Joseph and Rev. Fr. Damian Fernando among others.
Asked what chances there were in the LTTE returning to the negotiating table when they even pulled out of negotiations unilaterally during the regime of Ranil Wickremesinghe within months of signing the February 2002 historic ceasefire agreement, Archbishop Malcom Ranjith said a question that has dragged on for more than 40 years cannot possibly be solved overnight.
He said all are human beings and sooner or later we have to resolve differences to work as one nation. The most effective way to do it is through negotiations."The person who holds a gun is a person who is morally weak," the Archbishop said. Besides, Archbishop Malcom Ranjith pointed out that it would not be an impossible task as both Buddhism and Hinduism are closely linked.
Prior to his departure for Rome yesterday, Archbishop Malcom Ranjith was scheduled to brief President Rajapaksa on the outcome of his visit and he was also expected to meet a group of leading monks.
President Rajapaksa became the first Sri Lankan Head of State to get an audience with the Pope in April this year. It lasted some 20 minutes. A Vatican statement issued soon afterwards stated: "The Catholic Church will intensify the delicate work of educating consciences with the sole goal of promoting the common good, reconciliation and peace."
It also quoted the Pope as having said that the two sides in the dispute must respect human rights, promote dialogue and return to the negotiating table as the only path to ending two decades conflict. A week prior to the meeting with President Rajapaksa, the Pope made a special reference to Sri Lanka in his Easter message and specifically called for peace through negotiation in place of war."In Sri Lanka only a negotiated solution can put an end to the conflict that causes so much bloodshed," the Pope said.