Mother fears for son's safety and life
The mother of the young man, who was abducted at the Ragama Railway Station, expressing concern that his life was endangered, lodged another complaint on Friday with the International Committee of the Red Cross (ICRC). Speaking to The Sunday Times she said she feared for her son's life and was due to lodge another complaint with the Human Rights Commission.
Twenty-nine-year-old Kandasamy Kamaldas was abducted on Wednesday morning at the Ragama Railway Station while he was traveling with his mother from Trincomalee to Colombo.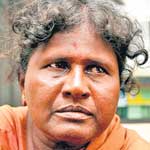 The mother of Kamaldas
The young man and his mother from Velanai, Kayts, which is in the Jaffna district, had traveled to Trincomalee by ship and boarded a Colombo-bound bus when two men had forcibly taken Kamaldas out of the bus.
According to the victim's mother, one of the abductors had been wearing a military uniform. However the youth was later handed over to his weeping mother at the Trincomalee police station They then boarded a night train to Colombo.
As they reached Ragama at around 5.00 am that morning, a gang had surrounded the youth and forced him into a waiting van. The mother was also bundled into the van but was later pushed away. She recognized one of the abductors as the person who grabbed her son in Trincomalee.
She later lodged a complaint with the Ragama police and the Civil Monitoring Commission (CMC). Convener of CMC Mr. Mano Ganesan said the involvement of the security forces in this case could not be denied. According to him the youth had been interrogated by the police in Trincomalee before he boarded the bus.
If a person is suspected of involvement in terrorist activity, the police are legally entitled to take him into custody, he said, but we have here a situation where, a young man was forcibly taken to an unknown location.
"…This is what we call abduction and it is unacceptable", Mr. Ganesan told The Sunday Times. O.I.C. Crime Division of the Ragama police I.P. Ranasinghe, said investigations were underway. He said a separate team had been appointed to look into the matter. No suspects have yet been arrested.