Be prepared!
Following an 8.4-magnitude quake that struck at dusk off Sumatra's west coast on Wednesday and a series of major aftershocks, a Geologist has stressed the importance of Sri Lanka being alert to earthquakes occurring in the Indian Ocean. Samantha Bogahapitiya said people living in the coastal areas should be alerted and be prepared for possible tsunami situations.
He said there was no warning mechanism for earthquakes but in the possibility of a tsunami risk Sri Lanka now had a better chance of sending warnings and evacuating people as soon as there was a threat of a tsunami.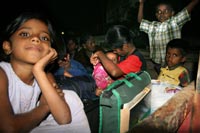 Scenes in and around Colombo on Wednesday
He also said Sri Lanka faced the risk of earthquakes as the seabed around the country has been identified as an earthquake vulnerable zone, being situated on a shifting tectonic plate. The Meteorological Department's Chief G.H. Dharmaratne said the department had the facilities to issue a warning within minutes of an earthquake occurring anywhere in the Indian Ocean.
"We are in contact with the Pacific Tsunami Warning Centre and the Japan Met Agency and we receive data on earthquakes within 10 minutes of them occurring. On Wednesday we got the warning within four minutes of the earthquake. We were able to alert the coastal areas immediately," he said.
"We also keep a close watch on the sea level. On Wednesday we were able to lift the tsunami alert at 8.30p.m. after receiving reliable data that Sri Lanka was safe. At 5.19 a.m. the next day, when we received warning that there had been a 7.8 magnitude quake we didn't issue a tsunami alert but kept a vigil on the sea levels."
As soon as the 8.2 magnitude quake struck on Wednesday the Pacific Tsunami Warning Centre issued an Indian Ocean tsunami warning while authorities from Malaysia, Sri Lanka, Bangladesh and Australia issued independent warnings, as did India for the Andaman and Nicobar islands, and France for the islands of Reunion and Mozambique.
In Sri Lanka as the tsunami alert was issued there were scenes of panic with people in the coastal areas of the Western, Southern and Eastern provinces leaving their homes and seeking shelter in churches, temples, schools and other buildings.
Following the tragic aftermath of the 2004 tsunami, so far only three early warning towers have been erected in the coastal areas of Hikkaduwa, Kalmunai and Jaffna and of those only the one at Hikkaduwa is functioning. Authorities say the other two would function once the security situation in those areas was stabilized.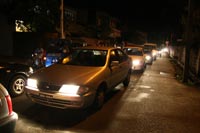 Traffic on the Galle road
The Disaster Management Ministry's media coordinator Sarath Lal Kumara said that the cabinet had approved Rs. 400 million for 50 towers while the Ministry hoped to build a total of 150 towers after obtaining more funds from the international community. Meanwhile a research officer at the Ocean Observation Centre of the National Aquatic Resources and Development Agency (NARA) said that it operated on a 24-hour basis monitoring oceanic conditions. She also said they worked in collaboration with other institutions in respect of ocean based disasters and early warning mechanisms.
"We also have a special alarm system when an earthquake measuring over 6.0 is recorded on the Richter scale. We also observe changes in wind speed, water currents and the tide and provide necessary information to the Disaster Management Centre and the Met Dept. who in turn would issue warnings if the need arose."
Giving an overview on how operations work in an emergency, Deputy Director (Emergency Operations) of the Disaster Management Centre, Wing Commander Dhammika Wijeysooriya said disaster management coordinators who have been appointed in all districts, inform the local authorities who with the help of the police inform the residents.
"We also inform the Media, CEB, SLTB, Railways and all district secretariats. We hope to introduce cell-broad casting, where mobile phone users would be informed immediately of any impending disaster. Dialog has already signed an MoU with the Disaster Management Ministry on disseminating early warnings around the country" he said.
Meanwhile Telecommunication Regulatory Commission Director General Kanchana Ratwatte said this time, following the tsunami warning, there was heavy congestion of lines as everyone was trying to call someone."We encourage people to use text messages, instead of making calls. The network is designed to have less frequency for text messages; therefore it's an ideal way to inform people.
According to Mr. Ratwatte, in Colombo alone there are 300 stations per network, and from one station only 21 calls can be made."So when 2 million people start calling at once, definitely there would be congestion in the network," Mr. Ratwatte said.